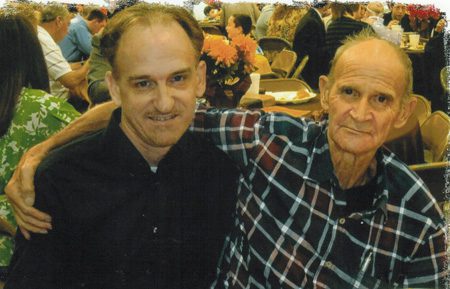 21 Nov 2011

Act of kindness

Posted at 1:07 PM

in

Faith

by Sonja J. Keith


Jerry Kinsey will be surrounded by a new family this holiday season, thanks to a simple act of kindness.

Jimmy and Donna Elecia Dalton, along with their children, were traveling on Highway 36 on their way to evening church services July 17 when they discovered something unusual – an elderly man standing in the road, waving his cane in the air. "My kids said, 'Man, he's going to get hit,'" Jimmy said.

While other motorists didn't stop, Dalton did.

"He said, 'Please help me. My wife has fallen,'" Jimmy said. "He tried the neighbors, but no one came to the door . . . He was begging for someone to help."

Jimmy helped the 72-year-old man out of the street and called 911. When he went inside the house, Jimmy was surprised by the living conditions he found. "Their bed was on the floor, and there was no furniture in the house," he said. "There were probably 100 cats in the house. I was really floored there was no furniture."

Jerry's wife, Marjorie, was taken to the hospital for treatment of a broken hip. She also had other health problems and died Aug. 21.

In the days and weeks that followed July 17, Jimmy remained in contact with Jerry. He even accompanied Jerry to the funeral home and helped plan the arrangements. Margie had worked as a nursing assistant at the VA Medical Center in Little Rock. Jerry is retired from the Air Force.

With Jimmy's help, Jerry has been able to reconnect with family, including his daughter that he had not seen in 28 years and his 11-year-old granddaughter he had never met. Jimmy hopes to take Jerry to Missouri over the holidays so he can see his 99-year-old mother.

Jimmy also helped find Jerry a new home in Conway. The congregation at the church where the Daltons attend – Friendship Baptist Church – donated furniture for the home. The house on Highway 36 has been condemned and will be torn down.

"He joined our church and has gotten pretty much involved," Jimmy said. "My family has pretty much adopted him. We now have a new grandpa."

Pleased with his new home, Jerry was sad that he would not be able to share it with Margie. "He really appreciates the prayers and the help, especially after his wife's death."

Jerry will be spending this holiday season with the Dalton family. Jimmy's children have already discussed getting a Christmas tree for Jerry.

When Jimmy looks back on July 17, he speculates that no one else stopped to help that night because of fear. "He looked like a mad man," he said. "He was just needing some help . . . It was the right thing to do.

"I'm glad we did. No one else was taking the time. He probably would've been killed on the highway."

Jimmy adds that he did not make it to church that night to hear the sermon delivered by his pastor, the Rev. Ken Jordan. Interestingly, it was on the Good Samaritan. "That's what they have labeled me as," Jimmy said.