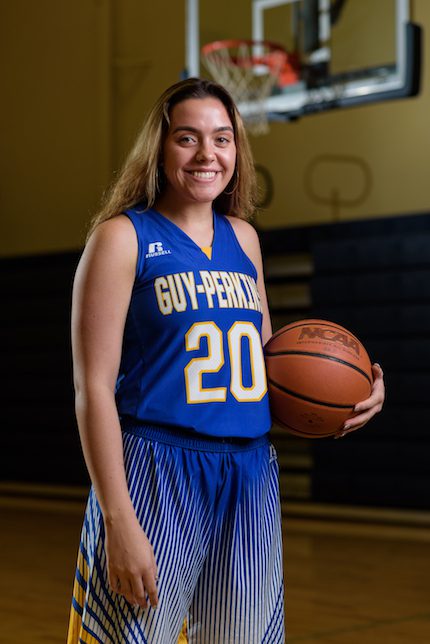 27 Dec 2017

Acre striving for return to state tournament

by Levi Gilbert


After making it to the 1A state tournament as a freshman in 2015, Gracey Acre has one last chance to lead the Guy-Perkins Thunderbirds back to the state tournament.


It's an opportunity the senior isn't taking for granted. After leading the team in scoring (20 points per game), rebounding and assists last year, Acre is working even harder to lead Guy-Perkins this season.

"I've had to step up even more than last year and really play my best," Acre said. "I'm working to be an encouragement to my team and to score in big numbers. We are working to learn what it means to be a team, to stick together and use all of our talents.


"Being the oldest with the most experience, it's hard sometimes to play with younger players, but they make me better."


Acre, a senior guard for the Thunderbirds, was selected to this year's 501 Basketball Team — 37 players representing the best the 501 has to offer both on and off the court. The team is sponsored by Conway Ortho and Sports Medicine, Conway Regional Health System and First Security Bank. Owen was nominated by her coach, John Hutchcraft.


"Gracey is our team captain," Hutchcraft wrote in his nomination. "She's a great motivator and encourages her teammates. This year we have three sophomores starting, and Gracey is patient working with them and helping them learn the game.


"This is Gracey's third year to play varsity for me. She has the potential to play at the next level."


Hutchcraft, who won his 10th high school basketball championship last season, is retiring from coaching after this season finishes after more than 40 years.


"Coach Hutchcraft is an upstanding man," Acre said. "Playing for him has been an honor. Anybody would be blessed to know him. I'm very glad to be a part of his last season. I know things will be very different next year for the remaining players without him. I am enjoying spending my senior year with a coach that I know will be a part of my life forever."


At Guy-Perkins High School, Acre is also active in softball, track, FCCLA, FBLA, Beta Club and serves as the senior class secretary. After graduation this May, Acre plans to attend the University of the Ozarks and pursue a career in coaching. But Acre still has some big goals to check off on the high school hardcourt before she dives into her future.


"I would like to be remembered as a striver," Acre said. "It's hard sometimes to get past adversity and be a winner all the time, but I hope when people think of me, they remember that I strive to do and be my best."


Acre and the Thunderbirds return to action at St. Joseph at 5:30 p.m. Tuesday.