09 Sep

Acklin's leadership 'a true success story'

by Levi Gilbert

The Maumelle Hornets came out of the gates hot in Week 1, riding a powerful rushing attack to a 59-21 win over the Jacksonville Red Devils. The Hornets rushed for 246 yards as a team, and the lion's share came from senior running back Jacob Acklin.


Acklin rushed for 166 yards and three touchdowns on only 13 carries, averaging 12.8 yards per rushing attempt.

"I feel as if I played well, and I feel like overall, the team played an outstanding game," Acklin said. "I think we clicked on all cylinders, and we did a pretty good job of executing on both sides of the ball. But there is still room for improvement. There's definitely still some things that we need to clean up offensively and defensively, but other than that I feel like we really have good chemistry."

Acklin was selected to this year's 501 Football Team — 27 players representing all 11 counties of the 501. The team boasts the best the 501 has to offer both on and off the field. Acklin was nominated by his head coach, David Farr, who is in his first season at Maumelle after moving from Heber Springs.

"Jacob has incredible speed and vision," Farr wrote in his nomination. "He is great with the football and is a selfless blocker without the football. He has improved his physical strength and will be tough to tackle this year."

Acklin and the Maumelle Hornets won the 5A West with a perfect conference record last fall. The senior is aiming for no less than a repeat in his final campaign.

"My goals for my senior season are to perform well on the field and in the classroom," Acklin said. "I would like for us as a unit to be 5A West champs again and to play for a state championship. I feel like we have to continue to get better each week, and we have to want it more than any other team out there. I feel as though a lot of people still overlook us, but that's OK. As long as we continue to believe in ourselves, we'll be fine."

Acklin possesses a rare combination of speed and strength. He was able to score two touchdowns on short-yardage goal line plays and also turned a handoff in the third quarter into a 89-yard romp.

"Last year he compiled almost 1,000 yards rushing," Farr said. "He was the feature back on a team that went 10-2 on the season. I expect Jacob to be a 1,000-yard rusher again this season and earn all-state honors."

Acklin has certainly made his presence felt on the field, but his impact off the field for the Hornets is equally important.

"Jacob works hard in the classroom," Farr said. "He is a leader amongst his peers and always sets a very high standard for his teammates. He is positive with teammates and opponents. He just loves to compete. Jacob leads through positivity and love. He is an encourager of his peers. This is a strong motivation for our team as a whole."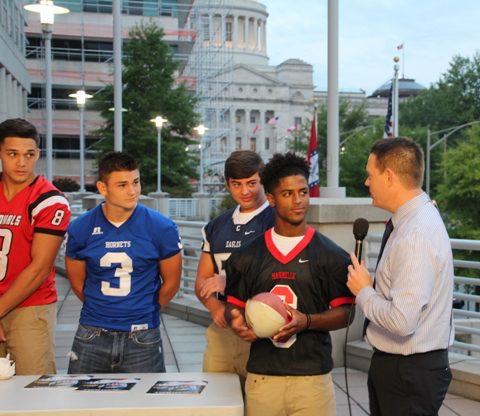 Acklin's senior season and Farr's first year as head coach for Maumelle are off to a good start. The senior has adapted well to new leadership and has welcomed Farr with open arms.
"Coach Farr is a good man and a great coach," Acklin said. "He does things the right way. I like playing for him because he knows what he's talking about, and he knows what it takes to get to the next level, having been there himself. I like how he's all about the team and wanting the same goals that we want. He really cares about each and every one of us as individuals, and so does the rest of the coaching staff."
According to Farr, Acklin's resilience extends far beyond the next rushing attempt.
"Jacob has had to overcome a great deal to set himself up for success," Farr said. "He has had to overcome things that some players never have to contend with. Despite all of the factors surrounding him, Jacob remains disciplined in achieving his goals. He is a true success story."
After high school, Acklin plans to attend college and pursue dental school — his ultimate goal is to become an orthodontist.
Acklin and the Hornets continue their non-conference schedule Saturday versus Neville (La.).
"[We are playing] at Independence stadium in Shreveport, La. as we take on the Neville Tigers in the Battle on the Border Classic at 5," Acklin said. "We ask that everybody come out and support us."