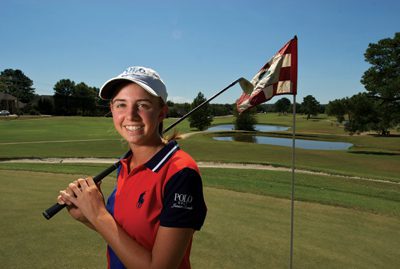 19 Sep 2011

Acing it: Conway's Roachell named to Junior Solheim Cup Team

by Donna Lampkin Stephens

Conway's Summar Roachell announced herself as a golfer to watch nationally with her play over the summer, and she'll make her international debut in Ireland in September.

Roachell, 16, a junior at Conway High, is the first Arkansas golfer to be named to the United States' PING Junior Solheim Cup Team.

She, along with McKenzie Talbert of North Augusta, S.C., was a pick of captain Meg Mallon. The other 10 players on the team were chosen based on a combination of the American Junior Golf Association's Polo Golf Rankings and the Golfweek/Sagarin Junior Girls Rankings.

The Junior Solheim Cup, a biennial competition patterned after The Solheim Cup, features the top 12 girls from the U.S. against those from Europe. The 2011 event will be played at Knightsbrook Hotel & Spa Golf Resort in Trim, Ireland, Sept. 20-21. The Solheim Cup, featuring professional women golfers representing the U.S. and Europe, will be played Sept. 23-25 at Killeen Castle in County Meath, Ireland.

"So much has happened this summer," Roachell said. "I've come so far, and this has been like the cherry on top. Honestly, at the beginning of the summer, I never thought about [making the Junior Solheim Cup team]. It's such an honor to be able to represent my country, just huge, and this summer has been great.

"I set really high goals for myself and worked really hard to get to them and reached nearly all of them. There were a couple I didn't, but this makes up for it."

According to ajga.org, past PING Junior Solheim Cup U.S. team members include Paula Creamer, a nine-time LPGA Tour champion and winner of the 2010 U.S. Women's Open; Brittany Lincicome, champion at the 2007 Ginn OPEN and 2009 Kraft Nabisco Championship; and Morgan Pressel, winner of the 2007 Kraft Nabisco Championship. Creamer was the first player to make the move from the PING Junior Solheim Cup to The Solheim Cup team when she helped lead the U.S. to victory in 2005 with a 3-1-1 record.

Martha McAlister, a top authority on girls' and women's golf in Arkansas and a 2004 inductee into the Arkansas Women's Golf Association Hall of Distinction and 2001 inductee into the Arkansas State Golf Association Hall of Fame, said Roachell's pick was more impressive than if she had been chosen through the rankings.

"This is beyond huge," McAlister said. "It's Meg Mallon saying, 'I'm going to pick two young ladies who are highly deserving,' and in Summar's case, she was picked on talent as opposed to playing every AJGA event out there.

"They're not on the circuit as much. You're going to earn points if you can go to every AJGA event, all the ones during Christmas and Thanksgiving, spring beak and the whole summer, and you're getting a few points here and there. That helps you, but in Summar's case, she's picking and choosing what she plays. Unless she flat-out wins, she wouldn't get to the Top 10, so I think what Meg's pick illustrated to some degree was clearly she had the ability to be there, and the only difference is she's not one who plays in every dadgum event."

Roachell moved in the Polo rankings from 67th to 19th from early July to early August. During the stretch, she won the Bubba Conlee Invitational, tied for second in the Genesis Shootout and reached the quarterfinals of the U.S. Girls' Junior Championship at Olympia Fields Country Club in Chicago. She has six top-five finishes in national events. In a little more than a year, Roachell has risen from 142nd.

With her quarterfinal finish in the U.S. Girls' Junior, she has an exemption into next year's field, so she will become a three-time veteran of that national championship.

"Meg picking her is a real vote of confidence for not just Summar's golf game but for who she is," McAlister said. "It's got nothing to do with points and rankings and everything to do with seeing her game and knowing she's got it."

Roachell's career has taken off since winning the ASGA Junior Match Play in 2008 at 13. That year, she finished runner-up in the Junior Girls Player of the Year race after losing a six-hole playoff to Taylor Fisher of Hot Springs in the ASGA Junior Girls Stroke Championship.

In 2009, at 14, she won seven tournaments, including the Junior Stroke, finished runner-up in the Junior Match and easily won the Player of the Year race.

In 2010, at 15, she began concentrating on more national events, reaching the second round of the U.S. Girls' Junior. Still, she finished runner-up in the ASGA Junior Match and won three other tournaments to finish fourth in the Player of the Year race.

Between August of last year and the Bubba Conlee, she finished third in the Bass Pro Shops/Payne Stewart Junior Championship, tied for 17th in the Polo Golf Junior Classic, tied for 16th in the Kathy Whitworth Invitational, tied for second in the UnderArmour Hunter Mahan Classic, tied for 24th in the Scott Robertson Memorial and tied for 35th in the Rolex Girls Junior Championship.

Another highlight of this summer was her participation in the Tri-State Matches, a junior competition among Arkansas, Louisiana and Mississippi. This year, for the first time, Arkansas won the event.

She was also unbeaten in high school golf until the Arkansas High School Overall Championship her sophomore year last fall, where she lost to Madison Talley of Clarksville. So far, she has two 7A-Central titles, two Class 7A state championships, one Overall title and one Overall runner-up finish – and she still has two high school seasons left.

After the U.S. Girls' Junior this year, Whitney Ross Beck, who was hitting her junior stride at Conway Country Club when Roachell was a little girl (and who went on to work for the AJGA), called her and told her she thought her play might qualify her for the team. So Roachell knew she was close.

"But after I didn't make it on rankings, it came down to two captain's picks, and I knew it was going to be tough because a lot of people have been playing good," she said. "I knew I'd been playing good, so whatever happens, happens. If she sees something in me that will help the team, I hope I'll get picked."

Mallon's phone call to her confirmed that she did.

"She asked me if I wanted to represent my country in the Junior Solheim Cup," Roachell said. "I'm like, 'Yes! I don't even have to think about that one.'"

Ireland will mark her first trip overseas. Trim is 35 miles from Dublin.

Bill Roachell, Summar's father, said the Junior team would be guests of honor at the Solheim Cup dinner two days after the girls' event.

"We knew after her run in the Junior Girls, winning three matches there, it was a possibility," he said. "They say her run there is what put her in the midst of this."

According to ajga.org, the U.S. led Europe in Junior Solheim Cup history, 3-2, but the team host has won the Cup all five times.

McAlister, who has worked the U.S. Girls' Junior for several years, said she would love to follow Roachell in Ireland.

"I will tell her if she makes it to the Curtis Cup (the women's amateur competition between the U.S. and Great Britain and Ireland), I will be there," McAlister said. "It's tougher because only eight are picked."

But it's certainly not beyond the realm of possibility.