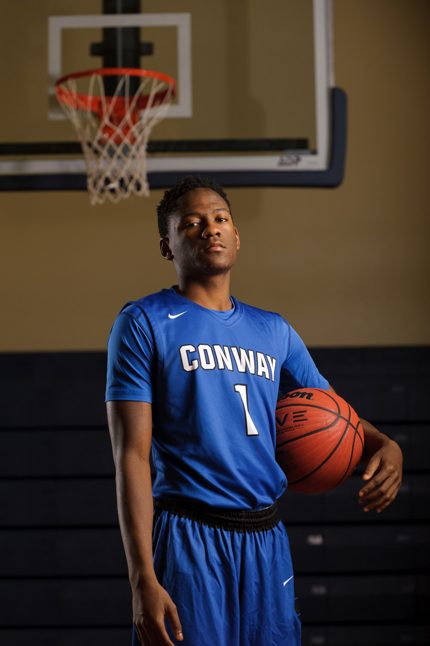 13 Jan

A winning attitude: Conway's Prentice Mullins

by Mark Oliver


If you're looking for a team that's heating up at the right time, look no farther than the heart of the 501, where the Conway Wampus Cats are quickly gaining attention in the 7A Central conference.


"This year, we started the season 0-6," said senior point guard Prentice Mullins. "Despite that, we've never given up as a team. Instead, we kept our heads up. When we finally put it all together against Little Rock Catholic, it felt good to get our first win and it gave us the confidence to keep moving forward. Since that game, we've played a lot better and I think that we're getting better each game."


Mullins was selected to this year's 501 Basketball Team — 35 players representing the best the 501 has to offer both on and off the court. He was nominated by his head coach, Will Johnson.


"Prentice is our floor general," Johnson said. "He is a very good rebounding guard and can get everyone on the court involved. He is a high-motor player with a great feel for the game."


As the team's lone returning starter this season, Mullins instantly stepped into a leadership role for the Wampus Cats. According to the senior, however, becoming the leader his team needed didn't come easy.


"I haven't always been a nice person," Mullins said. "Growing up, I had a bad attitude and bad body language. I was always angry towards others. I didn't realize it then, but it made me look bad as a person and I played badly on the basketball court because of it. Over the past few years, however, I've worked hard on improving my character and trying not to let my feelings get to me. I've learned that the key to success is always playing hard and never giving up, and I think that it's really working for me."


"Off the court, Prentice is a good student and a great classmate," Johnson said. "He had a rough start to high school, but his maturity and growth in the classroom have attributed to his success on the court. His hard work ethic and leadership make him a great teammate."


Mullins gains inspiration on the court from his favorite NBA role model — Los Angeles Lakers forward Kobe Bryant.


"Kobe has always been my favorite player," Mullins said. "There's just something about the way he approaches the game. He's so talented and he's played so well throughout his career. I want to be just like him."


A week ago, Conway (6-8, 1-1) dropped a heartbreaker to Class 7A Central conference rival Van Buren, 55-51. Despite the loss, however, Mullins and the Wampus Cats are optimistic about the schedule ahead.


"I've played with these guys most of my life," Mullins said. "When we lose, I talk to my team and tell them that we have more games to play. It's a long season. This year, our goal is to win the conference championship. Coach Johnson thinks we can do it, and we do, too. Our mission is to get it done, and we will — together."


Conway went into enemy territory Tuesday, defeating Russellville, 47-42, to earn its first conference win.


"I'm ready to play against Van Buren again," Mullins said. "They won the conference last year and are one of the best teams in Class 7A. We almost had them. If we can work on our offensive decision making and learn what it takes for us to score, then we can beat them. If we can beat them, then I believe that we cannot only win the conference, but go far in the state tournament as well."


Off the court, Mullins contributes to Conway's Fellowship of Christian Athletes program and spends his free time giving back to the community he calls home.


"I helped set up the Pine Street Community Back-to-School Backpack Program," Mullins said. "In the summer, I help gather backpacks filled with school supplies for kids that can't afford them. My mom and I also donate shoes and clothes to the Salvation Army to help the needy."


After high school, the senior says that no matter where life takes him, he'll be ready for the challenge.


"As a person and a player, I'm underrated," Mullins said. "I would like to continue playing basketball on the college level. I deserve more opportunities in life and will never stop working toward my goals."


Conway plays host to Greenwood at 6 p.m. Friday.