11 Sep 2023

A welcome fit for a hero

By Carol Rolf

The phrase, "home is where the heart is," has been used in books, movies and TV shows for decades, but perhaps nowhere was this sentiment more evident than at a home dedication July 25 in Conway for former U.S. Marine Lance Cpl. Cory Hixson and his family.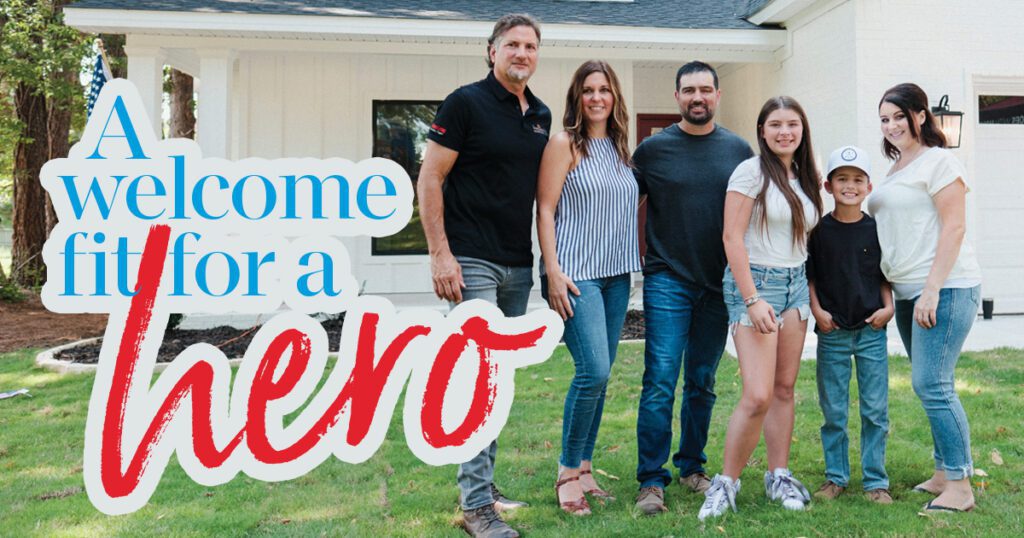 Hixson, who was wounded and received the Purple Heart Medal for his service in Iraq, and Shala, his wife of 17 years, were joined by their daughter, Haizlett, 12, and son, Cru, 10, at the ceremony. It was the first time the family would see their finished home on Tyler Street, built and presented mortgage-free by Bret Franks Construction Inc. of Little Rock in partnership with the Southern Living Custom Builder Program and Operation Finally Home (OFH). Operation Finally Home provides mortgage-free homes, home modifications and transitional housing to wounded, ill and injured military veterans, first responders and their families in honor of their service and sacrifice to country and community.
Scores of well-wishers, including local and county officials, lined the driveway as the family was escorted to their 2,800-square-foot, four bedroom-home by representatives of the Faulkner County Sheriff's Department and motorcyclists from Patriot Guard Riders of Arkansas, Veterans of Foreign Wars Post 2259 and Combat Veterans of Central Arkansas.
Following the ceremony, Hixson said he was "excited" when he first saw the house.
"It's amazing," he said, adding that they hoped to move from their apartment in Tennessee in early August. "The house is so well-built. No corners were skipped.
"But the best thing about all of this is that it will let us have a home … where we can raise our kids, prepare them for the world," he said. "This is for my wife and kids."
Shala Hixson added: "As much as the brand-new house meant to me, I was more in awe of the people there supporting us. That was extremely overwhelming for me. The home is anything anyone could have ever dreamed of. I don't think I can ever offer enough gratitude to the Frankses, OFH and the many donors and volunteers for what they gave my family. One could say owning a new home is a blessing, but I feel more blessed knowing our children will be raised in a home that has a foundation made of pure selfless giving, love and sacrifice."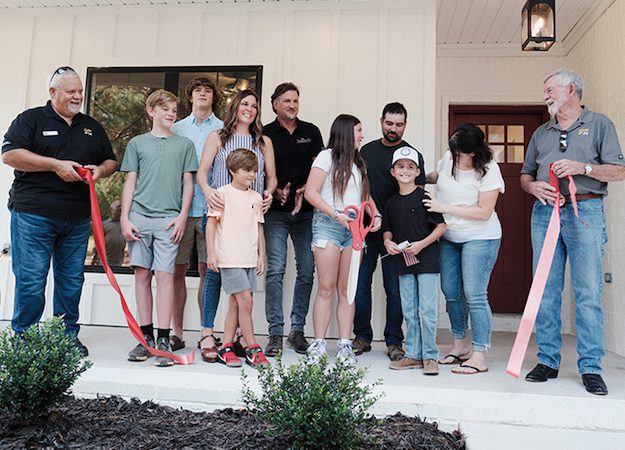 Cory Hixson, 40, said he always wanted to join the military. "My dad served as a Marine in Vietnam and then in the National Guard," said Hixson, a native of Craig, Colorado. "I remember seeing him in his uniform when I was about 3; I knew then I wanted to serve. (The Sept. 11, 2001, terrorist attack on the United States) happened when I was a senior in high school. I joined the Marines in October 2002 and was deployed to Iraq in October 2004. I served with the 3rd Battalion 5th Marines India Company for about three and one-half years, including two tours in Iraq. It was on my second tour that I was wounded. We were the tip of the spear going into Fallujah."
Hixson was hit with shrapnel, resulting in the loss of his left eye. He also suffers from post-traumatic stress disorder (PTSD), migraine headaches due to a traumatic brain injury (TBI) and hearing loss. "I don't regret joining the Marines at all," he said. "The Marine Corps did so much for me, gave me more than I could ask for. I didn't serve to get anything out of it; I joined to serve my country.
"I am anxious to start our life here in Conway," he said. "I want to get stronger … to be able to help my wife more so she won't get so stressed. She's taken on so much since I was wounded. I want to make sure we take care of this house; I want our children to learn to take responsibility. And I want to become involved in the community. I want to help out any way I can."
Bret Franks said this is the first time his construction company has participated in Operation Finally Home. "We (Franks and his wife, Beth) are part of the Southern Living Home Custom Builder Program and OFH partners with them," he said. After a series of meetings, he and Beth agreed to build a home for a veteran in Arkansas, "if that veteran would agree to live here.
"They found us a veteran," Franks said, smiling. "That was more than five years ago. It took a lot of time to get it all together … a lot of time, materials, volunteers. We are so glad, so proud, to see it all come together for this family. The Hixsons did not ask for this; someone recommended them. We are so glad to help this family, this veteran who served us so we can continue to enjoy our freedom. That's what this day is all about."