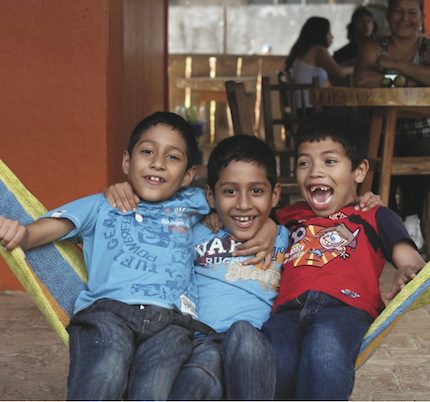 19 May 2012

A week of your life

Posted at 10:30 PM

in

Faith

story and photos by Bill Patterson

A mission trip to Honduras touches the lives of residents and the team members who visited them.
Saturday, Feb. 4
3:45 a.m. comes early after staying up late trying to stuff all those sunglasses into my suitcase in place of clothes. I grab my last-minute items and head to the nearest 24-hour convenience store for some caffeine and donuts. Hey, it works for early hunting and photography outings, so why not a mission trip!
Most of the team meets at Woodland Heights Baptist Church in Conway. The church has been working on this trip for almost a year, led by the mission team leader and church member John Howell, a prosthodontist in North Little Rock who lives in Conway. He has led teams on trips to Honduras for many years.
It is amazing to see the smiles and excitement on everyone's faces as we load up for our ride to Little Rock where we will meet up with the other team members that are from churches around the area. Most members are from Conway, but there are others from Beebe, Bryant, Mountain Home and West Memphis.
So much work goes into planning and supporting a mission team. There are supplies like medicine to pack and sort, supplies to organize and ship ahead of the trip and most importantly, the prayer teams led by Virginia Clements who began praying for the team as a group as well as by name. This went on all year leading up to the trip and while we are gone. It is great comfort to know that we are covered in prayer while we are gone. Because of her health, Virginia can't go on the trips, but she does her part by leading the prayer group.
Lesson No. 1 – Take your flexibility pill!
When traveling with a large group, especially to a Third World country, you have to be flexible. This became evident quickly as we got to the airport, checked in, went through security and got to our gate. Things were going smoothly until we were told there was a weather delay in Houston where we were going to catch our connecting flight to Tegucigalpa. After our flight delay got longer and longer, the flexibility pill kicked in. Everyone made the best of the time getting to know the team members they didn't know, reading and eating breakfast again! The delay went on and on, and it became obvious that we were not going to make our connecting flight. Added to this was the fact that there is only one flight a day to the capital city. Once we made our flight to Houston we were booked on the flight the next day and spent the night in Houston.
Rooming with a stranger
At the airport we were given hotel vouchers for two to a room. They went in some unique order in giving out the vouchers, and it made for some interesting room assignments. Husband and wives were not together, men and women were, but the flexibility of the group came together again and it all worked out. I got the chance to room with Lance Woodcock, a longtime resident of Conway (works for Conway Corporation) but he and I had never crossed paths. It's amazing to me how God put us together. We sat up that night and talked for several hours.
I learned that we had several things in common. We both had lost family members recently after long illnesses, which took a lot of our time, and we both were late additions to the team. Lance was asked to go only a couple of weeks before we left. He had 24 hours to make a decision and after prayer followed his heart. I joined the team after my wife, Kim, went to see Dr. Howell as a patient and came back with an invite for me to join the team. They needed an optometrist and John had asked me several times over the years to go. This time God laid upon my heart to go. Later when Brother Tommy Cunningham was preaching one service during revival time, I learned that I just "got out of the boat" and followed Jesus where he needed me. One other interesting thing I learned was Lance has actually had more kidney stones than I have. And that's a lot! Now that's a bond you'll never understand unless you've survived at least one.
Sunday, Feb. 5
We take shifts catching the shuttle to the airport, grab a bite of breakfast and have a great devotion by Roy Jutze before boarding the plane to Tegucigalpa, Honduras, which has the reputation of one of the world's most dangerous airports to fly into. If you don't believe me, search it on YouTube! God was with us today because the landing was very calm. Another answered prayer.
We got our luggage and were met by Mickey Cox and Bill Clements who went ahead of us for a week of construction projects at the children's home run by the BMDMI (more on this later). Also there to greet me was my Honduras amiga Delmys Suazo who was my interpreter on my last mission trip. We have remained in contact since. She is a school teacher who teaches English in high school and has continued to go to the trips with teams each year. She and Nancy Meneley are very close, so now on the team trips she translates for Nancy.
Once we got the bags loaded onto the mission bus, it was time to eat. Now we fly all the way to Honduras, and the first meal we have is across the street at Pizza Hut. Guess they wanted us to feel
at home!
Because we lost a day of our trip, we tried some more flexibility stuff and went to a nearby shopping area that is usually saved until the end of the trip. There we saw the local crafts as well as art and other things.
After the short shopping trip, we headed to the Baptist Medical Dental Mission International mission house. After we had a devotional, we got to bed early because they said Monday "might" be a long day.
Monday, Feb. 6
After breakfast and our morning devotional, the teams split up and boarded a couple of old school busses that BMDMI uses to take teams out into the mission field. Loaded with team members and supplies and followed by another box truck full of our gear, we headed out.
I looked for an empty seat and sat down next to Mickey Cox. I knew Mickey only slightly, but after nine hours on that school bus, I felt like I had known him for years. Yes, I did say nine hours. It was the longest bus ride of my life by far. Nothing else comes close. Sitting next to Mickey and behind my Honduran friend, Delmys, and Nancy made it much more palatable. I did get to hear about all the great things Mickey does. You would never get him to talk about himself. He is without a doubt the most humble person I have ever met. He and Bill Clements had been doing construction work at the children's home for a week before we got there. Mickey had preached at the church one evening, and he is in charge of all the logistics for the team. And that's just on the mission trip. Back in Conway, Mickey is retired from Entergy and is one of the main guys with the local bookcase project, a children's leader at Bible Study Fellowship and teaches a Sunday school class at Woodland Heights. And that's just the stuff I know about. A key lesson I learned on this trip is watching how such a quiet humble person can serve the Lord in such a powerful way.
Late Monday, we finally arrive at our village, called Erandique. The elevation was above 4,400 feet, so we were up in the mountains. When we unloaded, it was organized chaos. Because of the great organization, things went smoothly and we unloaded and set up our clinics, sleeping quarters and kitchen. We had a church service that evening that got us spiritually ready for our first day of the clinic.
Tuesday, Feb. 7
I woke up early the next morning and went out to have some quiet time. I took my camera with me and thankfully I did because we were greeted during our devotion by Roy with one of the most gorgeous sunrises I have ever witnessed.
We had a medical clinic, eye clinic, a dental clinic and a pharmacy. Before people come to the clinics, they have the plan of salvation shared with them. It is then shared again through all the clinics and pharmacy. What I found so unique with this group is anyone who professes Christ is asked for their contact information and will be followed up on with the local pastor after we leave.
There were also four teams of door-to-door evangelism that spread out going with a translator. Ed Siler, Joe Cochran, Kenny Cameron and Don Dumas would come in each day tired from all the walking but strengthened by the spirit that led more than 500 people to accept Christ during our trip.
Wednesday, Feb. 8
Back to the clinics we go but not before another devotional and beautiful sunrise.
In the eye clinic there was me, Bill and Johnnie Bounds and three translators. We saw around 200 people a day and fit most of them with some type of corrective eyewear or sunglasses, or they were given drops for allergies or dryness. A few were referred for more serious eye conditions to upcoming surgery teams in towns hours away.
When you work that closely with your team, you bond quickly. Bill and Johnnie were a delight to work with, and I got especially close to Omar our translator who was a graduate of the Bible college and wants to finish his seminary degree.
I took the smallest camera I had and one lens on the trip. That was a sacrifice for a camera geek like me, but it challenged me to think about a photograph differently. I did take a break from the eye clinic and went around to the other clinics and took pictures. I even went out into the village and took pictures of the town as well as some of our worship services. I wanted to capture the entire essence of a mission trip through the lens.
Thursday, Feb. 9
The last day of clinic started out as usual and then the patient numbers dropped off significantly.
Another flexibility alert. The decision was made to end the clinics around lunch, load up and head back to the mission house. Again, mass organized chaos ensued, and it was nothing short of a miracle that we were packed on those school busses in about two hours and headed back to Tegus.
Now the bus ride was a little shorter on the way back. Maybe it had something to do with the jet stream or not stopping but once, but it made for an eventful ride as we tried to sing hymns, laugh and entertain ourselves for the long ride home.
Friday, Feb. 10
We slept in and man did that feel good. After a nice hot breakfast we headed a short distance to a children's home. It is a school for the kids that come there to live for various reasons – casitas where the children live with house parents. The children swarmed up with hugs and big smiles as we got out an
d passed out toys, books and many other things that were shipped over for them. It was my first trip, and it was a wonderful experience taking pictures of the smiling kids and our mission team smiling along.
Share time and special memories that I'll never forget.
It has been a tradition on most of the mission trips that I've been on to have a share time on the night before we head back home. This is a great time of sharing, hearing the stories of how others were touched by giving up a week of their lives to come to a foreign land to help others with their physical and spiritual needs. You quickly learn that you get as much or more out of the trip as those whom you have come to serve. This is evident as we went around the room and shared memories of our trip. Tears of joy and hope for our lives as well as the people of Honduras flow freely during this time. We end with prayer and hugs as the next morning will be filled with buses, planes and automobiles as we make our journey back to the "real world," forever changed by a week of our lives spent in Honduras.
There were two memories from this mission trip that I will always hold dear to my heart. The first is the salvation of Ivan Lopez, who owns the shipping company based out of New Orleans that transports our containers of supplies ahead of the team. He had never been on a trip and was curious how it worked. On the nine-hour bus ride he began to ask questions about salvation to Joe Cochran, his seat mate. Joe laid the ground work and others throughout the week witnessed and showed him Christian love, and he was moved to accept Christ later in the week. Ivan is such a passionate guy by nature, and it will be exciting what God has in store for him as he begins his journey.
The other memory comes with mixed emotions for me. Susan Cunningham, the wife of Rev. Tommy Cunningham from Mountain Home, was scheduled to go on our trip. She was having health issues but wanted to go because Andrew, her 14-year-old grandson, was making his first trip to Honduras and she wanted to be there with him. The Cunninghams have been going to Honduras for more than 15 years and love the people. The day of our last team meeting before we left on the trip, Susan was diagnosed with ALS, or Lou Gehrig's disease. For me that was especially hard to see because the disease my son Ben died from is similar in lots of ways to ALS in how it affects the muscles. Susan thought of backing out, but through prayer and help from friends and team members, she was able to go. She was such a witness to the people of Honduras, as well as to fellow team members, with her sweet spirit in all that she does. During one of the evangelical services we gathered around Susan and laid hands on her, Brother Tommy and Andrew. It was a powerful testimony on the power of prayer and how we should give all things up to God to use for his glory.
We made it home safely and on time Saturday, Feb. 11. I still have great memories of how a week of my life can forever change someone else's in Honduras.