30 Mar

A tropical 501 LIFE

By Rik Sowell

Some faraway places tantalize and lure you until suddenly you find yourself snagged like a fish on the end of a line and you cannot free yourself — not that you really want to.

Belize is that place for me.

I have visited this intriguing country some sixty times since 1987, and it now serves as my unofficial second home. Similar to Central Arkansas, the area code for the entire country is 501 and when I receive calls from friends there, it always catches my eye.
The small country sits on the coast of the Caribbean Sea, just below the Mexican hotspots of Cancun, Cozumel and Playa del Carmen. With its white sands, palm trees, Mayan ruins, jungle rivers, green mountains, vast citrus orchards, acres of sugarcane and jungle trails lined with mahogany and ziricote trees, it draws me like a magnet. Like any other place that becomes so familiar, it has a comfortable warmth and an easy way about it that feels like a favorite recliner. Belize has a variety of tantalizing destinations ranging from the Caribbean islands in the east to the mountainous region in the west. And the good thing is, every destination in Belize is just a day trip away. But be forewarned, you Arkansas 501–dwellers, do not expect a lot of traffic lights, paved roads, McDonalds on every corner, and all the comforts of home. However, it is precisely the lack of those things that adds to the charm and allure of this Central American gem.
Formerly known as British Honduras, Belize is the only country in Central America where distance is measured in miles and English is the official language. Road signs are easy to understand and cars are driven on the right side of the road. Our charitable organization called The Iguana Squad, in partnership with First Baptist Church, has conducted some 45 missions to Belize, where we build schools, set up medical clinics and now, in cooperation with the Belizean government, conduct surgical missions. A special thanks go out to all the volunteers who have participated, especially Bill Milburn and Dr. Tom Roberts.
Our "Belize–style road trips" pass through quiet little villages with names like Gallon Jug, Crooked Tree, Monkey River Town, Teakettle and Burnt Ground, where the streets are always filled with locals, iguanas and bougainvillea. A short drive north from the International Airport in Belize City brings us to Orange Walk Town, the capital of Orange Walk District, which is home to Mayan ruins, great local restaurants, the beautiful New River.
We continue to the sleepy and remote fishing village of Sarteneja, which is perched on the edge of the Bay of Chetumal facing Mexico. It was here that an old lobster fisherman took me out in his boat for a day of fishing on the bay. Unfortunately, the fish were not biting, so we let the anchor down in the middle of the bay for some swimming.The old man stripped down to his swimsuit, dived gracefully from the boat and swam like a fish.
Driving west on the Western Highway, we pass through the capital city of Belmopan and continue to my favorite little village of San Jose Succotz, which is cradled by the deep green Mopan River, just across the border from Guatemala. We cross the river on a hand–cranked ferry to a narrow, paved road that leads to the great Mayan ruin of Xunantunich (su–nan'–too–nitch). We park the car at the foot of the ruins and walk up the hill amid the sounds of the howler monkeys, whom you swear are in terrible pain. They set the mood for a climb to the top of the Iron Maiden, the Mayan temple with commanding 360–degree views that allow you to see deep into Guatemala. Marked trails take you through the jungle where legend has it that just the slightest touch of the poisonwood tree will make you ill and only the bark of the Texas madrone tree will provide relief. I have yet to see any proof! Nearby caves are open for exploration and I recently picked up several shards of ancient Mayan pottery.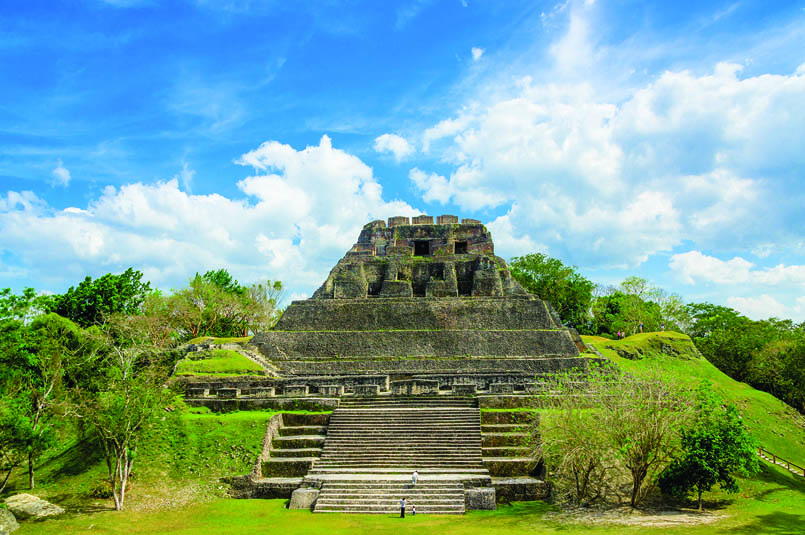 There are so many other destinations in this area, including the Thousand Foot Falls, the Rio Frio caves and the picturesque riverside village of Bullet Tree Falls, where our group was invited to watch an American film crew shoot an action scene for a major motion picture.
Retracing our steps to Belmopan, we turn south and travel the beautiful Hummingbird Highway, which meanders through endless acres of orange and lime orchards and dense jungle foliage that provides breathtaking landscapes. If we are fortunate, we may find ourselves behind a large open–top truck loaded with oranges for market, and we'll pick up the fresh fruit that falls off the overloaded beds. This highway terminates in the coastal town of Dangriga, home of the Garifuna, a cultural and ethnic group of shipwrecked slaves and native Caribbean islanders who have perfected drum–based Punta Rock, a pulsating and mesmerizing sound similar to reggae. One of my favorite evenings was a concert by a local drum band complete with their own drum dancers. If we continue down the coast, we arrive in the resort community of Placencia, home to a growing community of expats searching for warm climes, lower cost of living and Caribbean views.
One very popular day–trip option is to board a puddle–jumper for a 15–minute flight, or a water taxi for a 45–minute boat ride, to San Pedro Town on the island of Ambergris Caye, a village featured by Madonna in her song "La Isla Bonita," where, "tropical the island breeze, all of nature wild and free, this is where I long to be." It is a wonderful place filled with local restaurants featuring fresh seafood. From the water's edge, you can see the waves cresting over the world's second–longest barrier reef located just half a mile off shore. A short boat trip and you will be diving or snorkeling in and around the coral reef full of multicolored tropical fish, petting the rubbery sting rays and rubbing your hands along the slippery backs of the nurse sharks. If a fishing trip suits you better, there are many options to satisfy your desire to fill the boat or land the big one. Take your catch back to your resort and the staff will prepare it to your liking for the evening meal. Alternately, you may enjoy the slow–paced, laid–back style of nearby Caye Caulker with its white sand streets and little beachfront dives, where the locals live up to their motto of "Go Slow."
I recently fished inside the reef with my daughter and our guide, and we landed a variety of tasty specimens. And, just like the red snapper on the end of my line, I have been hooked on Belize for all these years. If ever you are there — and I think you should make plans — please say hello to my friends Shakira, Pastor Eric, Dwight, Rudolpho, Victor, little Eveliany, Lloyd and so many others, and please tell them I sent you. Rather than visiting by cruise ship, plan a personal visit so you can experience the beautiful and friendly 501 area code called Belize.