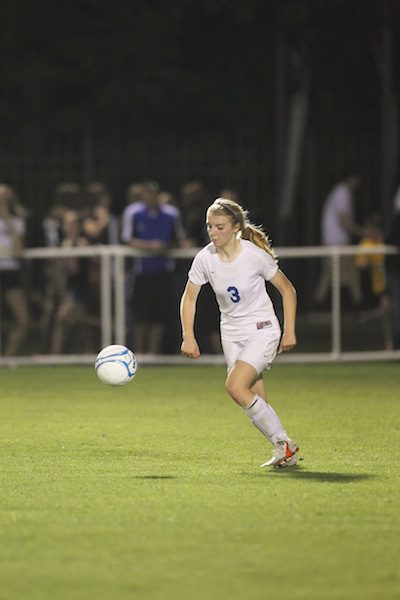 22 Jun 2011

A soccer family: Lady Cats cap perfect season with a state championship

by Donna Lampkin Stephens

In two seasons as coach, Whitney Allison has led the Conway Lady Cat soccer team to a record of 39-1-2, and this spring the Lady Cats took the Class 7A state championship to cap a perfect 22-0 mark.

Their only blemishes the last two years are the one loss and two ties to Fayetteville.

Not bad for a 24-year-old who never planned to coach.
And although she's reached the pinnacle, she's coming back for more, having put off her law school plans long enough for a third season with the Lady Cats.
"I was going to do it for one season, but I was not satisfied with what we did last season, so I came back for another year," said Allison, a four-time all-conference and all-state player for the Lady Cats who went on to play for Arkansas, where she earned Southeastern Conference all-academic honors.
"Everybody thinks I'm crazy. They ask, 'Why are you coming back? How can you cap it? Why not leave on a high note?' But I've got an amazing group of returning players, and a huge group of juniors, 12 of them. There's a huge group of girls who will be seniors."
She said she went back-and-forth, tossed and turned over the decision, but she just couldn't see herself anywhere but with the Lady Cats in 2012.
"Every Tuesday and Thursday night (during soccer season), I should be there with my team delivering a cheesy pre-game speech," Allison said. "It's going to be one more and then I'm going to go on."
Allison graduated from the UA in December 2009 with a degree in political science, intending even then that law school would be her next step. She has wanted to be a lawyer since reading her first John Grisham book.
But Buzz Bolding, then the CHS athletic director, called her before she graduated with an intriguing offer to return home to her alma mater to coach her sport.
"I was very honored and flattered, but I thought, 'There's no way I'm going back to Conway; I'm going back to school,'" she remembered. "Then I thought about it. I'd always been a player, not a coach. I thought it might be just for one season, so why not? Little did I know how much I was going to fall in love with these girls and with coaching."
Allison has taken the LSAT, the prerequisite to be admitted to law school, but the lure of soccer has kept her in the 501 — for one more year, anyway.
She has moved to Fayetteville to play this summer for the Arkansas Comets Futbol Club of the Women's Premier Soccer League. She described it as "not semipro but not the high, high level." She'll probably stay in Fayetteville this fall, applying to various law schools with the idea of enrolling in August 2012, before returning to Conway in January to start workouts with her Lady Cats.
"But the biggest thing I've learned is my plans never work out the way they're supposed to," she said, chuckling. "Four years ago, I thought I had my life planned out. I was playing college soccer, going to get my law degree, but God throws you curveballs. I'm sure he's had a couple of knee slappers from me the last couple of years. But it's fun sitting back and enjoying the ride, letting things work out the way they were supposed to."
Two years ago, she never suspected she'd be coaching. Now, the joy of her life is going to Lady Cat practices and seeing her girls.
"I don't want people to think I'm one of those coaches who's all about winning," she said. "We were undefeated, won the state championship, and it was nice to see their determination, but to me, winning is a bonus. I know all too well that at some point for these girls, their career is going to end. I'll never forget a cold October night in 2008 at LSU that marked the end of my career.
"What you take is the memories you make, the friendships you make and how through sports you can grow your character, learn life skills that will go far beyond high school soccer and soccer in general. As coach, I'm in charge of 32 high school girls, and I can help try and mold them into the people they will be. I want to be a positive role model."
Allison said her major goal when she took the job was to bring the team together.
"There had been some cliques, but the best thing I learned from being a Razorback was how to be a teammate," she said. "There had been some drama, and I wanted to pull them all together. They're an amazing group of individual athletes and soccer players, and what they can do when we come together is incredible. We needed to get rid of any drama because at the end of the day, we're wearing the same jersey and working for the same goal."
Her seniors agreed that had been her biggest accomplishment.
"When she came in my junior year, you could tell things were changing," Rachael Caldwell said. "That was a building year. We got to know each other, and this year we were like a family."
Added Kacey Hight, who will play for Hendrix next year: "I think we always thought we could win a state championship, but with Whitney, we were able to become a team, which I think I enjoyed more than the championship. Being able to come together as a family, a unit, instead of just a bunch of individuals was definitely a key."
Allison said the Lady Cats were impressive to watch.
"The soccer did not look like that when I played," she said. "It was kickball; we played with a lot of heart, but it wasn't real soccer, and these girls look like maybe a smaller (NCAA) Division I team. They play collegiate soccer.
"That makes me proud. I would like to think I've taught them some soccer, made a difference with them, but in all reality, it's been the reverse."
Allison was asked to join the Arkansas Comets, the first WPSL team in the state. She'll join a group of high school graduates — including the Lady Cats' Brooke Ballard, who is headed to the University of Central Arkansas in the fall — as well as some of her former Razorback teammates.
"It's a good mixture of players," Allison said. "It's a huge roster. Not everybody will make the travel squad, but everybody will play."
Allison wasn't looking to relive her glory days on the field. Instead, she's thinking about what effect the experience could have on her coaching.
"The more you play soccer, the more field experience you get, the more you learn," she said. "I want to be the best coach I can possibly be. It'll be fun, I love soccer, and the more I play, the more I learn about it and the more I grow my soccer brain."
Her second season proved she had plenty of soccer knowledge. Since the Lady Cats had only stumbled against Fayetteville in 2010, she purposely scheduled the Lady Bulldogs for early in 2011. Conway avenged the troubles, 2-1.
"I've always told my girls that we were better than Fayetteville, that it was a mental block," she said.
Allison said the turning point for her squad came in the 2010 state tournament when Conway's season ended against the Lady Bulldogs.
"Our seniors were gone, and we didn't get the job done last year," she said. "We wanted to improve on that this year."
After the Arkansas Activities Association tweaked the soccer schedule, the longer preseason worked in the Lady Cats' favor. They tried out a new formation, which seemed to alleviate their early worries about a potential lack of offense. When they finally got to play — "a freezing cold, very windy, miserable weekend" in Northwest Arkansas, they won three games in penalty kick situations.
"We were very good defensively, had a great goalkeeper, but we were worried about our ability to score," Allison said. "We laugh at that now for how far we've come. In three rounds in the state tournament, we outscored our opponents, 10-0."
As the top seed from the 7A-Central, Conway had a first-round bye in the state tournament. The Lady Cats then beat Rogers in the quarterfinals, 3-0; Fort Smith Southside in the semis, 4-0; and Bentonville for the championship, 3-0.
"That was something I was not prepared for at all," Allison said of the margin of victory in the championship. "I expected us to win, but I thought it would be a very close game. We were worried we weren't able to score, and in (the 7A-Central) conference we were beating teams 4-0. One week we won 4-0 Tuesday and Thursday. By the time we got to state, we were very prepared."
Ballard earned all-state and all-state tournament honors, as did Caitlyn Carroll and Julia Pettit, who was named the tournament MVP. Brittany Ashcraft earned all-state tournament honors; Ashley Johnson made the all-state team.
Ballard missed her junior season with a torn meniscus. But she, too, sensed that things were changing.
"I missed it so much," she said. "It was so hard to read about them and not be able to play. Whitney's an awesome coach. She called me when I was hurt and told me, 'Next year we're winning a state championship, and we want you to be a part of it.'
"It was definitely the perfect season. We all came together and achieved our goal. That's what made it possible for me to make the teams I did this year."
Hight said she was excited to move on to Hendrix to continue her sport.
"Especially because Hendrix has such an emphasis on education, which is what I want to focus on," she said.
Caldwell and Morgan Woodward, though, will head to the University of Arkansas on academic scholarships, and their serious competitive soccer is over.
"I'm OK with it," Woodward said. "I'd rather focus on academics, but I'll probably do intramurals or play on a club team. Just to be able to look back on my high school soccer career where we topped everything off — it was our last chance to leave our mark on the school, and we obviously made history. We've accomplished a lot."
Allison said the entire 2011 season featured a different mindset from her first one. Her ongoing theme with the team was, "How bad do you want it?"
"Honestly, I knew how bad they wanted it," she said. "I could see their determination, but I wanted them to prove it, and they proved it every time they stepped on the field.
"Conway is now a force to be reckoned with in girls soccer. They proved it. It was an amazing season, and I'm so proud of them. I'm already planning practice for next season."
So her plans are to return in 2012 as the Lady Cats defend their state championship. But she said she would be OK even if they come up a bit short.
"I'm going into it knowing we can only equalize what we did this year," she said. "We can have another perfect season, win another state championship, but we can't beat it. I know the talent I have and the realistic opportunity to do it again, but at the end of the day, winning is a bonus.
"The reason I'm coming back is this group of juniors. I couldn't imagine myself somewhere else their senior year. We set a goal and we accomplished it. At the end of the day, it's about being a part of their lives for another year and having them as part of mine."