Aug 20, 2019

A servant's heart: Walton enjoys helping others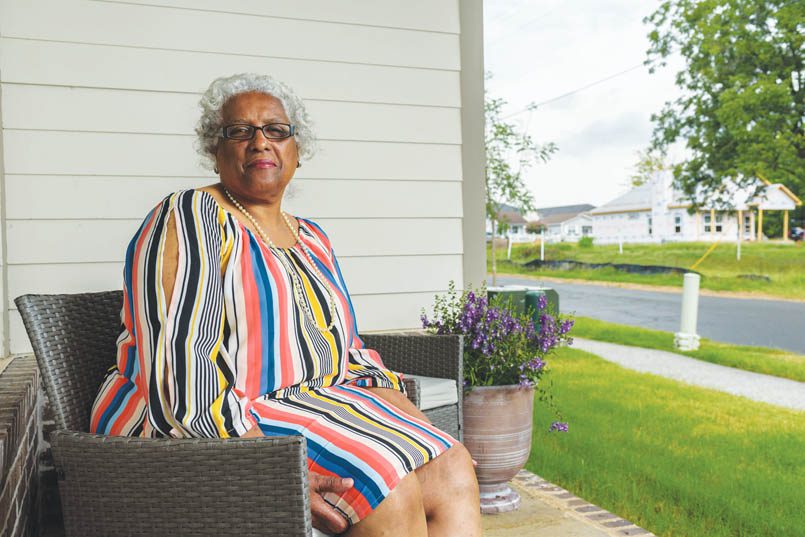 by Kiera Oluokun
Mike Kemp photos
Leona Walton is no stranger to giving back to her community. 
Born and raised in the historic Pine Street neighborhood in Conway, Leona takes pride in being involved and preserving the values that were once instilled in her at a young age. Leona's commitment and love for the Pine Street neighborhood derived from her upbringing and she credits the Pine Street School for keeping her rooted and grounded throughout the years. 
Leona started her first years of school in segregation. She attended Pine Street School until the sixth grade. She attended Conway High School and graduated in 1974.  
The Pine Street School now serves as a multi-purpose facility as part of Pleasant Branch Baptist Church. 
It was while she was attending the Pine Street School that Leona learned the importance of loving and enjoying those around her. Although growing up during the time of segregation was difficult, Leona said that she always made the best of her situation. "The teachers at the Pine Street School cared about what happened to you. If you did something on Friday night or Saturday night, you were going to hear from your teachers," Leona said. She remembered one teacher in particular who would take students to her house if they showed up unbathed or with dirty clothes on. "You are not going to see that as much now, and that is what children need."
Leona remembers receiving love and learning discipline from her teachers during her time in school, something that she needed. She is still in contact with her 93-year-old former third-grade teacher, Ms. Rosemary Bryant-Woods. They speak once a month and Ms. Bryant-Woods even attended her recent housewarming. 
Leona is grateful to her late husband, Bobby Walton, for introducing her to some of the relationships that she still maintains today. "Because of his age and the era that he grew up in, as an adult I was able to have a lot of personal relationships with people in his era."  
Leona is a lifelong member of Pleasant Branch Baptist Church in the Pine Street neighborhood. She recalled memories of attending church every Sunday with her grandmother. "There was no discussion on where you were going on Sunday morning. You knew where you were going — to Sunday school and then to church." 
In addition to being an active member and the secretary of her church for more than 20 years, her service to her community dates back to the early 1980s. She first served on the Faulkner County Concerned Citizens group, where she served as the secretary. 
Currently, she also plays an active role as co-founder of the Pine Street Backpack Program. Since 2007, Leona has assisted in providing backpacks filled with tailored school supplies to more than 1,000 students each year. "I love this program because I love helping people. The kids come in smiling and the parents are so appreciative of what we are able to do for them," said Leona. "I also love how the community comes together for this program — it could not happen without the volunteers." 
Leona considers herself more of a guide for those who need assistance on where to go or who to call for particular things. "I've always liked to be a part of things that have a positive impact on the community." Over the years, Leona has served on the food pantry committee for her church; the Pine Street Community Development Inc. committee; treasurer of the Pine Street Free Clinic; and a volunteer at HOPE preschool at Pleasant Branch. Leona also serves on the Robinson Cemetery Board, which is in the heart of Pine Street. "After seeing how the past cemetery groundskeeper was not keeping the property in good shape, we decided that something had to be done. Our family members are buried there, and our committee wants to make sure that the cemetery is maintained properly."  
Not only does Leona serve as an advocate for the Pine Street community, but she is also a lifelong resident. "Currently, I live four blocks from the house that I grew up in, where my mom still lives." Leona has four siblings, two children and five grandchildren. 
She and her late husband were a part of the planning team that started the discussion of revitalizing and developing the Pine Street neighborhood. She remembers Bobby telling her that when they started building that he wanted "the house on the corner." Sadly, Bobby passed away three years ago, prior to the development of the homes. 
Leona and Bobby shared 32 years together, which is why receiving their home on the corner meant so much. "Nevertheless, I kept on praying and asking God to give me that house on the corner because that was my house — me and Bobby picked it out." 
Leona's new home on the corner is right where she wants to be — in the neighborhood she cares so deeply about. "I sit on the porch and cross my feet at the bottom and watch people walk by. I can't wait until the fall when people are out and I sit on the porch and wave at people when they go by. I look forward to getting them to stop and talk — let's just stop and talk to one another."