24 Sep 2018

A retreat

Story and photos
by Robin Richards

Sean and Jackie Sikes run the Greater Good Retreat in Van Buren County — a true gem in the 501.

The Sikes believe in helping others. "We are all about giving back in any way we can," said Sean. "We urge our guests to share the same spirit." 

The Sikes epitomize the state's giving spirit by finding ways to feed and support the Van Buren County community, especially its senior citizens, through a nonprofit called Dirty Farmers Community Market. From 2011 to 2015, they owned and operated the Greater Good Café, which gave patrons the option to pay what they could for a meal made from locally grown food. Their mission involves a continued presence in the local farmer's market and multiple fund raising events within the community to help meet various community needs. Funds from Sean's band, The Sean Sikes Band, help with meeting their expenses, too.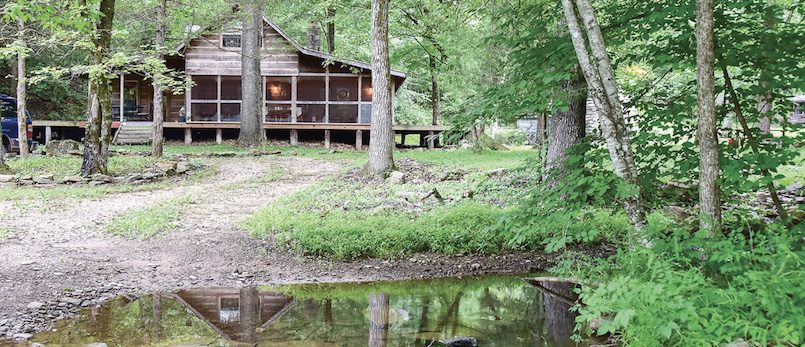 Their generous spirit has been reciprocated by the generosity of another person in the form of being blessed with a home and a cabin on 140 acres located in the Ozark Mountain foothills for an annual $1 lease payment with one caveat. They must maintain the property and continue their mission of giving back. 
Jackie's story tells how a Halloween party held several years ago helped them obtain their current home.
"We had a friend we met at Walmart, and we invited him to attend our annual Halloween party held at our house in Dennard. This friend brought a lady friend to the party. At the time, Sean and I were vegetarians, so I made chili for our carnivore friends and vegetarian chili for our vegan friends. She was so impressed with us and loved the vegetarian chili so much that she stayed later after the party and visited with us. It turned out that we had a lot in common. We stayed friends all these years. That is the only time that we had seen this woman face to face. She has since moved out of state, but we stay in contact. She helped us start the farmer's market and the Greater Good Café. She loved everything that we were doing. 
"One day, she tells us about this property she had, and its caretakers could no longer stay there. So, she said she wanted to sell it. She asked us to take care of the property, and we went in and cleaned it up. We maintained it for about a year. We were still living in our home in Dennard. Between our Dennard home, maintaining her property, running the café, the farmer's market and all the fundraising events we held, we felt stretched thin. After a year of doing all that and her unable to sell the property, the woman asked me to come up with a business plan. You do that, she said, and I will just give it to you." 
The Sikes talked it over and decided they would rather put more time and money into their mission than what they were putting into all their other nonprofit ventures. They decided that 100 percent of the funds raised from their fundraisers could go toward their mission instead being stretched into everything else. They reviewed their options and talked with their board of directors.
"It was a no brainer to close the café, leave our Dennard home and live on this property," said Jackie. The Sikes moved into their new home in 2015 and the Greater Good Retreat was created.
That decision turned out to be their wisest one. They have enlarged their mission footprint within Van Buren County by engaging area senior citizens in community events designed just for them, such as bingo, game night and an entertainment night. They have been able to reach more seniors' food and clothing needs, plus build companionship for them. They still hold annual community fundraising events to provide financial resources the Sikes use to keep doing so much good for others.
The Sikes love living in their natural setting the most, and Sean loves his technology, too. "Technology keeps us connected to the rest of the world from out here," he said. He still likes the conveniences city life has to offer and misses it occasionally. 
Jackie is an Arkansas transplant from Colorado and California. Her ex-husband's California job moved to Arkansas, which brought Jackie here many years ago. Sean is an Arkansan who was born in Benton, raised around Saline County and Little Rock. They met when Jackie hired Sean to work for her daycare center. 
The drive to the Greater Good Retreat helps one understand why the Sikes live where they live in the 501 area. The drive to the retreat from Little Rock or Conway is fast and simple. A right-hand turn past the Botkinburg Antique Warehouse changes the journey and scenery dramatically.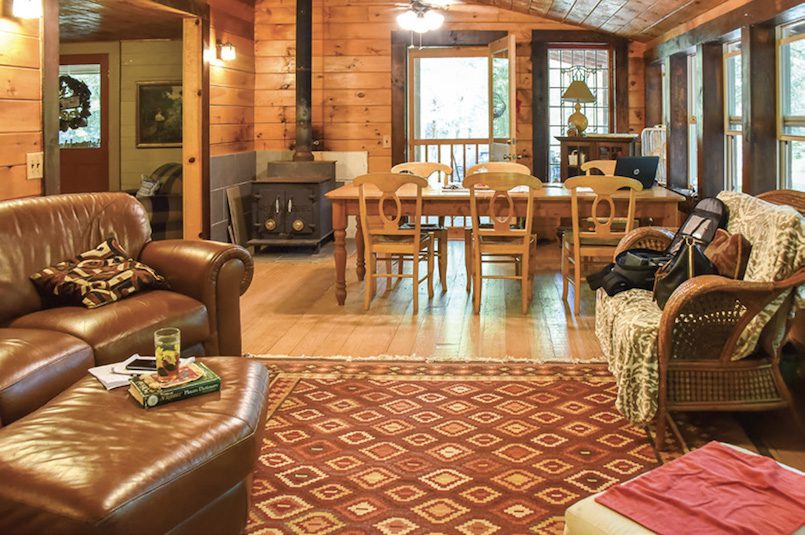 The road to the retreat is approximately 10 miles and just like Arkansas' fickle weather it changes abruptly from pavement, to a gravel road filled with steep hills and curves and finally a very bumpy dirt road. Caution is required if the vehicle is not an SUV or a truck. At the end of this dirt road sits a red cattle gate and the drive ends here. Vehicles are left parked near the red gate during the entire retreat stay. Jackie explained they encourage retreat visitors to hike that last mile.
Dense forest areas surround the Sikes property. From fall to spring, a river flows along the property, but a typical Arkansas summer will dry it out, with the exception of a small bubbling spring, until the rains begin again in the fall. The property has four waterfall sites with the tallest being 70 feet according to Sean. The hike to the retreat and thereafter is where the guest is immersed in Arkansas wilderness and its hospitality.
An isolated one bedroom and one bathroom cabin is rented through Airbnb. The guests' stay is customized from the food they want to eat to things they want to do. Jackie cooks all the meals, including baking her own bread. The meals are made from everything grown on the property. Presently, the retreat is not really suited for small children, but occasionally the Sikes will make an exception depending on the ages.
To learn about the Sikes and the Greater Good Retreat, visit facebook.com/dirtyfarmerscommunitymarket.  
The Greater Good Retreat is perfect for anyone who needs to de-stress, live inside nature and re-energize for a while. Its seclusion guarantees it. Guests will be given the utmost care by two very giving, caring and charming people who work to make the stay whatever it needs to be for anybody.