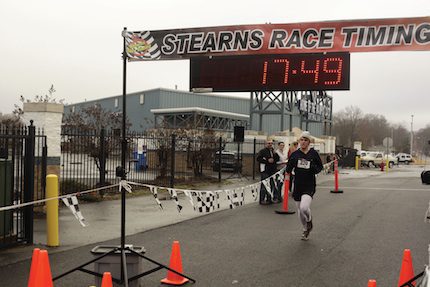 18 Nov 2017

A racer's life told by a racer's wife

by Marissa Mourot


I've been an avid sports fan my entire life and always felt pretty confident that I knew all there was to know about most sports. After meeting my (now) husband, Mitchell Mourot, I found out that I was wrong. There was a sport out there that I knew very little about.


Mitchell is a dirt track racer. He grew up around racing, as his dad, Tim, used to race. He has loved the sport for as long as he can remember and will tell you there's not much else that can give an adrenaline rush like being behind the wheel of a stock car.

He started out racing dirt bikes and ATVs at the age of 7 with the help of his dad. He wanted to race anything he could race. The next few years he helped a friend work on his car and finally, at age 14, Mitchell got his own dirt car for his birthday. He raced that car for one year until the race track stopped running his class.


It wasn't until age 20 that Mitchell decided to get back into it and bought an old car that was in pieces. With the help of a couple of buddies, he was able to get the car put together, painted and ready to go. His first night, he ran second place against some long-time racers. His dad was in the stands watching and they were both hooked. They started building motors and learning the ropes together.


Mitchell admits his first year was a rough one, but in his second year, he won the 2014 Points Championship at Plumerville Super Speedway. The following year he lost the championship by just one point after a wreck during the last race.


I met Mitchell at the end of the 2015 racing season. Goodness, I sure didn't know what I was getting myself into. Mitchell warned me, his parents warned me, his buddies warned me — "Come racing season, you won't see him unless you go to the shop with him." They told me he'd spend hours and hours at the shop, working on his car. I didn't really understand until racing season rolled around. It really takes so much time, hard work and dedication to make sure a car is race ready. The first time I saw him out there on the track in that 1x car, I knew I'd found another sport to learn and love.


In 2016, Mitchell won his first "big money" race — $2,000 in the Super Stock Summer Sizzler held at Plumerville. That was a memorable race for him, however, this season of racing has probably been one of the most fun for Mitchell and the rest of the racing team. He was able to win the title of Points Champion, again, at Plumerville, and did so with good stats. He won 16 out of 19 feature races.


Mitchell says he owes a lot of his success to his pit crew, including his dad and Ray and Eric Welch. "They've been there for me since the start and have helped so much. Eric and I share a bond — he knows my driving and how to read the car and make changes when needed. They all help me keep a fast hot rod for sure."


Mitchell has raced at tracks all over the state, as well as a couple in Missouri. However, his favorite track and the track closest to his heart is definitely the one he started out on, the one that holds so many cherished memories, the one just down the road from his house — Plumerville Super Speedway.


And so, while I knew of dirt track racing, I didn't know anything about the sport until I met Mitchell. I didn't know what I was missing out on. I never knew I'd be the type of girl who enjoyed spending her weekends at the dirt track, but here I am — a racer's wife and I wouldn't change a thing.