27 Oct 2021

a place Where SUcCESS DOESN'T quit

By Becky Bell

Quitman School District, home of the Bulldogs, has seen a 25% growth in the student body since 2016 and had its first home game at its $2 million fully renovated football stadium, which includes a new track.

"Last year, we experienced a large amount of growth. We had almost 100 new students and 70 of those took advantage of the school choice law," said Michael Stacks, assistant superintendent, high school principal, and athletic director. "Regardless of where they live, they can choose where they go to school. There are really a lot of folks taking advantage of that and sending their kids where they want."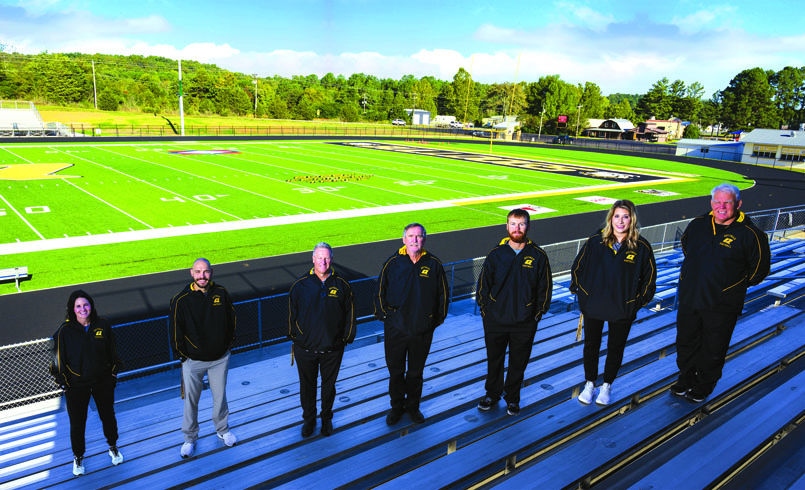 Stacks said all that it takes to get into a district is to complete an application for school choice and it is granted. School choice is the program authorized by the Arkansas General Assembly in 2015.
Along with growth, Quitman's district is a Professional Learning Community Model School District, he said. It is the only such district in Arkansas and is recognized for the staff's work in establishing professional learning communities in the district.
"Our staff has been trained to work, collaborate, and teach higher learning for each child," he said.
And at Quitman, there is a focus on teaching a child more than just how to perform on a yearly test, such as the ACT Aspire for third through tenth grades.
"We want them to be productive citizens," Stacks said. "We've had large gains in student performance with standardized tests, but we try not to make that our priority. We hope to continue our growth, and we believe that the more students we have means more opportunities. And we want to be able to say it does not matter if students are in band, athletics, FFA, or just focus on academics, we want Quitman to be a place where they can find their niche."
Athletics is another area where Quitman has been improving and striving for success. Until 2016, the district had never had a state championship in any sport, but has had nine state championships in basketball, cross country, softball, and track since.
"And we've made 17 state championship appearances and hosted a football playoff game last year," Stacks said. "So, working to raise expectations in academics and athletics go hand in hand."
The $2 million fully renovated football field and new track is something the district is certainly proud to offer students. The renovations were made possible by a 2.5 millage — the first one passed in 25 years — district funds and $350,000 worth of community donations, he said.
"Pretty much the only thing that is the same as it was before is the bleachers," the leader said. "We picked them up and moved them and went from grass to turf. Then we built a track around the turf field for our track program. We have all new fencing and lighting."
Stacks said the state-of-the-art lighting features LED light systems that flash a light show during touchdowns.
As academics continue to improve and facilities grow and change to accommodate students, Stacks expects more students to be attracted to Quitman in the future.
"We usually have a family a week wanting a tour to see if they want to send their students here," he said.