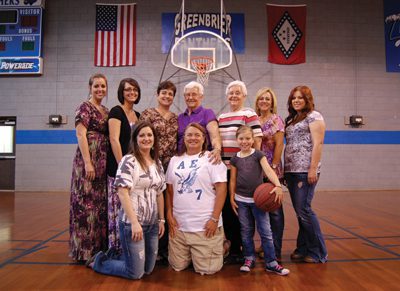 22 Oct 2011

A perfect team on and off the court

by Donna Lampkin Stephens

For 78 years, Anavurl and Luevern Sams have been the perfect team.

The twins, the youngest pair among eight children, grew up at Martinville in rural Faulkner County, where they attended school through seventh grade. They went to Wooster for eighth and ninth grades before making their marks at Greenbrier.

"The indomitable Sams twins," as they were called in an article in the Arkansas Democrat during their high school careers, are considered by many to be the best female basketball players ever at GHS.

They played in the era when girls played half-court, six-on-six, in which teams were divided into three offensive players and three defensive players and those never crossed half-court. The Sams twins played offense, each earning all-state honors.

Anavurl Sams Garrett Karber, the younger of the two, scored 61 points as a senior in the District 5N Tournament on March 4, 1951.

Luevern Sams Hartwick Glover, the elder twin, fed her sister the ball on most of those points. Although not the prolific scorer her sister was, she earned her share of points over her career.

They were, for all practical purposes, 5-foot-5 identical twins. Anavurl wore No. 11; Luevern was No. 12. Both could palm the ball. It wasn't until 1986 that girls began playing with a smaller ball.

Tom Dygard wrote in the Arkansas Gazette during their years in high school, "The Sams twins caused quite a sensation with their fast-breaking and fancy shooting."

Another clipping, from the Daily Banner-News in Magnolia, called them "Greenbrier's sensational twins":

"The Sams twins were easily the best crowd-pleasers of the night. Everyone except the opposing players cheered their court tactics, and several of the opponents outwardly marveled at their skill."

In the Feb. 11, 1951, edition of the Arkansas Gazette, famed sports editor Orville Henry wrote of them: "We couldn't help but get the idea that Greenbrier's Sams twins could step right onto the court and play first string with Jonesboro's Hurricane. Given an added three or four inches in height, that is, for they had all the other requirements of really good fast-break players . . . The Sams twins had to use every shot and every maneuver in the books to get their points."

Martin Holmes of the Arkansas Democrat wrote of them during an AAU tournament: "They shot, passed, dribbled and ran with such speed and drive that guards often became rattled to the point of distraction." The twins scored 190 of Greenbrier's 208 points in that tournament. Anavurl recorded 125; Luevern added 65.

Both agreed on the reason why they were so good. They had five older brothers (Eldon, Junior, John, Marvin and Wayne) and one older sister, Carolyn.

"We wanted to play, and they didn't want no sissies," Anavurl said. "We had to be good to play with them. We were a lot tougher than we looked."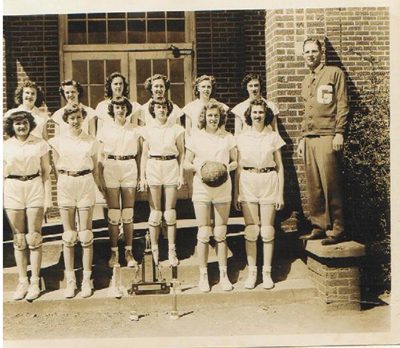 Carolyn, a bit taller and two years older, joined them in the Greenbrier starting lineup when the younger sisters were sophomores. The twins won AAU state championships during the 1948-49 and '49-50 seasons. Greenbrier didn't win a high school state championship until 1956, but the twins remembered they always won county and district tournaments.
After playing on a dirt floor at Martinville and in a gym at Wooster, the Sams twins advanced to "The Barn" at Greenbrier, which was replaced in the 1950-51 season by a new gym that became known as "The Dungeon" because of the elevated seating for fans. That gym, now located on the campus of Greenbrier Junior High, is being demolished to make way for a new building.
"That new gym was like a million dollars," Anavurl remembered. "We filled that gym full every time we played."
Added Luevern: "We broke it in. It was the best gym around the county."
On game nights, with their home 15 miles away in Martinville, the twins would go home with a friend from school and spend the night in town after the game. For AAU trips to Little Rock, because cars weren't common, their mother and aunt rode in a neighbor's two-ton truck with sideboards on the back.
Carolyn played under the basket; Anavurl played outside. While they drew the attention of sportswriters, Luevern knew her role.
"There was a big write-up on Anavurl and Carolyn, and I got two little paragraphs: 'Luevern has hard, brilliant passes,'" she remembered. "I was the one who fed it to them. They wouldn't have made all those points without those passes.
"Be sure and get that."
After Luevern fouled out in one game, Anavurl remembered getting the ball from half-court, taking two dribbles and hitting a layup.
"I was mad," she said. "When she fouled out, that got me going."
Luevern agreed her sister had a temper.
"My brothers hated to have a fight with Anavurl," she said. "Wayne said he'd just as soon face I don't know what than her. One time me and Junior got into it, and Anavurl came to help me. When she did, I quit. I was glad to get out."
Their farm-girl status toughened them – milking cows, riding horses, picking cotton, building fires in the wood stove.
"You know how kids today hate to practice," Luevern said. "If they'd been out in the cotton patch, they would've loved to have been at practice."
But natural talent and determination also contributed to their success.
"I never was nervous," Anavurl said. "I didn't want to show out and act smart, but in my mind, I thought, 'You're not going to outdo me.'"
Her 61-point performance against Casa was far better than the 30-40 she averaged. Word of both girls' talent reached Hazel Walker, the Arkansas woman who had played professionally with the All American Red Heads before starting her own team, the Arkansas Travelers, in 1949. According to the Encyclopedia of Arkansas, the Travelers played exclusively against men's teams during their 220-game season.
"Hazel Walker was going to get us to play, and they announced that in school when we were seniors," Luevern said. "For some reason, though, she decided we were too short."
Although they were well known for being homebodies, Anavurl said they would've probably stuck with the Travelers. Instead, they gave up jobs and positions on the Ottenheimer Brothers softball team in Little Rock after just one day because they were homesick.
"They'd give us a job if we'd play softball for them, so we got moved down there and practiced that evening," Luevern remembered. "Of course, we knocked the ball way out there. Then we go to work the next day, and they gave Anavurl an office job and they put me to sewing. I said I was going home; I never had sewed before, so they made up an office job for me."
Added Anavurl: "We got homesick, and the next morning we counted our money and had just enough to get to Conway."
When they got home, "we had to go to the cotton patch," Luevern said, chuckling.
Another time they paid $25 apiece to apply for jobs as airline stewardesses. They got their money back, though, after the homesickness hit early.
Instead, both went to work for the SAS shoe factory in Conway. Anavurl spent nearly 25 years there, two years in a Conway bank and a month with the Union Pacific Railroad before settling in for nearly 20 years with the Conway Human Development Center before retiring in 1997. Luevern had three stints at the shoe factory and ultimately retired after nearly 21 years as a telephone operator for Alltel.
They continued playing softball into their 50s.
Both were widowed and have remarried. Both have three children (Rue Douglas Garrett, Dana Taylor and Tracie Garrett are Anavurl's; Debbie Williams, Mark Hartwick and Mary Ann McKay are Luevern's); both have six grandchildren. Luevern has six great-grandchildren; Anavurl has two.
Children, grandchildren and great-grandchildren have followed in the twins' athletic footsteps. Four generations have played in the old gym.
Anavurl was named Craig O'Neill's Grandmother of the Year a few years ago on Today's THV.
And stories of their athletic prowess live on all these years later.
Luevern's daughter, Debbie, lives in Malvern. Several years ago, when a new acquaintance found out she was from Greenbrier, he said to her, "There were two girls up there who could really go playing ball. I think they were the Sams twins. Did you know them?"
And after all these years, the bond between the twins remains strong.
"You love all your brothers and sisters, but there's something special with your twin," Luevern said. Not surprisingly, Anavurl agreed.