29 Oct 2020

A passion for missions: Operation Christmas Child offers a local way to give internationally

by Stefanie W. Brazile

Two local families share a passion for making a difference in the lives of children in other countries using shoeboxes and have found a way to accomplish that from Conway.

Working through Samaritan's Purse, Meredith and Paul Bradley and Erica and Andy Cason have impacted thousands of lives globally. The charity is known internationally as an evangelical Christian, humanitarian-aid organization and the annual project is titled Operation Christmas Child (OCC). The Bradleys champion the cause at their church. By creating an organized way to give and hosting packing events, thousands of shoeboxes are sent from Conway to excited children around the globe.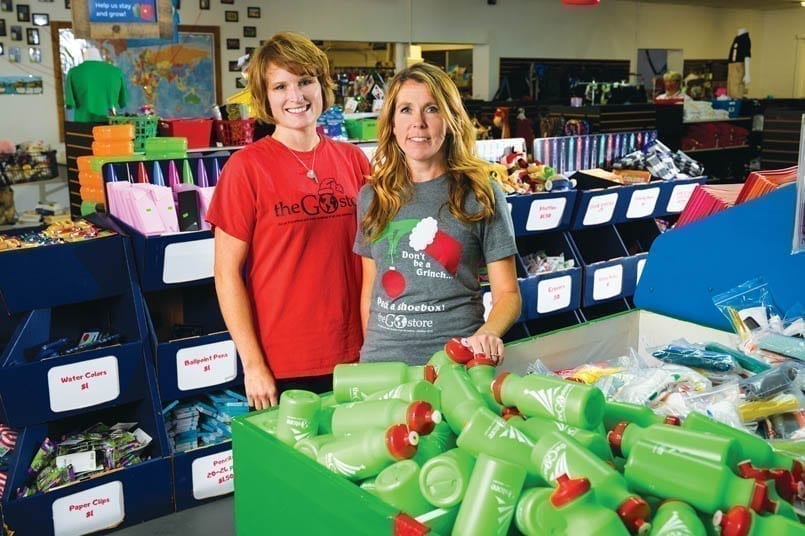 "We started going to Fellowship Bible Church (FBC) right after our daughter was born about nine and a half years ago," Paul said. "We didn't know much about it and we packed two boxes. When we brought them to the church, Ken, our pastor, asked us to pray over the box and for the kid who was going to receive it. It really connected with us that a child our kid's age would receive this. I thought it was interesting. It was very hands-on and different from anything I had been a part of in the past."
As an American, it's hard to imagine the difference the items can make, like a bar of soap, a washcloth and toothbrush, pencils, a pair of Velcro sandals that can "grow" with the child, toys, perhaps a deflated ball and pump, and even paper and pencils. We forget that a toothbrush is a luxury that children all over the world do not own.
Over the years, Paul and Meredith became more and more involved and committed to being their church's Project Leaders and they also serve on the year-round team. FBC makes the project a major fall emphasis and the couple goes to great lengths to keep everyone informed and excited about giving. The church is even the collection site where individuals, groups and churches from around the area will bring their filled shoeboxes during National Collection Week which is Nov. 16 – 23. From there, the boxes are sent to regional processing centers where each box is carefully checked to be sure that it doesn't contain an item that will not pass customs, like toothpaste, army men, medications or food. At that time, a small leaflet about the love of God is added in the language of the child who will receive it.
Meredith said that they view OCC as a tangible way for their family to make a difference together. Now that they have three children (ages 9, 7 and nearly 2), they show them Operation Christmas Child videos and let them choose items.
"We try to think of needs, not just toys," she said. "Getting them to think strategically is more challenging. We've shown them videos where one toothbrush is being shared among 40 kids. I think it's so important for them to see kids outside of America and I love the sweet conversations we have. We pray together that they will use these items, but will also have a relationship with Jesus."
As the Bradleys' passion has grown, so has their support of the shoebox ministry. They now pack 50 or more boxes a year and that is in large part because of the Casons, who founded The Go Store at 807 Court Street in Conway.
A physical therapist by profession, Erica initially opened the nonprofit as a three-month project where people could buy items for OCC boxes at cost, therefore allowing the donation to go further.
"Year one, Andy and I bought all the inventory and went through 2,000 hygiene products," said Erica, the store's co-director. "Year two, we had an insane yard sale fundraiser at FBC. At this point, I realized this was not a temporary project and we decided I would quit my job and go all in."
At this time, the nonprofit business is open year-round and receives donations of all kinds from the public. They sell bags of clothes for $5 every day as a service to shoppers. They also offer furniture and home accessories. Using the money made from these items, they pay their overhead expenses and pre-purchase thousands of items that are qualified to go into OCC boxes. Because of buying items at cost, you may be able to pack two boxes for the price of one.
"This is the one and only store like this that I know of," Erica said. "In the next few weeks, we'll be here all the time. I have wonderful volunteers and we're passionate about it!"
You can call to schedule a time to shop: 501.743.0072. Or, you can donate money by check to: The Go Store, 807 Court St., Conway, AR, 72032. You can also drop-off a financial gift. Nationally, the requested shipping per box is an additional $9.
It's not too late to participate. To learn more, call The Go Store or give online through Samaritan's Purse. Another local contact is the Arkansas River Valley Area Coordinator, Dawn Wilson, who can be reached by calling 501.269.0434.