Dec 26, 2019

A passion for education: UACCM surveying instructor recognized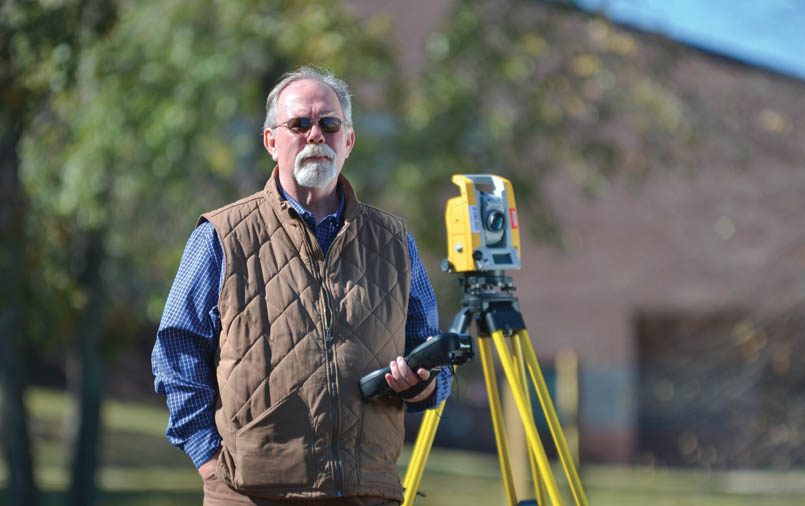 by Jared Craig
Surveying instructor Terry Cleaver can still imagine how the campus of the University of Arkansas Community College at Morrilton appeared in the early 1980s. That's a tell-tale sign of his history with the college, with his first exposure dating back to when he was a student. Recently, the campus community voted him as faculty member of the year. 
Cleaver didn't always plan to be a surveyor. When he graduated from Clinton High School, he went to college at Arkansas State University-Beebe, left a couple years later, and got a job at a local grocery store. It was solid work that paid well. He liked his prospects of making a career of it, as he climbed the store's hierarchy. Then something sparked in his mind: he wanted to be outside. He didn't see a future being stuck inside a grocery store, restocking goods or working a cash register. He romanticized a profession surrounded by nature and explored possibilities to fulfill that dream. 
He found that Petit Jean Vocational-Technical School (now UACCM) stood as the best place for him. "I had the options of Arkansas Tech and UCA. They are four-year universities; you went there to get a degree for some professions. But you came to Petit Jean if you wanted a job," he said. "Petit Jean guaranteed you a better shot at good, substantial work." 
The college looked completely different back then. Most of the current buildings for academics and student life were not constructed yet. Buses brought in students from nearby counties, which Cleaver used to commute from Clinton at no charge. 
"At that time, the school was a training ground for a wide variety of career opportunities," he said. 
The college focused on technical fields in high demand at the time: horticulture, printing, carpentry and cabinet building, among others. Heavy equipment classes met on a swath of land, barren with neither vegetation nor any development. Currently the bulk of the college's buildings are located there, but in the past students trained on bulldozers and other construction machinery. Class time consisted of digging holes and moving mounds of dirt.
When he chose surveying and drafting, he quickly found his passion. It included everything that he wanted, including spending some time in the outdoors. Among his favorite memories, he appreciated that the program consisted of comprehensive on-the-job training that spanned 11 months. The college placed him at an engineering firm in Heber Springs, where he gained field experience and expanded his knowledge of the fundamentals. He was able to take what he learned from the classroom and make a survey out of it.
It's clear he feels a personal affinity to the profession. He notes how the field is rooted in the development of the United States. You can't mark boundaries or make measurements without a professional surveyor. "We utilize these measurements to establish boundaries, help build roads, bridges and buildings, the infrastructure of America," he said. "Boundaries are what built this country."
When he graduated from the surveying program, Cleaver's career took him to Conway County, where he joined a firm. He earned a bachelor of science in engineering degree at the University of Arkansas, and rose as a partner. A few years later, he became the sole owner of that firm. He always lived a county away from the college and kept up with the "transformation of the school to the community college that it is today." As his firm grew, the work demanded the need to bring in interns to carry on the load. He got students from his alma mater, because of the proximity, but he knew that he wouldn't have to train them on the field's basic principles. 
"I suppose this is where my training and teaching others first started," he said. 
The surveying firm grew over the years, as Cleaver added more crews and even elevated a few of his previous interns to the full-time staff. Then one day, he saw an advertisement for an adjunct instructor position at Petit Jean to teach surveying. The prospect of working at his alma mater attracted him. He never doubted his grasp of the field and had several advantages since he ran his own business. Getting himself to apply took some soul searching. 
"I didn't know if I would be good at it. I think the administration thought that as well," he said. "That's why they brought me on as an adjunct for a year." 
Halfway through the second semester, he knew he wanted a career in education. He smiles thinking about how now he gets to spend only half of his time inside and dives into surveying theory. He reads material that he never had time to explore when running a business and carrying out assignments. He enjoys being able to dedicate time on the finer points of something he recently read. "There are so many things to learn. There's no way to learn all of that in just a couple of years," Cleaver said. 
He took a full-time instructor position the next year. After 17 years, he now has former students who are now his peers. He calls that a good feeling. 
The benefits of owning a business proved to be useful in the classroom. Soon after he left his firm, he taught students some valuable lessons in managing an office. More often today, he stresses the need for students to develop their interpersonal skills. On nearly a daily basis, surveyors interact with clients, employees of municipal or county government, someone in a title company or other figures in the business and legal communities. He said fostering those relationships is critical. Even simple gestures of kindness can make a difference. 
"Go there with a box of donuts and some business cards, tell them who you are, and tell them that you're going to be around," he said.
Cleaver feels that practical advice helps students become better professionals. He talks to them about what they need to do when first entering the surveying field. His advice helps newly-minted graduates not make mistakes. Ultimately, he says that these graduates need to adapt their employers' methods. "Don't say 'Well, Cleaver said to do it this way.' Don't ever let those words get out of their mouth," he said. "Then after they get to know you, if you still think that you have a better way, you may offer a suggestion to the chief." He also tells his students to be at work every day on time. Punctuality is especially important in the field as surveyors will need to drive 30 miles to reach an assignment. He even suggests that they should offer to go in the office a half hour early to build a reputation of reliability.    
A long practitioner, his knowledge of surveying borders on the encyclopedic. He can walk the campus and note where new buildings can be placed relative to the distance of other structures — he knows the campus boundaries that well. He talks about how total station technology uses wavelengths to measure the distance between two points, and when it's best to use that method. He can get a quick reading when calculating 600 feet, as light waves are traveling at approximately 186,000 miles per second. "We are considered expert measurers but the way we measure today is considerably different than in the past. Surveyors today use electromagnetic wavelengths and satellites to help us achieve our measurements utilizing some of the best technology available in the field of measurement." Today, satellites can give surveyors measurements in just a few seconds. 
He is still active in the surveying profession. In 2019, he was elected as president of the Arkansas Society of Professional Surveyors. He also presents at conferences, most recently at a session on writing land descriptions and along with two other presenters "The Future of Surveying in Education." In addition, he is the county surveyor for Conway County.
The demand for more surveyors grows, he warns, as there are not enough new, licensed surveyors in Arkansas — and many other states — to fill the jobs of retired surveyors. Many are even retiring later so that a firm can keep up with the workload. 
As UACCM has one of two surveying programs in the state, Cleaver feels that he can help his students find the opportunities to enter the surveying profession and work toward licensure and a great career with few boundaries.