31 Jan 2022

A music man and The Max: A video tribute to 'Love in the 501'

There are many things that must come together for an effective 501 LIFE Magazine cover shoot each month. An amazing photographer, an engaging subject, a perfectly-lit environment, and always … a little luck.

When 501 LIFE chose the story "Two to Tango" about Rick and Sarah Pinedo for our February cover, 501 musician Jacob Flores and the team at The Max Event Venue helped bring our cover idea to life.    
Jacob Flores, is an award-winning, one-person band. The former American Idol and The Voice contestant performs a diverse repertoire of both American and Latin-American styles. With last year's release of his second album 'Cupid,' Flores is solidifying his position as an songsmith in the genres of Pop, R&B and Soul. Flores has been featured as a support act alongside internationally recognized recording artists: La Sonora Dinamita, Los Traileros del Norte, and Banda Carnaval.
501 LIFE Publisher Jeremy Higginbotham and his wife were impressed with Flores' talents at a performance in Downtown Conway. "From the moment we heard this musician capture the attention of an entire crowd by himself, we knew he should be featured in the magazine," Higginbotham said. Flores coordinated with the Pinedos and it was decided he would perform his original song "Mariposa Traicionera" as the backdrop for their Argentine Tango depicted on the this month's cover.
The next step for creating this one-of-a-kind video of the cover was to find an ideal location. The Max Event Venue was the first that came to mind. The event center is located in downtown Conway and debuted in November 2021. The new development hosts private, small events of up to 60 people. Created by Pete Tanguay, president of Rock Pond Pros, the experience begins when you enter the door. A stunning, modern chandelier centers the sophisticated room that was the perfect place for the dancers to perform.
Besides offering a first-class setting for personal or corporate events, The Max has leading-edge sound, video, lighting, and live streaming technology. Those who rent it can have presentations, record, and have the option of global connectivity through large screens.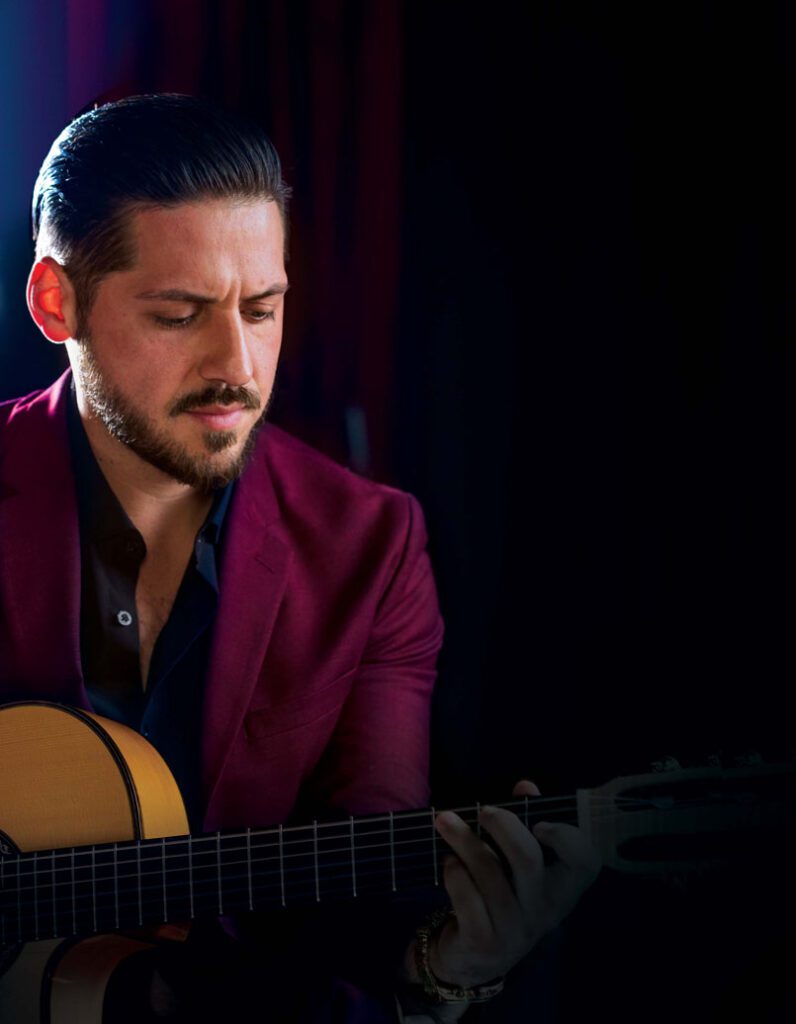 "Pete Tanguay invited Jeremy and me to tour his sophisticated new development in the fall," said Editor Stefanie Brazile. "It was a beautiful January evening when we brought in Rick and Sarah Pinedo to dance, Jacob to sing, and Mike Kemp to take the cover photo. Pete's team took care of the crystal-clear sound and impressive video work."
The shoot was electric. With 11 creatives in the building, the excitement was palpable. Because Flores and the Pinedos have performed professionally, the evening moved along effortlessly.
"We are grateful to Pete for the use of The Max, to Cunningham Creatives and Scot Pederson for the impressive videography, Monika Anne Cunningham for promotioal assistance and Mike Kemp for capturing the perfect moments. We were thrilled to be able to showcase the talents of these performers and for everyone that made it happen," said Higginbotham and Brazile.
Based out of Hot Springs, Jacob Flores provides original and cover songs at events, meetings and weddings. For more information, visit jacobfloresmusic.com.
The Max accommodates personal and corporate events and broadcast and performing arts production projects. Learn more at experiencethemax.com.