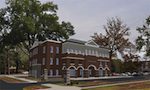 23 Jan 2011

'A miracle in the making' at Central Baptist College

Posted at 8:22 PMh

in

News

by Sonja J. Keith

Central Baptist College is off to an exciting start in 2011, with plans to break ground on a new academic building.

The project is the second major step in the college's "Vision 2020: A Miracle in the Making" plan to complete 10 major construction projects in 10 years to accommodate an enrollment of 2020 students.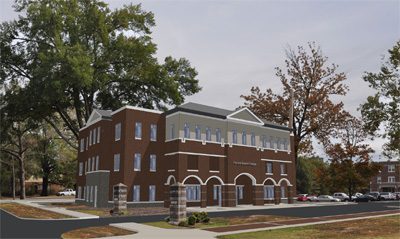 The groundbreaking ceremony for the new academic building will be at 10 a.m. Saturday, Feb. 19, during homecoming at CBC.
"The concept encompasses the recently completed 16-step campus facilities master plan of which the first step, a 100-space parking lot, was recently completed," said CBC President Terry Kimbrow. "My goal is to complete the next four steps over the next five years."
Architect Rik Sowell has presented preliminary plans and a conceptual drawing of the three-story, 30,000-square-foot academic building which will be located on the corner of College Avenue and Conway Boulevard. The building is expected to cost between $5-6 million.
"It will be our signature building," Kimbrow said.
Conway Corp. has pledged $750,000 over five years to fund the first floor of the new building. In addition to administrative offices and meeting rooms, the first floor will house offices that directly serve students including the registrar, financial aid and the business office.
The second floor will be home to PACE (Professional Adult College Education) and the office of online studies. There will also be several state-of-the-art classrooms.
The religion and missions departments will occupy the third floor, which will be equipped with numerous smart classrooms and a computer lab. "It is fitting that an entire floor of the new structure be dedicated to Bible and missions," Kimbrow said, adding that both areas represent two of the college's biggest degree programs.
Various naming opportunities are available for donors in the new building.
CBC has had steady growth in enrollment and there is a significant need for additional classroom space. When Kimbrow became president in December 2005, enrollment was 373. Today, there are 742 students. With new degree programs and more students coming from out of state, the college could be looking at 1,000 students come the fall semester.
"We are out of classrooms," Kimbrow said. "We have to have more academic space."
The next three steps in the 2020 plan include additional parking, expansion and renovation of J.E. Cobb Library, and a new residence hall.
"When the offices are vacated in the building they now share with the library, that structure will be expanded and remodeled to approximately 16,500 square feet. This project, step four in the plan, will more than double the capacity of the present library. Step five is the construction of the first half of a new residence hall south of the campus."
In September, the CBC Board of Trustees approved the launch of a capital campaign with an initial goal of $5 million. The next four steps of the plan will require about $12 million.
"In my inauguration speech just over five years ago, I had a lot to say about miracles. I knew then what I still believe today — that I want to be a part of something much bigger and better than what I can do or could ever even hope or imagine. That's biblical.
"The Apostle Paul relates it this way in Ephesians 3:20, 'Now unto Him who is able to do exceedingly abundantly above all that we ask or think, according to the power that works in us.' That verse has become somewhat of a theme among the student body, administration, faculty and staff relative to Vision 2020."
For more information on the campaign and opportunities to donate, please contact Kimbrow at 501.329.6872, extension 102, or email [email protected].
CBC plans homecoming festivities
The fourth annual Benefit Dinner and Silent Auction at Central Baptist College will be held Saturday, Feb. 19, in the Mabee Student Services Complex.
Proceeds from ticket sales and table sponsorships will benefit CBC's 50-plus endowed scholarships. Proceeds from the silent auction will benefit the International Student Cash Scholarship Fund.
Approximately $45,000 has been raised during the first three years of the dinner, and the 2011 goal is to raise $25,000 and establish five new endowed scholarships.
The silent auction will open at 5:30 p.m., and assorted hors d'oeuvres will be served. The program and dinner will follow at 6:30 p.m. Dinner will be prepared by CBC Dining Services, under the direction of executive chef Jill McCollum.
Special guests will be current endowed scholarship recipients and international student cash scholarship recipients.
Individual tickets are $25 and sponsorships range from $250 to $10,000. This year, for the first time, table sponsorships can be designated to a particular endowed scholarship in one of two ways. A table sponsorship can be designated to an already established endowed scholarship or used to establish a new endowed scholarship.
To purchase tickets, become an event sponsor or donate an item to the silent auction, please visit www.cbc.edu. For more information, please contact Sancy Faulk, vice president for student services, at [email protected] or 501.329.6872, extension 169.