21 Dec

A love of capturing beautiful landscapes

photos and story
by Mike Kemp

I think everyone gets interested in photography just by seeing beautiful landscapes that they want to capture.

It happened to me as a sophomore in college while taking a summer photography course. I had always had an interest in photography, and that summer I took my first course that introduced me to the magic that a camera could create.

I spent time along the White River, and on one of those outings I photographed piles of sand along one of the sandbars. The angle and finished result looked like craggy mountains somewhere out west. I thought that was really cool.

Now, most of my subject matter involves portraits of people rather than scenic vistas. However, I do still enjoy trying to capture the beauty that surrounds all of us with my camera.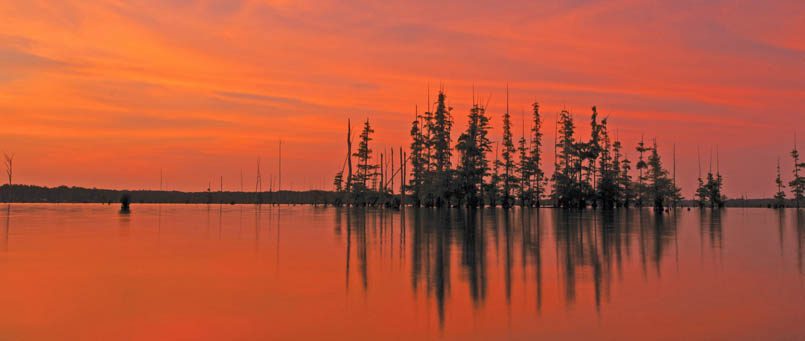 Living in Arkansas, we are definitely fortunate to have some beautiful scenery. I love a trip to Petit Jean Mountain to watch a sunset off of Red Bluff Drive or the fog over Ada Valley while looking off Stout's Point. Petit Jean State Park offers some of the prettiest views in the 501 and is probably my favorite place to visit in the state.
The neighboring Ouachitas compete with larger mountain ranges for their beauty. One of the most beautiful sights I've seen in Arkansas was climbing Flatside Pinnacle one November day to see the fall colors unfolding like a patchwork quilt.
But, there's beauty all around us.
One of my favorite photos was a stand of cypress trees taken on Lake Conway one summer evening. My wife, Crystal, was with me, enjoying an evening of watching sunsets. I was frustrated because of the clutter in the way of the sunset to the west, and I decided to start packing up. As I packed, I happened to look to the north, where the cypress stand was situated.
The sky had erupted in beautiful orange and blue hues, which immediately made me break the tripod back out for some more images.
The moral of that story is to always look around you when you're taking photos, and make sure to be open to any changes in conditions before you decide that you have captured all you can.
Most photographers would prefer the hues of fall or the new birth of spring flowers to go on their outings, but winter can be a beautiful time of year as well. With the sun being lower in the sky, it extends the length of time you can exploit the lighting versus the harsh conditions of summer. And, a fresh layer of snow makes everything new.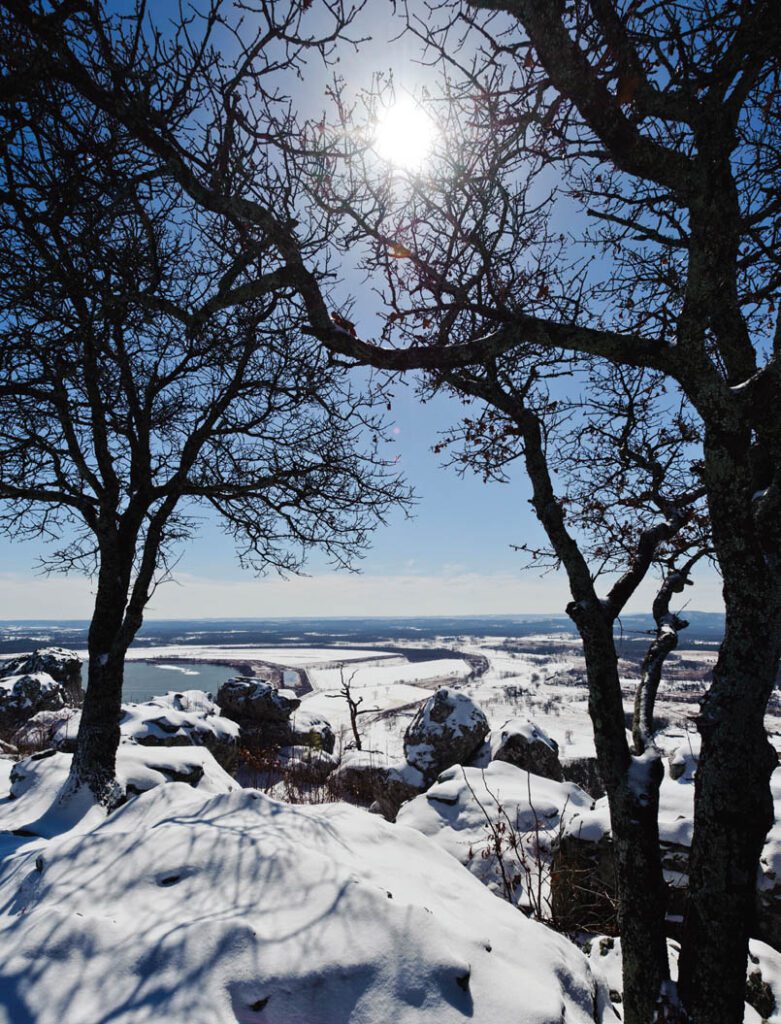 I made a trip up Petit Jean one winter's day with a fellow photographer after one such snow. The lighting combined with the beautiful white blanket made for one of my favorite photographs from Stout's Point. Everything was quiet and still, and I was able to line up the bare trees with the morning sun for a nice landscape image.
The summer evenings also have been one of our favorite times to photograph sunsets at Petit Jean, but often it's more just to enjoy the scenery and painterly colors in the sky. I have photographed a few sunsets from the overlook on Highway 154, and the Red Bluff Drive overlook has a wonderful view of the sunsets to the west. If you look closely, you might even be able to pick out Mount Nebo near Russellville.
Being based in Conway, one of the spots with easiest access would be Cadron Settlement Park. With bluffs facing the west overlooking the Arkansas River, it makes for a great place to watch a summer sunset after dinner.
There are many other spots in the 501 that feature panoramic views. My advice would be to get out as often as possible to enjoy and photograph them.