01 Jan 2023

A life most lively

By Rita Halter Thomas

During her 17-year tenure as executive director of Bethlehem House in Conway, Judi Lively not only made a difference in the lives of others, but gained valuable, lasting relationships.

Before her retirement in November, Judi made an immeasurable impact on the lives of the staff and residents, according to Tom Nelson, president of the Bethlehem House Board of Directors.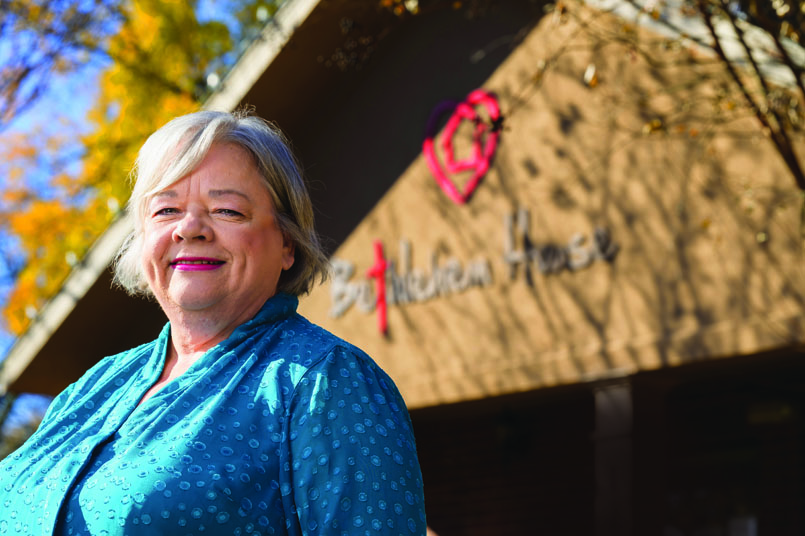 "Judi was the life of Bethlehem House during her tenure there. She was an incredible, faithful leader for the staff and residents and has the biggest heart of anyone around," he said.
Tom credits Judi as instrumental in getting the new house built on Parkway in 2013, which doubled the home's capacity to house up to 40 residents.
"She's probably accomplished more with less (funding) than just about anyone I've ever known. . . . She's very frugal, which just adds to the success of running a nonprofit," he said.
While moving into a "beautiful, safe, new building, mortgage-free" is among the most monumental things Judi helped accomplish during her leadership, it's the relationships she treasures most and seeing the change in people.
"When you work in a place serving the homeless or nearly homeless, you meet wonderful people daily. Many of the volunteers and donors we've had over the years have become friends. I will always cherish the relationships I've built through Bethlehem House," Judi said of the residents, staff, volunteers, donors and board members. Aimee Prince assumed the role of executive director for the non-profit in November.
Watching people change and being a port in the storm when people think they don't have one adds to the rewards, she said. "I still have relationships with several former residents. I wouldn't trade that for anything.
"I've built great, supportive relationships within the community. I've grown as an individual. I have been a part of a team of individuals working to reduce homelessness in our community. I've seen entire lives change, families reunite, emotional and spiritual wounds heal. I will miss that," she said.
Judi sees her time at Bethlehem House as an extension of her service to the Lord.
"I've had the unique opportunity to be the hands and feet of Jesus, to show the real love of Christ each and every day. Even on days we've had to say no to someone or discharge them for too many rule violations, those decisions were always made prayerfully," she said.
Regarding her retirement, Judi jokes she was planning to sleep until January, "but so far that hasn't worked out very well for me," she laughed.
Although retired, Judi will still impact the lives of those around her. She and her husband, Jim, have three grown sons and seven grandchildren. She plans to spend more time with them and their families, volunteer at her grandchildren's school and enjoy more time with her niece, who she fondly refers to as the daughter of her heart.