02 May 2023

A life in control

Mike McCullars of Conway experienced a life-changing moment during a doctor's visit in May 2022.

"I had been classified as pre-diabetic for more than ten years when my primary care doctor said my fasting glucose level had reached the level for Type 2 diabetes," said McCullars. His glucose level had risen to 147, and the doctor asked if he wanted medication or insulin. "Taking medication is not something that I wanteds to do. I had taken my health fairly seriously but not seriously enough," said McCullars. "I was scared about what to do and what I could eat."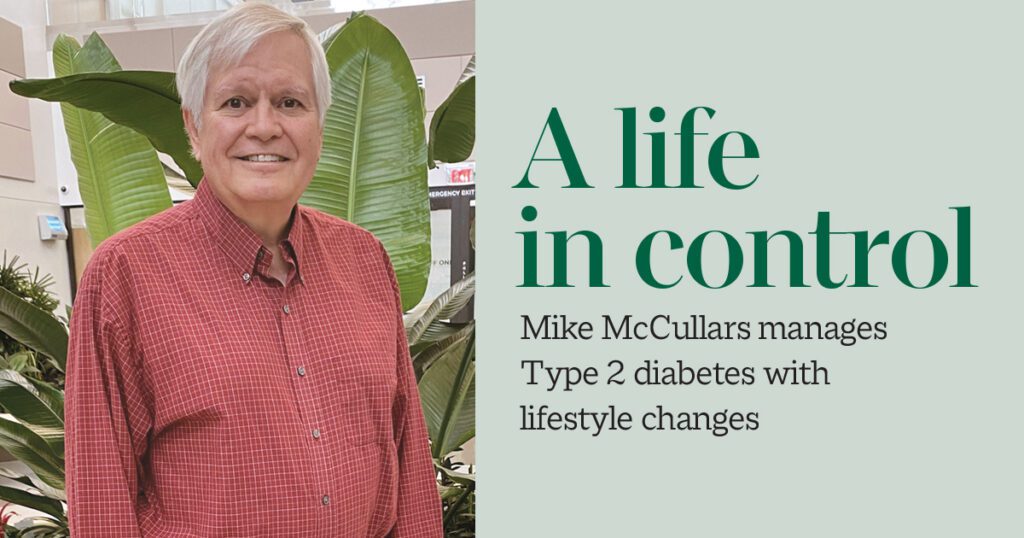 His doctor suggested another option. So McCullars enrolled in a diabetes self-management class at Conway Regional Health System. McCullars, who is retired from the Arkansas Educational Television Network, knows the value of education. "That was probably the best class of my life," said McCullars recalling how the certified diabetes educators had taught him the importance of managing his nutrition and exercising. "The staff was phenomenal and so helpful."
Ashley Robb, a certified diabetes educator and registered dietitian, said the Conway Regional diabetes classes teach patients how to change their lifestyle using an 80/20 principle for eating. "It emphasizes 80 percent good eating with a 20 percent splurge. Of course, nobody is perfect, so the 80/20 plan gives people some wiggle room to still have some of their favorite foods," said Robb, who manages the Conway Regional Diabetes Self-Management program.
She cautioned that a splurge, for example, could be one meal out of 21, with most of their eating based on smaller, lean meat meals with balanced carbohydrates and fruits and vegetables. While the splurge may result in a blood sugar spike, "you want it to go down to your goal range within a reasonable amount of time," Robb said.  In addition, she said, "These are foods from nature that your great, great grandmother would recognize as food. She wouldn't know about Pop-Tarts."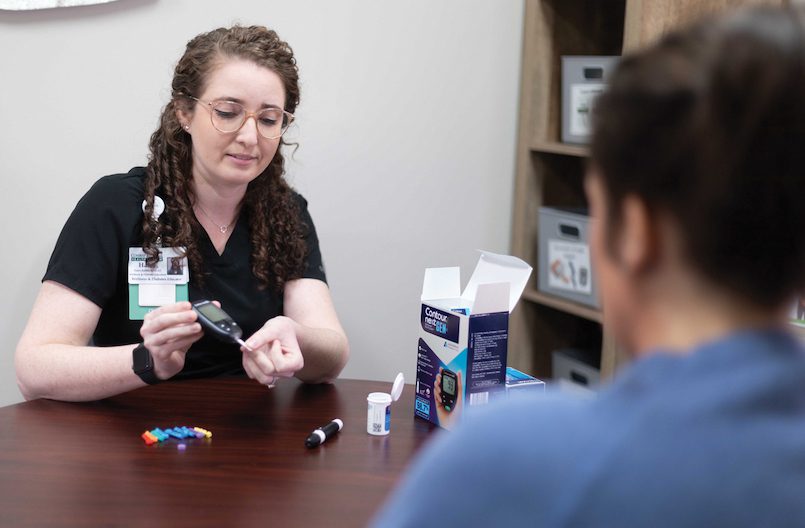 The dietitians emphasize mindfulness in eating. "We want our patients to think about what they are eating at each meal and plan ahead when they can," said Robb.
McCullars was rewarded when the lab tests came in over the next few months. "The diabetes educators believe I have made considerable progress regarding my Type 2 diabetes and overall health improvement. In the past nine months, I'm down 45 pounds (and holding), fasting glucose is down from 147 to 110, and I'm doing it without medication."
In another crucial test, his A1C level dropped from 6.6 to 5.6. "Peggy (Schultz, a certified diabetes educator) said my diabetes is technically in remission," said McCullars, but he knows it will be a life-long lifestyle change. "And my situation may not reflect other situations but does show that it is possible," he added.
"I may have to resort to medication at some point," said the 69-year-old. "But if I can push off medication for 5, 10, or 15 years or the rest of my life, it's worth it."
Successful lifestyle changes often require the support of the entire family, and he is thankful for the help of his family, particularly his wife, Gayle.
Spouses are an important part of the support group, Robb said. "Many of my male patients don't do much of their cooking at home or grocery shopping, which is why we encourage them to bring a spouse or partner to the diabetes self-management classes."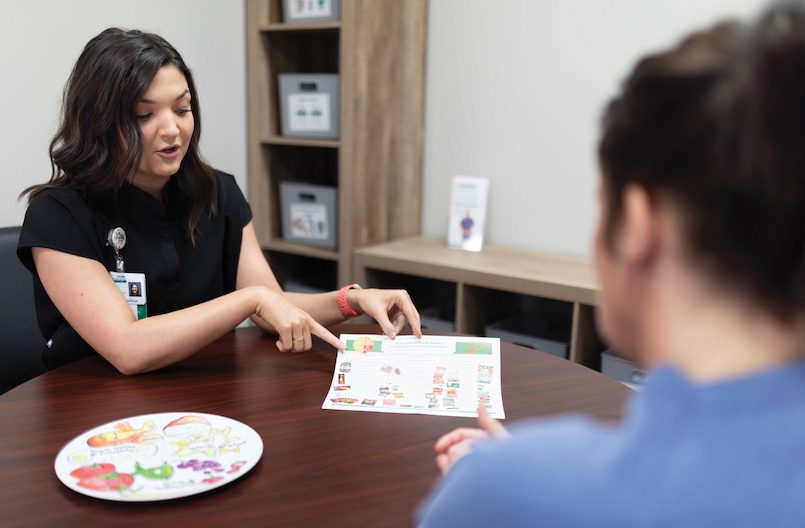 Closing the Loop 
Robb says Conway Regional succeeded in closing the loop for many diabetes patients in north Central Arkansas by providing Endocrinologist Maria Javaid, MD. Javaid, a highly experienced physician, is with the Conway Regional Endocrinology and Diabetes Center.
"I have patients coming from Clinton. They have healthcare at Conway Regional, and they are familiar with our campus, and now they are not having to drive the interstate to see a specialist," Robb said.  Most endocrinologists in Arkansas have practices in Little Rock or Fort Smith, leaving a void in much of the central part of the state.
Robb explained, "I was working with a female patient who had type 1 diabetes since she was young. When I told her we had an endocrinologist here, she started to cry. Now, she doesn't have to drive an extra 30 to 45 minutes to go to a huge hospital."
She added, "If you already have your primary care at Conway Regional and your diabetes education here, now you can also have your endocrinology services in one place for continuity of care."