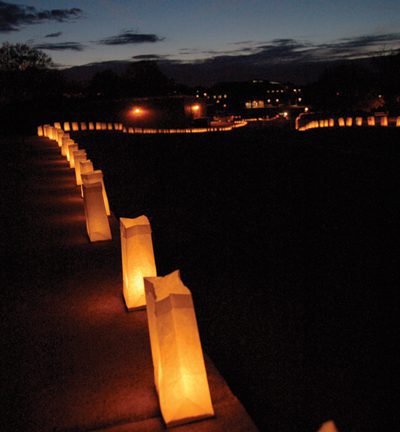 26 Oct 2009

A hometown Christmas

Posted at 2:10 PMh

in

News

Lights of Love

St. Anthony's Medical Center is another Morrilton area institution which is providing special holiday programming. "Lights of Love," sponsored by the St. Anthony's Foundation, allows community members to celebrate and honor their loved ones this holiday season while also engaging in the giving spirit.

During "Lights of Love," a large tree on the St. Anthony's lawn is ceremonially lit with white lights and accented by red "celebration" and green "memorial" lights, which can be purchased in honor of a loved one.

This year's event will also feature photos with Santa, children's activities, train rides, refreshments and a silent auction. "Lights of Love" will be held from 4:30 to 7 p.m. Tuesday, Dec. 1, with the tree lighting at 5:30 p.m. Tickets for the event are available at the St. Anthony's Foundation Office and Gift Shop.

Christmas parade

As every Arkansan knows, no hometown Christmas would be complete without an old-fashioned parade. The annual Downtown Morrilton Christmas Parade is set for Thursday, Dec. 3, at 5:30 p.m. The theme for this year's parade is "A Toyland Christmas." It will feature dozens of floats and antique automobiles making their way through the historic downtown area, with an appearance by Santa Claus.

Night of Luminaries

The University of Arkansas Community College at Morrilton (UACCM) will also be offering a pair of holiday activities to entertain the entire family. UACCM's annual "Night of Luminaries" will kick off following the Morrilton Christmas parade from 6 to 8 p.m. on Thursday, Dec. 3. This free, community event features nearly 2000 candle-lit paper bags, which are hand-decorated by Conway County elementary students. The bags will illuminate the drive through campus, leading patrons to Santa, who will greet children following the parade and hand out a gift to each child.

Moms and dads will be able to see the creations of their little Van Gogh or Picasso by spotting their child's luminary bag while traveling across the campus before enjoying cookies, hot cocoa, and holiday cider to help warm their hearts and bellies.
The event will also include a holiday music preview performed by the college choir in preparation for their annual holiday concert at 2:30 p.m. Sunday, Dec. 6, in the UACCM Fine Arts Auditorium. The free concert will feature a mixture of well-known carol classics and modern renditions of holiday favorites the whole family will enjoy along with Christmas cookies, hot cocoa, and other treats. The choir providing this free concert is made up of UACCM students and is under the direction of Shannah Cummings.

Christmas in the Park

The Morrilton Area Chamber of Commerce will sponsor a number of community events to help mark the holiday season. Area residents will have the chance to enjoy the Christmas spirit without having to leave the warmth and comfort of their vehicles again this year with the annual "Christmas in the Park" at the Conway County Fairgrounds.

During this free event, the community is given the chance to tour the fairgrounds either by car or on foot each evening to see elaborate holiday displays put together by area businesses and organizations. Visitors to the park will see everything from "Peanuts" characters to nativity scenes and sleighs with reindeer from 6 to 10 p.m. each evening from Friday, Dec. 4, through Thursday, Dec. 31.

New to "Christmas in the Park" this year are angel signs which will lead the way to the fairgrounds. They can be purchased in honor or memory of a friend or family member.