by Tiffany Block
It's no secret that heart disease is the leading cause of death in the United States. So, what can we do to help prevent this epidemic?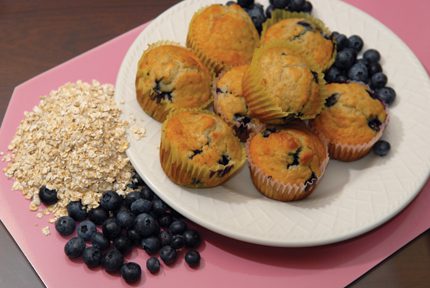 We should first examine the foods we eat to make sure they are heart healthy. Of course, fish is an excellent source of omega-3 fatty acids that protect your heart. Eat salmon or other oily ocean fish like tuna, sardines or herring at least two times per week.
Oats are also great for you. Oats contain a soluble fiber that helps reduce total cholesterol and LDL cholesterol. Many people don't like oatmeal. You should try eating it with just a small amount of brown sugar and plenty of strawberries and walnuts for breakfast. I am sure your taste buds will say, "Thank you."
Almonds and other nuts contain healthy oils, vitamin E and other substances that will help keep cholesterol levels in check. Almonds are also a good source of protein and fiber, and make a great snack on their own. Or, sprinkle slivered almonds on green beans or asparagus.
However, be careful – they are loaded with calories. Moderation is the key.
We can't forget about green leafy vegetables. They contain folate and Vitamin E. Green leafy vegetables have also been associated with better retention of memory as you age. Try using fresh spinach leaves or other greens for your favorite salad instead of iceberg lettuce.
These are just a few examples of heart healthy foods. Incorporating these food items in your diet can greatly reduce your chance of getting heart disease. I have included recipes that incorporate these food items. Enjoy!
Oatmeal Blueberry Muffins
1 1/4 cups quick cooking oats
1 cup all-purpose flour
1/3 cup white sugar
1 tablespoon baking powder
1/2 teaspoon salt
1 cup milk
1 egg
1/4 cup vegetable oil
1 cup blueberries, rinsed and drained
Combine oats, flour, sugar, baking powder and salt. Mix in milk, egg and oil; mix just until dry ingredients are moistened. Fold in blueberries. Fill greased muffin cups 2/3 full with batter.
Bake at 425 degrees F (220 degrees C) for 20 to 25 minutes.
Fish Chowder
4 tablespoons margarine
1 onion, chopped
3 potatoes, peeled and cubed
4 cups water
2 (15-ounce) cans creamed corn
5 cups milk
2 pounds cod fillets, cubed
Salt and pepper to taste
Melt the butter or margarine in a large pot over medium heat. Add the onion and sauté for 5 to 10 minutes, or until tender. Add the potatoes and water, and simmer for 20 more minutes, or until potatoes are tender.
Add the creamed corn and milk, stirring until smooth. Finally, add the fish. Stir well and allow to heat through, about 10 to 15 minutes. Season with salt and pepper to taste.

Spinach and Pine Nuts
3 pounds spinach, rinsed
2 teaspoons olive oil
2 tablespoons toasted pine nuts
1 teaspoon minced garlic
Freshly ground black pepper
Wash the spinach, but allow the water to cling to the leaves. Cook the spinach until it wilts in a skillet over medium-high heat, about 3 minutes.
Heat the oil in a skillet over medium-high heat. Add the spinach, pine nuts and garlic and cook for 2 minutes. Season with pepper and serve.
Asparagus and Cashews
2 tablespoons olive oil
2 tablespoons sesame oil
1 teaspoon minced fresh ginger root
1 bunch asparagus stalks, ends cut
1 tablespoon soy sauce
1/2 cup chopped cashews
Heat olive oil and sesame oil in a wok over low to medium heat. Add ginger, and stir-fry until slightly brown. Add asparagus, and stir-fry for a few minutes before adding soy sauce and cashews. Cook until asparagus is tender but still crisp and bright green, stirring frequently.