30 Jun 2022

A grand view

By Rita Halter Thomas
Photos by Makenzie Evans

One doesn't need to know the ins and outs of architecture or understand the differences between a mid-century modern, contemporary, or modern-contemporary design to appreciate a Conway home living up to its address: Grandview Heights.

The clean lines and asymmetrical geometric shapes of this modern-contemporary two-story, owned by local entrepreneur Philip Young, stands on a ridge offering more than a view of blue skies and city lights.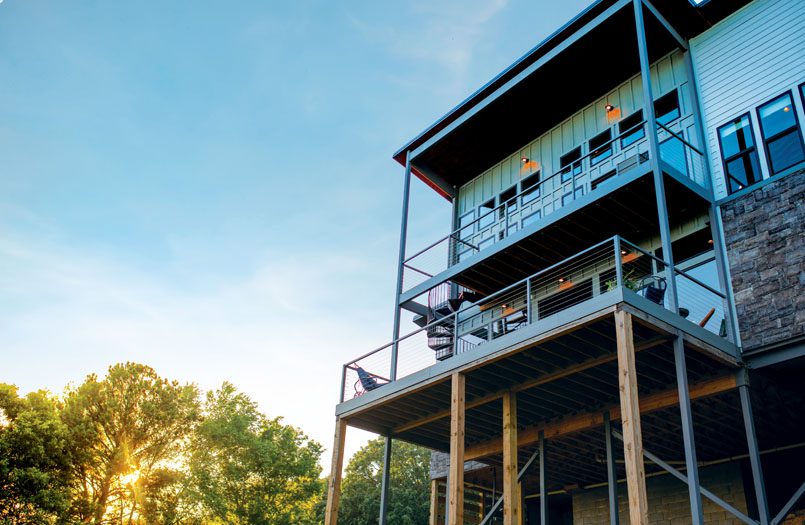 Near wall-to-wall, floor-to-ceiling glass on the south side of the home gives a broad skyscape view from almost every living space in the house, including bedrooms.
"I wanted as much glass as possible to take in the beautiful skyline. Conway is such a unique place. I wanted to enjoy the views of the city but have the quiet feel of the country. I feel like we get that here," said Young, who occupies the home with his two boys, 14-year-old Lexton and 8-year-old Abbott.
"I love waking up to the sun on my face in the morning," Abbot said about the amount of glass in his room.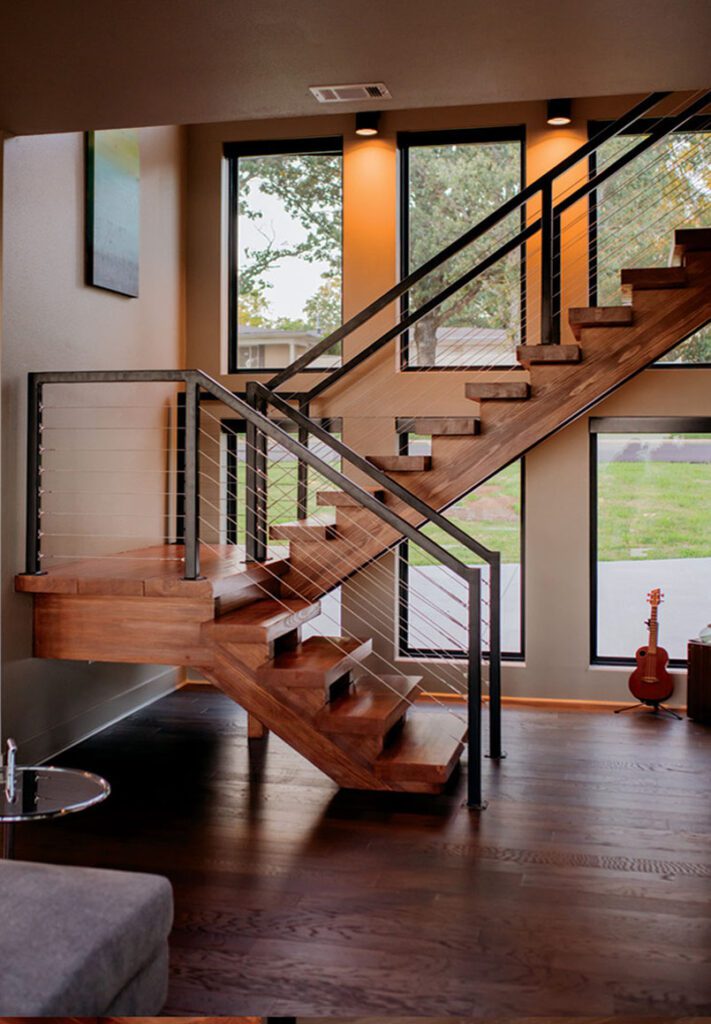 "My favorite is when a storm comes through. I love watching the magnificent lightning show of a thunderstorm," Young said. "It reminds me of when I was a kid. I would sit under the carport, shelling peas with my grandparents, watching a storm roll in and just talking. I always thought the lightning was spectacular." A picture of his late grandparents and their house hangs just inside the front door as a sentimental remembrance.
As if all the glass of the house isn't eye-catching enough, the 2,000 sq. ft. home features a 12 foot-by-30 foot deck, complete with seating and a gas fire table. This deck, available through sliding glass doors off the open kitchen, living, and dining areas of the entrance level, towers over the treetops with a sharp drop in the landscape below. "One of the most challenging things about this build was driving the steel beams into this rock hillside," Young said.
An iron and cable railing system offers security and aesthetics. For a more elevated view, an iron spiral staircase leads up to a semi-private upper-level deck, with additional access from sliding glass doors off the master.
While the glass and decks are the most prevalent features of the house, an iron-rail staircase with thick solid oak steps catches the eye. A light stain showcases the natural wood grain. Three bedrooms, two full baths, and a common area occupy the upper floor. The lower level is an open-floor plan of the kitchen, living and dining room, plus the laundry, a half bath, and a two-car garage. A gas fireplace, for both ambiance and function, completes the esthetics of the home as the centerpiece of the living room. Strategic lighting sets off each feature of the home inside and out.
Young said his vision for the house began years ago, though building didn't begin until February 2021. "I've always had an affinity for architecture," Young said. "Before I went into healthcare, I spent 10 years in banking and drove back and forth to and from Little Rock. Whenever I crossed the I-430 bridge, I'd see all those houses on the bluff. I always wanted a house like that. One day, I just sat down and figured out what it would take to make it happen."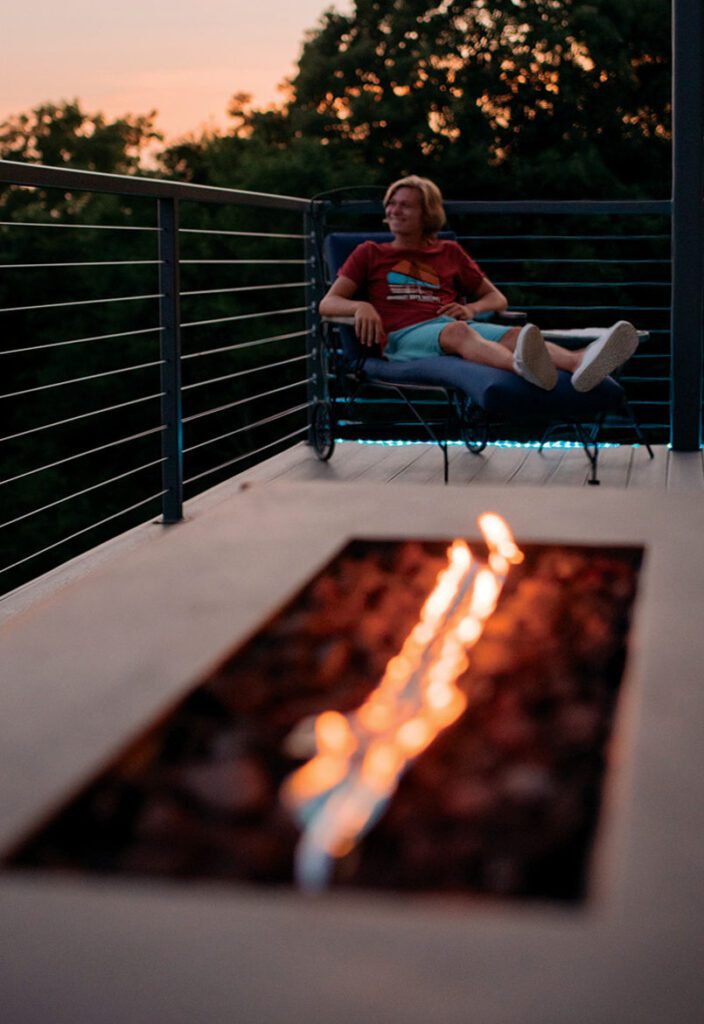 While Young had the design in mind, he needed professionals to make his dream a reality. He hired Rik Sowell Architects and G Star Construction and the family moved in around Christmas. Young considered an interior designer but opted to allow the house to reflect its occupants.
"The boys were very involved in the process, helping me pick out this and that," he said.
"It makes you feel more connected with the house when you have the opportunity to help make decisions and choose things," Lexton said.
Young, who possesses a less-seen artistic side, played various sports growing up, which brought him to Conway in 1997 to play baseball for the University of Central Arkansas.
"I came here in a roundabout way, from Wynne, to Rogers, to Mountain Home, then here to play baseball at UCA. I fell in love with Conway and stayed," he said.
Young, whose day job is the director of marketing for Home Instead Senior Care, said, "I've been blown away by the interest in the house. I know it is different, but I never dreamed it would draw so much attention." Young simply wanted to build a calm, peaceful place to live and raise his boys.
Sure, traffic noises and city lights mingle with sounds of nature and the occasional glimpse of wildlife, but peace settles in at the close of the day while gazing out at such a grand view.