30 Jun 2021

A grand old collection

By Dwain Hebda

During her nearly 40 years as an educator, Pattie Howse-Duncan was famous for bringing history lessons to life. On units covering the Revolutionary War, she'd divide her elementary school classes into the colonists and the British, complete with spies on each side.

In her off time, she was similarly imbued with living history through her unique hobby of collecting American flags. It's a pastime that feeds her soul as well as her imagination.

"It's just patriotism; my dad was in the Air Force and it's just something that's embedded, you know?" she said. "When I taught school and a child would bring something to school and say, 'I saw this and wanted you to have it,' and it was something that was patriotic, that always meant a great deal to me."

Howse-Duncan started her collection of flags when a relative was cleaning out closets and laid things out for the asking.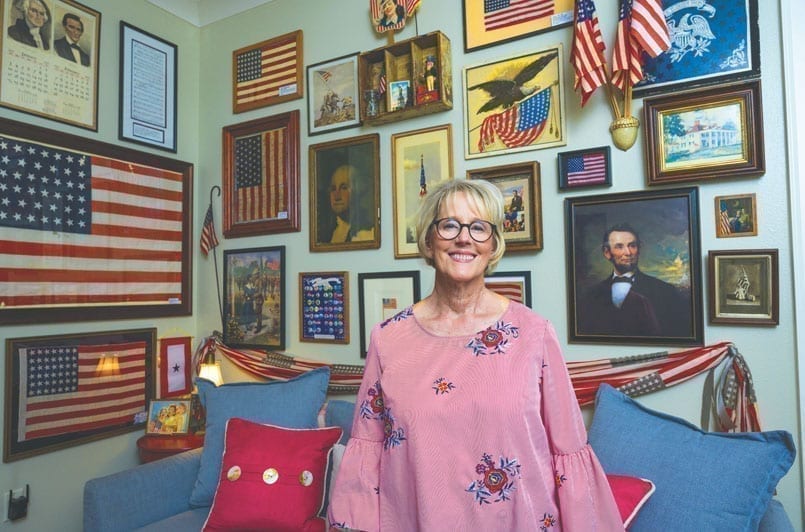 "I was probably 27," she said. "My relative said, 'I have a bunch of stuff on my kitchen table I don't want anymore. Look through it and see if there's anything you want.' I looked and, yeah, I don't have an American flag. I'd love to have this flag. She said, 'Oh, Sweetie, you don't want that flag. It's no good; it only has 48 stars.' I said, 'Oh, I do want that flag,' and that was the first piece of my collection."
The artifact set off something in Howse-Duncan that has yet to abate in the nearly 40 years that have transpired, expressed in a collection that numbers about 250 flags and flag-related items.
"I could not count the number of 48-star flags that I have now because I have it in a variety of sizes," she said. "I probably have, I don't know, 60 of the 48-star one. You could antique for two hours and find 48-star flags, they're so numerous and so easy to find. I can't pass them up."
Now retired, Howse-Duncan has ample time to indulge her passion for collecting American flags. She and her husband, Keith, will plan vacations so as to hit local flea markets and antique stores. They've enlisted pickers to sniff out treasures, and they have good friends in local antique stores who keep their eyes peeled for additions to the cache as well.
Many of the flags she has framed and hanging on the walls of her home, each with a story and some with special significance. Several in her collection were issued following the admission of a state or states, such as the one that flew after Oklahoma became a state in 1907. It's one she prizes for personal as well as historical reasons.
"Keith and I were both born in Oklahoma, and we were delighted to get the Oklahoma one," she said. "The Oklahoma one has 46 stars."
One particularly interesting flag is a 42-star model that was never official due to the timing of Idaho's statehood.
"The U.S. flag is not official until July 4 when the president, whoever was president at the time, makes it official," she said. "The reason there was never an official 42-star flag is because North and South Dakota, Montana, and Washington all entered the union in November 1889. For months and months, flag companies were frantically making 42-star flags, and then Idaho came in on July 3, 1890. So, by the time July 4 got here, the official flag was a 43-star flag, because we had 43 states."
Like any avid collector, Howse-Duncan has her unicorns for which she is always on the lookout. The official flag following Colorado's statehood – 35 stars – is one, as is a set of World War I-era lithographs issued to honor all-Black regiments of the U.S. Army.
"They made three lithographs honoring these men in three different prints," she said. "They are very hard to find. I have one of the three, I paid a lot of money for that one, and I have seen a second but it was more expensive than what I was willing to pay. I've never seen the third one except online.
"I just think they are American treasures, something that I really, really value. And I think for a long time, people didn't know that they existed. It's a really neat thing."
Howse-Duncan said it's not just about the items themselves but the hunt for collectibles that brings her and Keith, whom she married five years ago, such joy. For his part, Keith has always demonstrated a keen understanding of the way to his wife's heart. Despite not being a collector himself, he kicked in an artifact that immediately found a place of honor in the collection.
"Keith worked in the space shuttle program in his career with the Air Force," Howse-Duncan said. "He had a flag that flew on a four-day mission through aerospace on Space Shuttle Discovery."
Still other items are valuable on a more personal level, such as a flag that flew over the U.S. Capitol and the one the couple's son-in-law brought home from his deployment in Afghanistan. And then there's a particularly moving item gifted to Howse-Duncan by a friend.
"He owns a store in downtown Conway, Park Hill Home, and he found a very tattered old flag," she said. "Of course, we're supposed to dispose of old tattered flags, but this one was framed beautifully with great, great care. When he presented it to me, I just burst into tears. Somebody just took such wonderful care of it, and I wish I could've met the person who did that because they honored it so beautifully.
"And that meant so much to me, just knowing somebody valued it the way they did. Thank you, person, whoever you are. Things like that mean a great deal to me."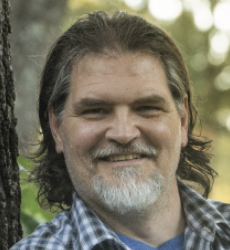 Latest posts by Dwain Hebda
(see all)