11 Sep 2023

A good call

By Judy Riley

Perseverance and passion led Brad Allen to become a world-class duck caller and a creator of a sought-after product, Elite Duck Calls. His passion for duck hunting began at age 6, largely because of his love for his dad. Bill Allen was a farmer and spent long hours traveling to work on his farm. Son Brad cherished his time with his dad during duck hunts in the fall and winter as much as he enjoyed the hunts. The passion for duck hunting continued, but when his dad took him to observe a duck-calling contest in 1988, the fire to learn to compete was ignited.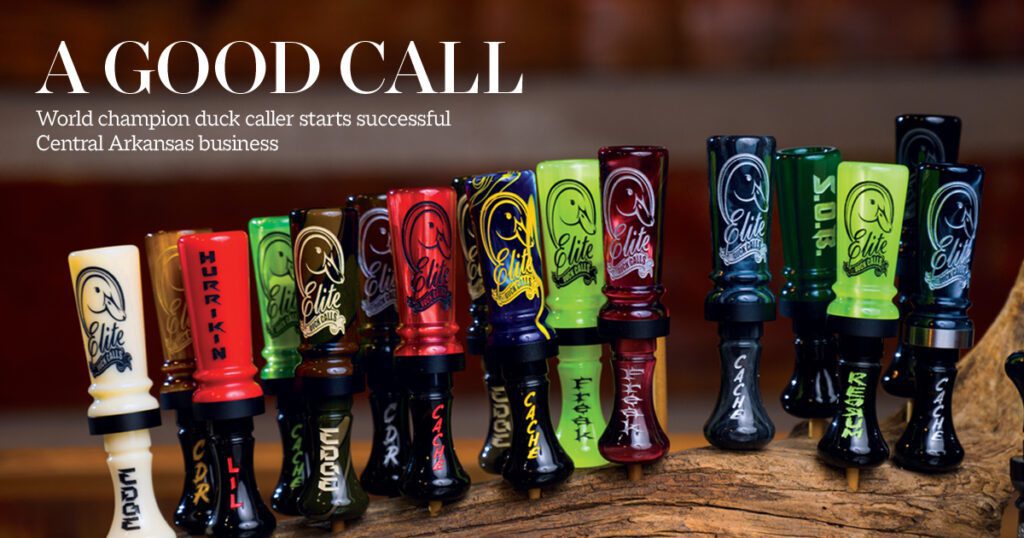 Allen grew up in Beedeville (Jackson County), graduated from Newport High School and the University of Central Arkansas and ultimately became a physical therapist. But the passion to learn to compete continued. "I set my sights on trying to win a world's contest after graduating college," Allen said. "I entered my first calling contest in 1998. I was lucky enough to get help from Rick Dunn, who had just won the world's contest in 1997 and who owns Echo Calls in Beebe. I did not do well that first attempt, but it did not deter me from trying again."
Allen continued to work full-time as a physical therapist and perfected his calling technique when time allowed. In order to qualify to compete in the World Duck Calling Championship Contest, a person must win at least one of 26 state contests or 33 regional contests held during the year prior to the big one in Stuttgart (Arkansas County). Allen traveled the country competing for 10 years, and then his perseverance paid off. He was named the World Duck Calling Champion three times: 2010, 2012 and 2013. After the second win, he began his duck call business, Elite Duck Calls. The third win disqualified him from competing again, but it gave Allen the encouragement to jumpstart his business, which took off in earnest. He left his physical therapy job in 2016, devoting his full time to making calls.
The championship contest is held Thanksgiving weekend in Stuttgart as part of the Grand Prairie Festival. The duck calling portion began in 1936 on Stuttgart's Main Street, basically to settle a dispute among local duck hunters who were in a tussle over who was the best caller. It is now the oldest festival in the South and includes a carnival, duck gumbo contest and various displays. It is fitting that this contest is held in Stuttgart, which is in the heart of the Mississippi Flyway, the migratory route of ducks flying from Canada to winter in southern states. The prevalence of rice in the area increases the attraction for ducks to stop in for food. Even though most duck hunting is in the Arkansas Delta, duck hunters live throughout the U.S. and Canada.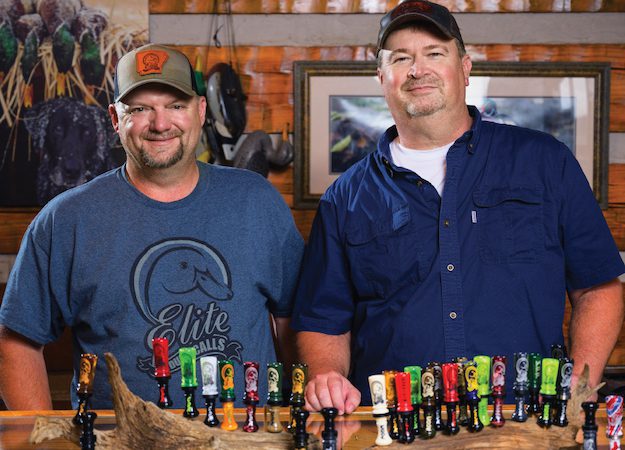 Not all duck calls are created equal. Allen and his team create their designs. "I get the final say, but I have always had a lot of help and input from trusted friends," he said. The outer material is most often made of acrylic, which gives a durable call with a very consistent sound. Allen said his calls will last a lifetime with proper care.
The process includes "dialing in" a set of protocols for a computerized numerical control (CNC) lathe and mill machine to make the basic parts. But hand testing is his key to the sound. A former competitor, David St. John, now works with him. "St. John, also a world champion, helps in attaining the perfect sound," Allen said. "At Elite Duck Calls, every call is tuned by a world champion."
Each model has a slightly different sound and use, varying in tone, raspiness and volume. Sound is determined by the shape of the tone board and the internal air flow. The calls are basically woodwind instruments, and the slightest variation can greatly affect the sound. Adjustments are made in thousandths of an inch, basically the width of a human hair. "I fret over each call," Allen admits. "If it isn't one I would proudly wear on my lanyard, it doesn't leave the shop."
Allen is humble about his accomplishments, saying God has really blessed him. He quickly gives credit to others along the way—first, to his dad for creating the opportunity to be involved in the sport and for advice when starting the business. Other encouragers were Trey Crawford, Bernie Boyle and Butch Richenback. A quick tour of his shop and showroom reveals a look back in time with a collection of photos and memorabilia from other famous duck callers. He is grateful for the growth of the sport and loves to help young callers who aspire to become champion duck callers.
His two-part training video, "The Art of Fly Control," can be found on YouTube. His showroom is located in Searcy (White County). No matter where one lives or hunts, Elite Duck Calls make for an "elite" hunting experience.