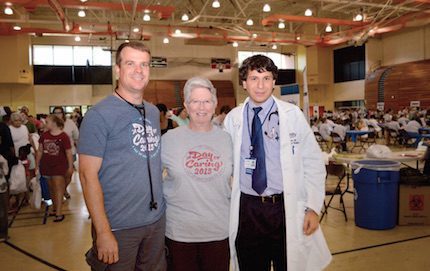 29 Aug 2015

A Day of Caring: Unity Health helps neighbors in need

Posted at 10:49 PMh

in

News

Unity Health recently held its 19th Annual A Day of Caring. A total of 1,301 White County residents received assistance through the day of medical mission, which helps uninsured and underinsured residents of White County.


This year, more than 450 volunteers from Unity Health and the community united to serve at the outreach event, which was held at the Ganus Athletic Center at Harding University. Also, 30 local organizations set up booths to provide educational materials to participants on health and social services.

"We are always amazed at the remarkable turnout of volunteers and sponsors," said Unity Health Marketing Director Brooke Pryor. "The spirit of volunteerism in our community is tremendous, and our hospital is proud to be part of a community that cares for its neighbors. Thank you to each volunteer and sponsor who served at A Day of Caring!"


Physicians, physician residents, dentists, eye doctors and pharmacies from the local medical community donated their time and services to see patients. As a result, 87 medical exams, 148 dental screenings and 103 eye screenings were performed and prescriptions were filled for 43 participants. Pap exams, depression screenings and blood sugar checks were also given.


A total of 613 bags of school supplies and 525 pairs of shoes were given to children present. Hair stylists gave 147 haircuts, 532 bags of groceries were distributed and 893 Gideon Bibles were given out to participants. Other items given out included personal care products, diapers and children's socks and underwear.


A Day of Caring 2015 was sponsored by: Absolute Care Management; ARcare; Arkansas State University, Searcy; Caring Dentist Group; Centennial Bank; Cool 104; Cousin's Office Furniture; Covenant Fellowship Church; Crain Media; Dr. Robert E. Elliott Foundation; Eaton Corporation; Economic Recovery Consult; Families, Inc.; First Community Bank; First Security Bank; First United Methodist Church Thrift Shop; Harding Press; Harding University; H&R Block; Junior Auxiliary of Searcy, Kids Unlimited Learning Academy; Kiwanis Club of Searcy; Lions Club of Searcy; NorthStar EMS; Quality Office; Quattlebaum Music Center; Regions Bank; Radiology Associates Searcy Breast Center; Rotary Club of Searcy; Sam's Club Distribution Center; Searcy Beauty School; Simmons First Bank; Southern Bank; The Daily Citizen; Three Rivers Edition; Valley Baptist Church; Walmart Distribution Center; Walmart Neighborhood Market; Walmart Supercenter; White County Community Foundation; White County Farm Bureau; White County Future Fund; White County Health Department; Unity Health; Unity Health Auxiliary; and Unity Health Clinics.


The 22nd Annual Shots for Tots and Teens was held in conjunction with A Day of Caring, with 26 immunizations given. The shots were sponsored by ASU/Searcy School of Nursing; Harding University College of Nursing; Junior Auxiliary of Searcy; Kiwanis Club of Searcy; Optimist Club of Searcy; White County Health Department and Unity Health.