20 Jul 2020

A Day of Caring changed to Community of Caring

Posted at 9:26 AMh

in

News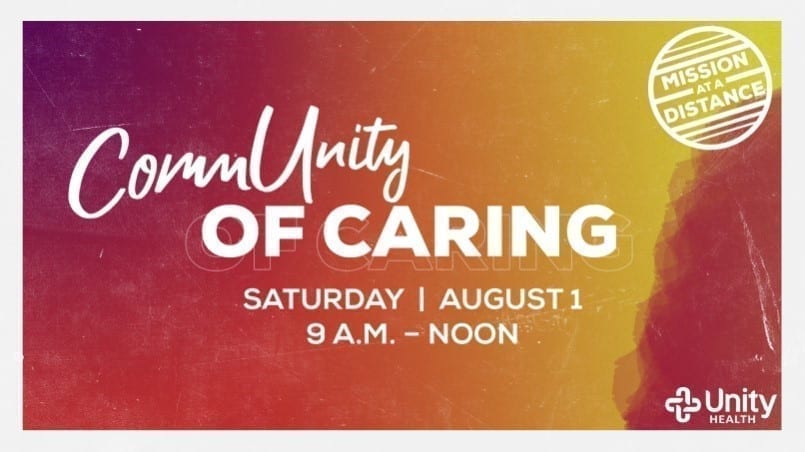 For the last 23 years, Unity Health has hosted its medical mission "A Day of Caring" to help create a healthy community. Due to the current healthcare landscape, this year's event is called Community of Caring and will be held 9 a.m. to noon Saturday, Aug. 1, on Hawkins Drive in Searcy.
This mission is a community-wide outreach program, designed to help the uninsured and underinsured residents of White County. Community of Caring will still serve the community while practicing social distancing and safety guidelines. Unity Health is taking abundant measures to keep associates, volunteers and community members safe during this event.
There will be free medical exams at the Searcy Medical Center Continuity Clinic, located at 2900 Hawkins Dr. All participants will be screened for COVID-19 before entry and must wear a mask. Kindergarten screenings and sports physicals will also be available.
Due to COVID-19, dental and eye exams are not available this year.
Participants will also receive groceries, personal care items, school supplies and informational resources at a drive-thru on Hawkins Drive across from the Unity Health Emergency Department. Children should be present to receive school supplies.
Unity Health welcomes individuals, clubs, churches and organizations to be involved through collecting items; the most needed items at this time are non-perishable food items. Please call 501.278.3230 to schedule a time to drop-off donations. Unity Health is following CDC guidelines regarding gatherings and not accepting additional volunteers at this time.
The White County Health Department will offer appointment-only immunizations 8 a.m. to 4:30 p.m. Friday, July 31, at 112 Brantley Rd. in Searcy. ARcare will provide COVID-19 testing outside of Searcy Medical Center on an as-needed basis.
For more information, please contact the Unity Health Marketing Department at 501.278.3230 or [email protected].