11 Sep 2023

A cut above

Stories by Carol Rolf
Russell Mills served patrons 60 years
Russell Mills, 82, believes his 60-year career as a barber was a calling. "I have no regrets," he said as he welcomed me into his west Conway home. As he sat across from Pat, his wife of 60 years, he said, "I've had a good career. By God's grace, there go I."
Entering his home, I was quick to notice a special room filled with all things "barber." There's an 1888 Koken barber chair, an antique barber workstation, an antique sterilization cabinet, and lots of old tools and certificates from various barber classes. Mills seems to enjoy telling stories about all of them.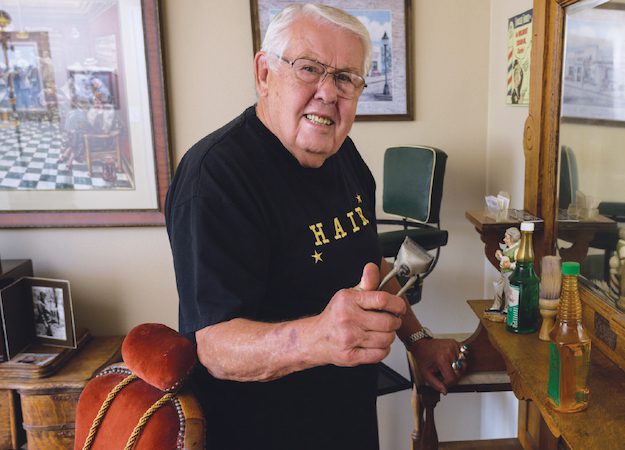 Mills took his barber's test in September 1961 at Eaton Barber Stylist College in Little Rock. He started to work in Crossett but moved back home to Conway in December of that year to work with Travis White and Bill Utter, opening the Conway Barber Shop on Oak Street. Mills then opened his own shop, Gentleman's Choice Barber Shop on Front Street, where Max Henry, another longtime barber, worked for him for a while. Mills later moved his barber shop to 807 Parkway, where he worked until he retired May 4, 2020.
"I closed the shop basically because of COVID," he said. "They placed so many restrictions on barbers. I had eight customers waiting in chairs and kids sitting in the window. What was I to do? "I closed the shop, sold the building and retired," he said. "And paid the government a lot in capital gains tax."
Pat, who is from Compton in Newton County, said she worked with him that last year because of his declining health. "I saw firsthand what his job demanded," she said. "He has provided well for his family. I observed his long hours spent at the shop, his determination and his real genius."
Before he began his barber career, Mills, who graduated from Conway High School in 1959, spent six months in the Army National Guard. "I was the youngest of seven boys (his parents also had two daughters)," he said. "I was 17, turning 18 soon, and working in Texas when I got a call from my mother telling me I had to come home and register for the draft. I came home and registered. She did not want me to go off with the Army, but I had to spend six months [on] active duty."
Mills said he had gone to Texas to work because they did not have a minimum age for employment. "If you had a strong back, you could work," he said, smiling. "They also paid in cash."
Mills met his wife when she came to Conway to attend college – Arkansas State Teachers College, now known as the University of Central Arkansas. "I taught math at Carl Stuart Middle School and retired in 2003," Pat said. "Russell took his barber skills and compassion for others outside the barber shop. He cut hair at the Conway Human Development Center, a children's home, a nursing home, the hospital and made many home visits for people who were not able to go to the barber shop.
"His love for people kept him serving others through his profession as a barber," she said.
Mills cuts his own hair. He also cuts and colors Pat's hair. He also cuts hair for some friends and other family members. "His grandsons that live here won't let anyone else cut their hair," Pat said, smiling. Russell and Pat have two children. Their son, Jeff Mills, lives with his wife, Karen, in Flower Mound, Texas, and they have two adult sons. Their daughter, Lisa Rickett, lives in Conway with her husband, Paul, and they have two adult sons. "We have our own shop here in the house in the laundry room," Pat said, laughing.
Mills also enjoys singing. "I sing from my heart," he said. He said he first began singing at church years ago when the song leader picked him out from a young men's class that he was teaching. "He asked if I could sing and if I could beat time," Mills said, laughing. "I said yes. He then told me I could lead singing that night. I led singing that night without accompaniment and without any instrument. I just sang from my heart. That's where my singing comes from. Everything I do comes from God."
Pat said she and Russell are enjoying their retirement.  s"We have my old home place in Compton where we like to visit and relax," she said. "We like to do yard work at our home here, and we like to be with family and friends. We also enjoy our church family at Robinson and Center Church of Christ." 
Jay Burks has earned lifetime license
Jay Burks received his barber's license in 1959 and, at age 90, he's still cutting hair.
"I just work four and a half days a week," he said, laughing. Although he and his wife, Merce, live in Maumelle, Burks still drives to Conway to open up Jay's Barber Shop on East German Lane.
"I'm doing a pretty good business for just one guy," he said.
As he began to tell his life's story, he quipped: "I'm young and good-lookin.' What else do you want to know?"
Burks was born in Hot Springs but moved with his family to California so his father could work in the shipyards after World War II. "We just stayed there," Burks said, although the family continued to visit relatives in Hot Springs during that time.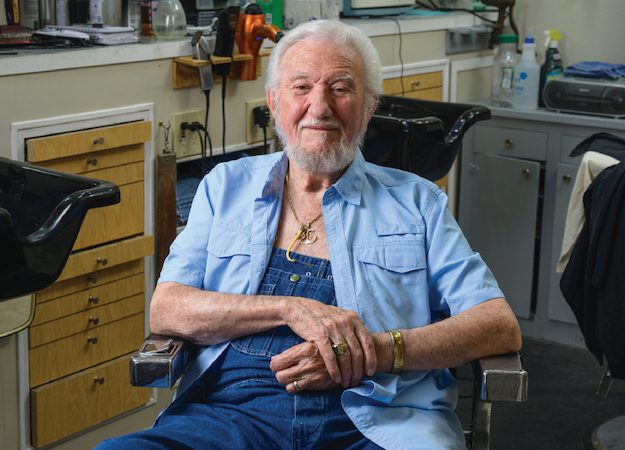 "I got married in California when I was 20," he said, adding that Merce is his second wife. "I had an older brother who lived in Eugene, Ore., so that's where I lived for a while. But my wife was from California and she wanted to move to the (San Francisco) Bay area. "I did different jobs down there but grew tired of traveling around trying to find work," he said. "I wanted to find a job where I could work inside," he said. "I was hired on at the Ford Motor plant and worked there for seven-and-a-half years.
"My brother in Eugene went to barber and beauty school and I thought that might be a pretty good deal for me, too," he said. "So I went to barber school in Long Beach. My brother and I set up barber shops in California.
"I decided to move back to Arkansas and looked at Hot Springs and Little Rock," he continued. "I decided to move to Little Rock. That was back in the 1960s, a few years after JFK was killed. I remember that day well. I was cutting hair when I heard the news. I had found a place under construction on Baseline Road in Little Rock and set up shop.
"We've lived in Maumelle for several years," he said. "My wife, Merce, cut hair too, but she's retired. She went to barber and beauty schools. Her real name is Mercedes, like the car," he said with a laugh. "I always said I couldn't afford to buy a Mercedes so I just married one."
Jay and Merce, who is 88, were married Nov. 14, 1967; this is her second marriage as well. They have a blended family – he has a son, Greg, who lives in Gravel Ridge, and she has a daughter, Chloe Sance, who lives near Atlanta, Ga. She has one grandson, Joseph Robert Courturier. Burks' son, Greg, is also a licensed barber, although he does not practice.
"He helps me out when I need it," Jay said. "I keep his license up for him for that reason."
Merce Burks, who is from Manhattan, N.Y., received her beauty license in 1963 from Blackwood Beauty School in North Little Rock and her barber's license in 1975 from Arkansas Barber School, also in North Little Rock. She retired more than 20 years ago and now uses her creativity to make greeting cards she gives as presents.
Jay and Merce operated a barber/beauty salon in Maumelle – The Cut Off – for 29 years. "It's still in business," he said. "The lady who worked for me bought it."
Jay said all he does now at the barber shop in Conway is cut hair. "I used to do it all," he said. "I used to style hair, too. Merce and I went to a school in London, England – Jingles – which is like a Vidal Sassoon school. That's when the wedge hairstyle was in."
Merce said she believes Jay is the best old-fashioned barber in Conway. "All he does is haircuts," she said.
When asked when he plans to retire, Jay answered immediately: "When I can't get out of bed. I don't just want to sit down and do nothing," he said. "I enjoy people and talking to them. I'd cut hair long enough that when I turned 80, they gave me a lifetime license," he said. "I don't have to buy a license anymore."