29 Apr 2021

A chance to shine

By Becky Bell

Jan Gilmore's childhood dream of entering a beauty pageant didn't come true until she was almost 50. 

"I wanted to show women that age is just a number," Gilmore said. "You can do anything once you put your mind to it."

At 48, Gilmore could have let her age, or the fact she is a plus size lady, hold her back. But she did not let those things stop her from entering her first pageant in 2016, which was the Mrs. Conway County pageant.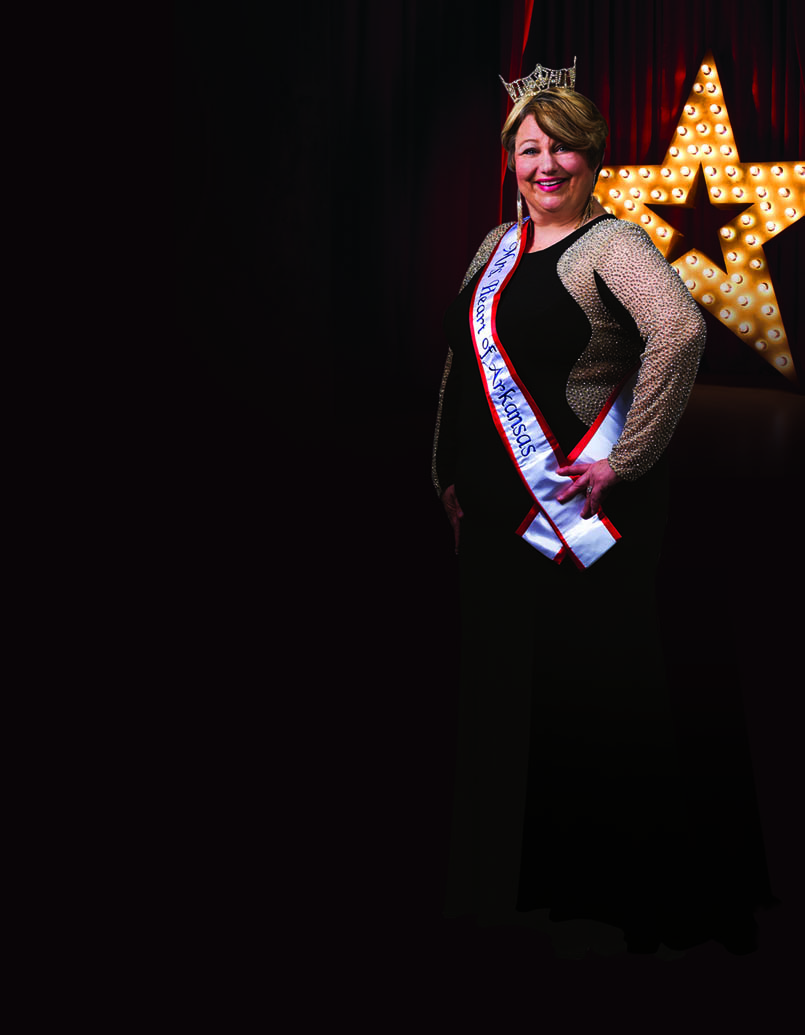 "I went in Dillard's and bought the nicest dress and the nicest earrings out of there," she said. "And I said, 'I'm going to represent the real woman in America who is not a size 2.' It is really about your attitude and your confidence."
Gilmore won the pageant, along with the categories: "best personality" and "most photogenic".
"I thought to myself, 'I'm going to rock this out.' [I] told myself to, 'go girl,'" Gilmore said. "I had so many people rooting for me."
The majority of the feedback she has received in all the pageants she has done since has been overwhelmingly positive.
"One woman told me, 'Oh my goodness, you have given me hope in humanity to see a normal woman up on stage. Girl, I was rooting for you to win. I wanted you to win. A real woman.'"
Most of Gilmore's friends were supportive, but they were afraid for her feelings to get hurt if she dared to advance to the Arkansas State Fair Pageant. But she did it anyway. And she was named first runner-up in the Mrs. Arkansas State Fair Queen Pageant.
There are forms to fill out to get information from the contestants at the pageants and this includes a space to put your weight and age, but Gilmore laughs and said she just leaves those blank. She said there is no weight requirement for any pageant.
Also in 2016, she competed in the Mrs. Van Buren County Fair Christmas Pageant and, two years later, in the Mrs. Heart of Arkansas Pageant, which she describes as a tough competition because it is a preliminary to Mrs. Arkansas. The first time she participated in the pageant, she was named third alternate. But in 2019, she came back and won the whole thing. She also won the Mrs. Cabot Fest that year. In addition, in 2020, she won Miss Congeniality in the Mrs. Arkansas America Pageant.
She did an interview with a Little Rock TV station and things began getting a little crazy. Oprah Winfrey's producers called her, but she turned that down because she is not a big fan of Oprah and she would have had to be on a plane the next day. She also appeared in the online version of People Magazine.
Through all the experiences she has had with pageants, she mostly wants her five daughters to know that she's done it all for them. When she began competing at age 48, her girls were between the ages of 20 and 26.
"I just wanted to show my girls that they could do anything they wanted to do," she said.
This month, she will crown the new Mrs. Heart of Arkansas and later this year she plans to compete in the Mrs. Arkansas State Fair Queen competition.
An advantage Gilmore had for the pageants is that she is a cosmetologist who could fix her own hair for competition, as well as other women who were competing. She is a cosmetologist at StoneBridge Senior Living in Conway and says instead of just doing hair there, she has turned the center's salon into a spalike environment where older women can be pampered and feel their best at any age.
She said she sometimes stops herself from making them all look like they are in a pageant, but she wants them to feel glamorous and like they are still beautiful at any age. "As older women, sometimes we limit ourselves," she said.
Referencing the 1991 hit movie "Fried Green Tomatoes." Gilmore proudly said, "I think the one thing about getting older is that we have more wisdom and better insurance."