23 Jun 2019

A caring heart: Unity's Fultz recognized for service

by Taryn Brown

In the Searcy community, Jasper Fultz is recognized for many roles — husband, father, brother, veteran, minister, singer, neighbor and the list could go on. However, most know him as an excellent, accomplished nurse who deeply cares about his patients. 

Fultz currently serves as the trauma coordinator at Unity Health – White County Medical Center in Searcy. He and his wife, Carole, are the proud parents of two sons and grandparents to three grandchildren. They also own and operate Carole's Copy and Print in Downtown Searcy.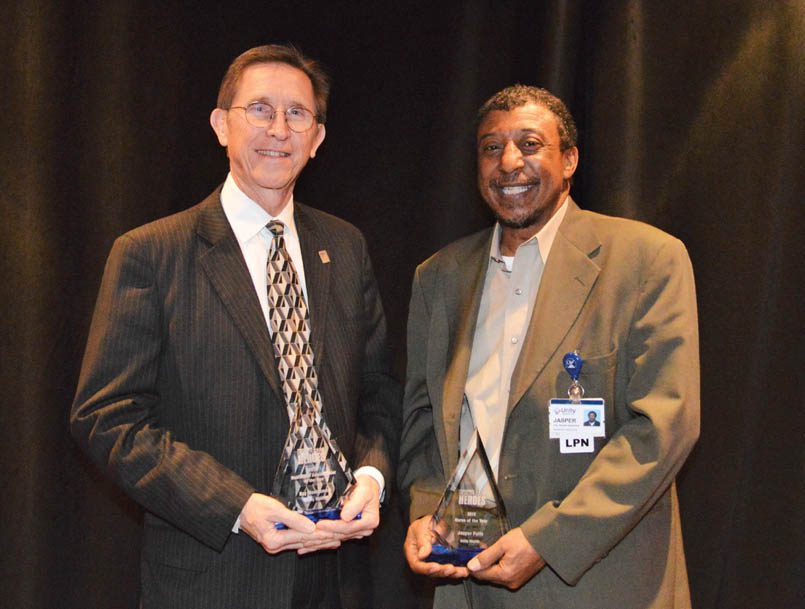 Fultz began his healthcare journey when he joined the U.S. Army after high school in 1977. During his nurse training, he graduated at the top of his class and became a clinical specialist. After serving in Hawaii and Texas, and disregarding a request from West Point not knowing the possibilities there, he returned to his home state of Arkansas.  
"When I went into health care, I wanted to be in a position to help people," Fultz said.
He certainly has done just that. 
Fultz has been with Unity Health – White County Medical Center for more than 35 years. He found his calling in the emergency department. He was hired on his birthday in 1981 as an LPN. He has since been an integral part in Unity Health, reaching Level III Trauma status and has been recognized as an outstanding nurse and trauma coordinator. 
Fultz has been honored with a number of awards for his service, including the Nursing Compassion Award. He was named "Arkansas' Most Caring Caregiver" in 2008 by the Arkansas State Board of Nursing. Upon receiving the award, he was given a key to his home city of Augusta (Woodruff County), and Sept. 16, 2008, was named "Jasper Fultz Day."
He was recognized as the AR SAVES Nurse Facilitator of the Year in 2012 and was named Nurse of the Year in 2018 by the Arkansas Business Health Care Heroes Program. He has also served on the American Red Cross board as disaster relief chair, on the United Way board and is a founding board member for Jacob's Place Homeless Mission in Searcy. 
Most recently, Fultz was appointed to a four-year term on the Arkansas State Board of Nursing by Gov. Asa Hutchinson. 
"Being named to the Arkansas State Board of Nursing is a great honor with great responsibility," Fultz said. "I look forward to helping to protect the public as their advocate and making a positive difference in nursing."
Regardless of all the awards and recognition, Fultz credits his faith in God as his motivation for serving others and providing compassionate care. He said being a nurse is about not taking credit for what you have done. He said if someone has an issue or emergency, it is a nurse's responsibility to care for them and be able to make a difference.