24 Aug 2023

A better place for the Bledsoes

By Stefanie Brazile

The winding street and shaded yards set the tone for a relaxed visit with Dr. Amanda Bledsoe at her and her husband Adam's "newish" home in Pulaski County.
As usual, she greeted me with a big, welcoming smile and led me to her backyard sanctuary, a half-acre with about 30 trees, a cascading water feature and a Crystal Blue pool nestled behind a three-story home. The family of four moved last summer and soon after celebrated with a Fourth of July pool party, which has since become an annual event.
"We moved for the community and to be near our church family, and now have the best `friend community' we've ever had," Dr. Bledsoe said. They left behind a ranch-style home and 13 acres in Damascus (Faulkner County) to be closer to their jobs and their friends from church and to live the fast-paced life they love. It was hard to leave the haven that "the farm" afforded after busy days, but they have found that refuge in their new neighborhood.
During the pandemic, they watched a church online and when they were able, began driving 45 minutes several times a week to attend it. After a year, they decided to move closer to the community of believers. "Before the move, we drove to Little Rock on Sunday mornings and would hang out all day exploring the city, but I told Adam I wanted to live close enough to church that I could leave there on Wednesday nights and put my head on the pillow in 10 minutes," she said.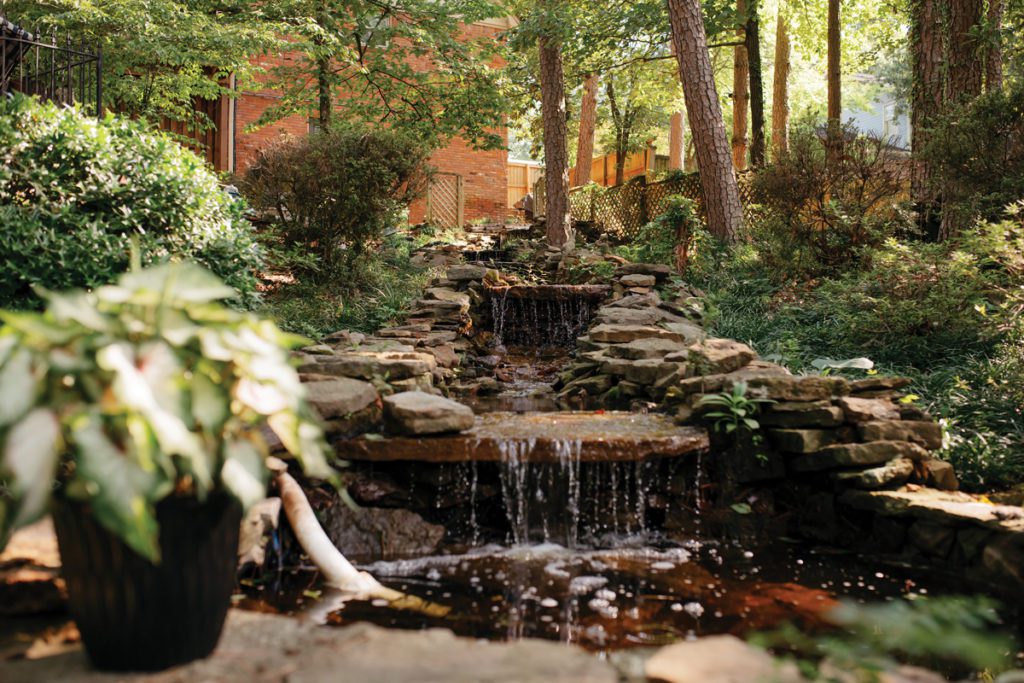 Adam also enjoys his now 15-minute commute to THV, where he is co-host of a lifestyle segment titled "The Vine," while Dr. Bledsoe is only 10 minutes from her Maumelle chiropractic clinic. She alternates the short drive with a 25-minute commute to her Conway clinic several days each week. Known for giving patients "hope through healing," the popular chiropractor practices what she preaches and has massage chairs, foot and leg massagers and diffusers around her home.
"I start each day in my 70s-themed, spectacular office in a massage chair looking at photos of my family before I do a devotional and write in my gratitude journals," she said. "I'm on my fourth journal in six years."
Her home office has green carpet and grasscloth wallpaper, a library with a collection of old Bibles and songbooks from their families, as well as numerous books. There is a shelf of mugs and other items from Bledsoe family travels and a framed piece of Dolly Parton art that she ordered in downtown Conway for her business office in '21 that never arrived due to supply chain issues. In perfect timing, it arrived in '22 and became the theme for the new home office she loves.
"I commissioned art to go around it and it's fantastic! I like Dolly because I like big hair, and she's a woman I admire as an entrepreneur, so I added a second art piece of her. I like being surrounded by pictures of things I love."
As a business owner, Dr. Bledsoe is committed to the "Shop Small" concept and supports independent businesses year-round. Her clinics and home are filled with original art and items created in Central Arkansas. Much of her décor was purchased at auctions during charity events. "I love local artists and have been buying from them since 2005 when I graduated from UCA and made Conway my home."
When she's home, Dr. Bledsoe spends more time outside than inside. "I love the water feature and being able to sit in this chair because you're looking up at a canopy of trees and I can hear the water while looking at the pool. It's a sanctuary."
The couple has been married 19 years and loves hosting friends. With a teen (Audrey) and a tween (Hunter) still in the nest, they were looking for a house that had large spaces for entertainment. The pool has seating for 25 people and an upper deck welcomes 9 more. There's a hot tub, trampoline and picnic area that are connected by decks and seating areas. It reflects a quintessential Arkansas landscape, with rocks, boulders and many indigenous plants.
"I love seeing all the chairs full," she said. 
Inside the home, which was built in 1976, there are five bedrooms and four-and-a-half baths, two living rooms, a game room and bonus areas upstairs. Adam also has a home office. The Bledsoes have opened their home for many dinners and celebrations in the past year because they enjoy providing a space where everyone can be together in a comfortable, relaxed environment. Their two Labradoodles, Ruby and Sadie, enjoy lounging on leather sofas and greeting their family members who come in and out throughout the day.
This summer, the family is trying to reserve Fridays as a family day to continue exploring Pulaski County. Because they no longer have a long commute, they play tennis on weeknights with other families, ride bikes together and have more time to relax.
And when they can, they retreat to their backyard, which provides shelter from noise and distractions — a shady oasis nestled in the capital city.