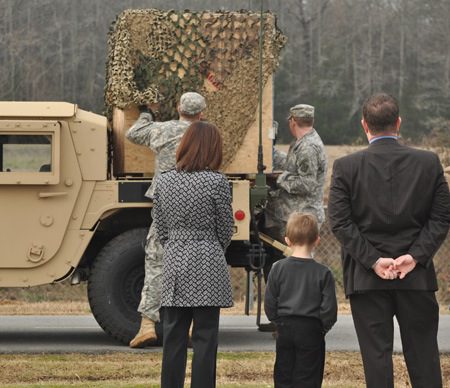 27 Feb

6-year-old leukemia survivor surprised with trip to beach

by Rachel Parker Dickerson


On an overcast February morning, 6-year-old Adam Lewis led his kindergarten peers in a lively game of beach volleyball, to the delight of nearby adults.

Adam, his parents, classmates, friends and family, were attending the "reveal party" for the granting of Adam's wish through the Make-A-Wish Foundation of the Mid-South. Diagnosed with leukemia at age 3, Adam has been off chemotherapy treatments for three months. The Make-A-Wish Foundation grants wishes for children with life-threatening medical conditions.


As a crowd of supporters gathered on the playground at Jim Stone Elementary School, a group of soldiers pulled up in a Humvee loaded with a wooden crate. Adam marched onto the playground with his parents, Mark and Debbie Lewis.


The soldiers unloaded the mysterious crate, which Adam was invited to open and find out what his surprise would be. Balloons popped out of the crate, which was filled with sand, beach balls and a brochure for Atlantis Paradise Island Resort.


Adam wasted no time in grabbing a beach ball and launching it skyward. He became the star of a rambunctious romp as the other children joined in.


Mark, who is principal at Jim Stone, said, "This is my 16th year in education. I have been around thousands of kids. I have never met a kid who enjoys life as much as Adam does. He enjoys every second."


Adam is fascinated with the Army and loves the beach, and thus the delivery by soldiers of the crate filled with sand. He and his parents were to leave the following day for a trip to Atlantis Paradise Island Resort in the Bahamas.
Debbie said Adam, an only child, was diagnosed at his 3-year-old well child checkup. She said the doctors were positive from the beginning, based on the type of cancer and Adam's age at the time.

"He's the luckiest unlucky child," she said. "We always had hope. That's not something every family has."

Mark said when they got the news, "The only thing I could possibly compare it to (is) I thought the Rapture had come. It's an out of body experience. You're floating and looking down. It's like a dream."

While the experience was emotionally-charged for the parents, Mark said Adam stayed strong.

"He's a fighter. Very few times did he let on that he felt bad. He looked bad, and you knew he felt bad, but he stayed strong for us. The doctors and nurses at (Arkansas) Children's (Hospital) never questioned whether Adam was going to make it. They questioned whether I was going to make it."

Coincidentally, Jim Stone has raised funds in the past for the Make-A-Wish Foundation, Mark said.

"It's really cool, because we have several philanthropies we do with our kids. Over two years we raised $2,000 through two fundraisers."

He said the school will continue to help Make-A-Wish, and the funds will go to a child in Central Arkansas. Adam's wish is not funded by the school. It is sponsored by Incite Rehab.

Mark said the child whose wish the school donated to last year decorated a tile and sent it to the school as a thank-you. Now Adam will have the opportunity to do the same for the sponsor of his wish, he said.