12 May 2023

501Der Women 2023: Tanya McGary

Tanya McGary, MSN, RN, CMSRN, serves at Unity Health in Searcy as a nurse educator, where she leads with her heart and shares her experience, knowledge and passion through educational programs for nurses.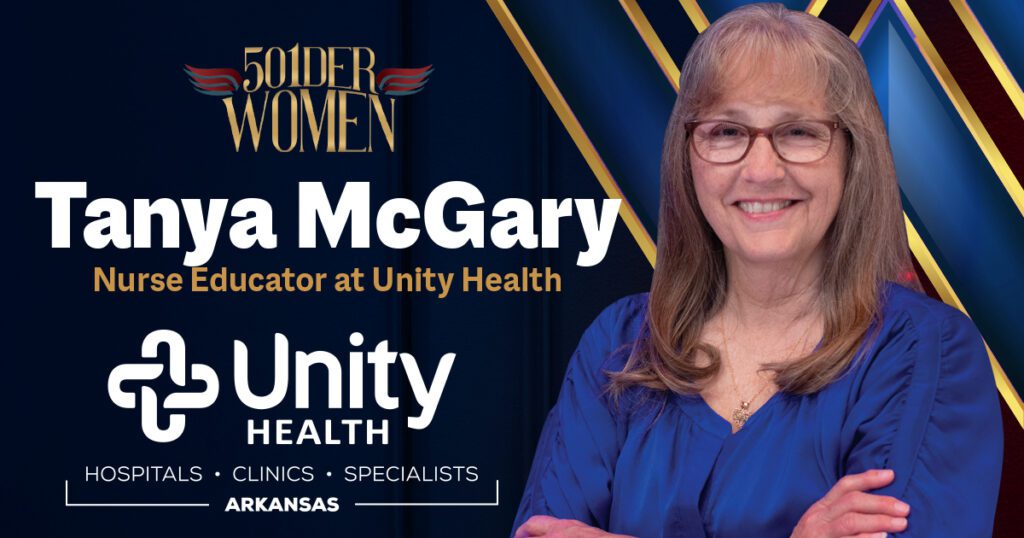 McGary shared, "Nursing chose me—I didn't choose it. During my own life-threatening medical emergency, I witnessed first-hand the positive impact nurses have on the well-being of patients. Nursing has given me the opportunity to care for people, which is why I love it so much."
Over the past 32 years, her nursing experiences have ranged from various areas of care, including emergency, cardiac, medical-surgical and nursing education. She explained that her wide range of experience has provided her an extensive spectrum of specialties and an opportunity to deliver care to a diverse population. She is a certified, medical-surgical, registered nurse and has been recognized as one of the top 100 nurses in Arkansas.
McGary calls Searcy home and said it has been a great place to raise her family, build her career and enjoy lifelong friendships. She and her husband have been married 41 years, and they are parents to a son and daughter. Her daughter is a pharmacist and an exemplary woman of faith who is married to her best friend and is a bonus mom. Their son was a Conway police officer who was tragically killed in the line of duty in 2013.
"Through the grace of God, and the support of family, friends and our community, we have continued to live faith-centered lives, despite the tragedy in our family," she explained.
McGary attributes much of her inspiration in life to the women she has been surrounded by, including her mother, sisters, mother-in-law and daughter. She said, "These strong, Christian women were enthusiastic about their family, faith and life, which greatly influenced me personally and professionally. I believe as women, it is our responsibility to be good role models and 'pay it forward' by encouraging younger women to seek opportunities beyond their imaginations."
McGary is proud to serve her family, community and Unity Health, which she believes fully embraces the mission of improving the health and well-being of the communities it serves.
Visit unity-health.org today to find a location near you.