12 May 2023

501Der Women 2023: Karey Smith

From beginning the Professional Learning Community at Morrilton Intermediate School to creating partnerships between University of Arkansas Community College at Morrilton and Morrilton High School, Karey Smith has shined brightly in her quest to bring new educational opportunities to youth in the 501. She is the South Conway County School District Director of Curriculum and Assessment and has made great strides in helping high school students obtain college and career credit.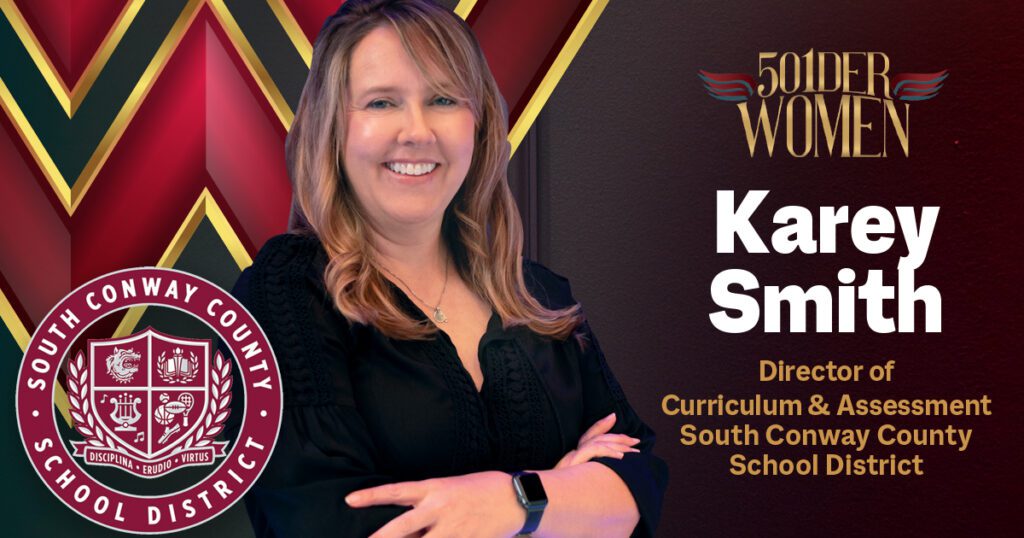 "I like my job because I like the challenge of putting all the pieces together to help our teachers make the best pathways for our students to maximize their learning and achievement," Smith said. "Now that I'm at the district level, I get the privilege of watching our students grow up and become themselves, from the elementary level to walking across the graduation stage."
The colleague of a previous 501Der Woman, Lora Hendrix, Smith's drive for innovation in education is more than just a passion project, it's in her blood. "My mom and dad were both leaders in their fields and taught me the value of education and hard work," Smith said. "My dad was the chief of police and my mom was an administrator at Heber Springs Middle School. She has been my rock and my role model for the last 10 years."
The holder of a National Board Certification, the most respected professional certification available in education, Smith understands what it takes for women to grow into the best versions of themselves, personally and professionally. "Take initiative and don't be okay with status quo," Smith said. "Be positive, be kind and always find opportunities to get better."
In her free time, Smith enjoys spending time with her family, while moonlighting as an EMT on weekends in Heber Springs when she can.
"My family is my pride and joy," Smith said. "My son, Jacob, is a fireman in Magnolia with my soon-to-be daughter-in-law, Carli, and my son, Caleb, is a chemical engineer in Batesville. I love all the hiking and outdoor activities the 501 has to offer. I attended UACCM last spring and received my EMT certification in June because I love to help others."
Karey can be reached by email at [email protected] or at 501.354.9400 ext. 1012.