12 May 2023

501Der Women 2023: Judy Freyaldenhoven

Judy Freyaldenhoven and her sister-in-law, Sharon, helped Freyaldenhoven Heating and Cooling head in the right direction when their husbands started the business more than 50 years ago.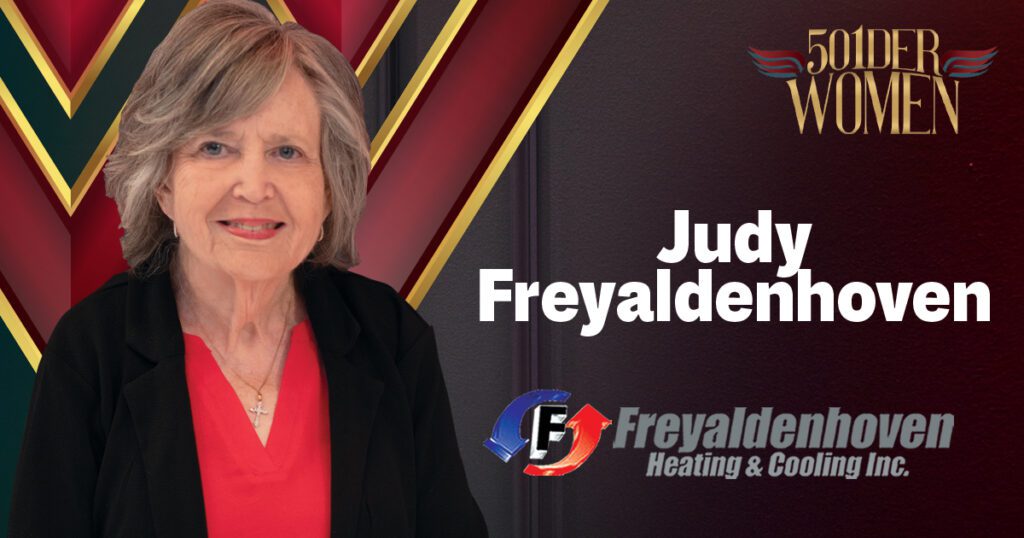 Judy's husband, the late Buck Freyaldenhoven, and his brother, Bob, started repairing air conditioners in 1970 for friends and family. In 1970 they opened their business in a garage on Siebenmorgen Road with just two trucks. Cellphones didn't exist, so they had to be creative. "We answered the phone from our homes before portable phones or cellphones. We did have CB radios to transfer the calls," Judy said.
The business grew rapidly and moved to its second location on Front Street, where it is today. Judy said she helped in the office some, but she loved working with children more than anything. She started working at the Mother's Day Out program at First United Methodist Church in Conway and then at the church's School for Little People, which was started and owned by Ann Lancaster and Connie Trent. "They really inspired me and taught me many things about working with children," Judy said.
She also worked at another preschool, where she said her strength was "comforting and calming down the children. I loved reaching out to the shy ones." She retired after 30 years in childcare, all the while raising her four children. She now has 11 "precious" grandchildren. Judy grew up in Conway, as did her mother and maternal grandfather. "After Mom married Dad, from Elkins, Ark., she insisted on living in Conway. I'm glad she did."
Judy and her husband fished, hunted, camped and enjoyed the outdoors in the 501. Today, she is an avid Wampus Cat and Razorback fan and a member of Second Baptist Church. She also enjoys attending activities at St. Joseph Catholic Church. A 26-year breast cancer survivor, Judy stays active and participates in programs at Ola and John Hawks Senior Wellness and Activity Center. "I love to exercise," she said.
Judy and Buck's son, John, and Sharon and Bob's son, Scott, own the heating and air business today "and are continuing to do a great job," she said. But the business wouldn't be where it is today without Judy and
Sharon's support in the early years.
Contact Freyaldenhoven Heating & Cooling today at 501.329.2951 or learn more at freyaldenhoven.com.