12 May 2023

501Der Women 2023: Dr. Amanda Bledsoe

From the moment she created a hospital out of Styrofoam at 8 years old, Dr. Amanda Bledsoe knew she was destined to be a doctor. Fast forward to today, where she runs her own chiropractic practice, helping patients just like her.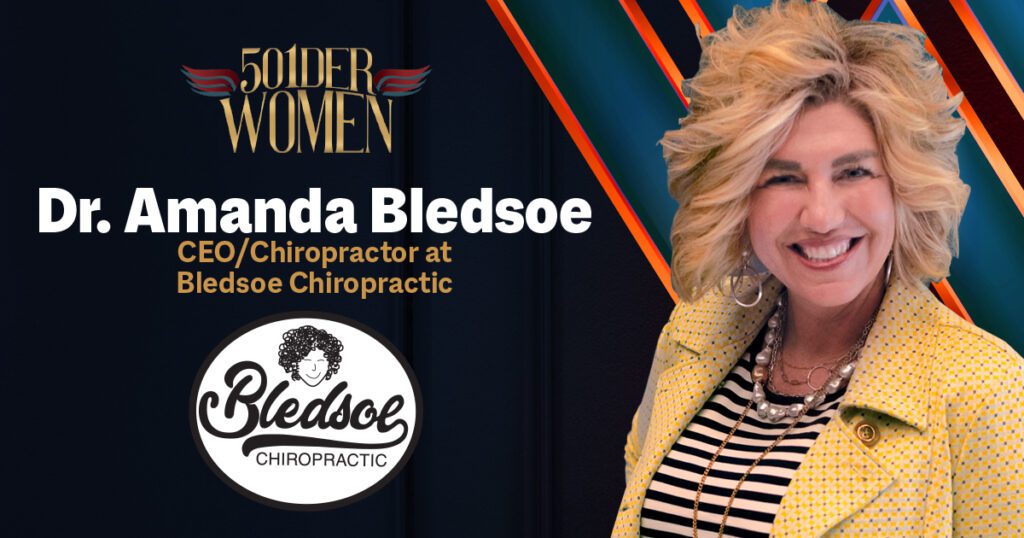 "I chose to work in this industry to help people," Bledsoe said. "I was diagnosed with scoliosis at age 14. I now look for kids like me who need chiropractic help at an early age to help them grow and develop without pain for the future."
Proud to serve as a strong role model for women in the 501, Bledsoe leads with confidence and poise. "One of the biggest challenges I've faced as a woman is the assumption that I'm not a doctor or the boss because I'm a woman," she said. "Be kind to them, but assure them with confidence, 'Oh yes, I am!' Be bold, stand up with love and do your best with your God-given talents. It has been a great choice for me and has evolved over the 17 years I've been in practice. My kids have grown up seeing me hustle and work hard for others and for myself. They will know they can do it, too, if they want."
According to Bledsoe, there's no better time for young women in the 501 to embrace leadership and business ownership.
"I cannot imagine owning a business or even working as a woman in any other area," she said. "We have it so great here with connections and networking for women. We have a collaborative business-friendly spirit in Central Arkansas that I haven't seen in many other areas. You can be a wife, mother, career woman or even own your own business and be your own boss. You can have it all, if that's what you want!"
Through grace and humility, Bledsoe is quick to recognize the driving force behind her success. "Faith is no doubt the glue that holds me and my business together," she said. "It's a team effort! We're following doors God has opened for our life and He blesses us over and over again."
Dr. Amanda Bledsoe lives in Little Rock with her husband, Adam, and two children, Audrey and Hunter.
Contact her today at [email protected] or 501.504.6999, 775 Amity Road in Conway, or 501.725.5432, 9772 Maumelle Blvd. in  North Little Rock.