12 May 2023

501Der Women 2023: City of Conway Diversity Advisory Council

Brought together by a common goal, individuals from different cultural backgrounds came together in 2020 to create a positive environment for dialogue and educational opportunities in the city of Conway. This group is known as Conway's Diversity Advisory Council.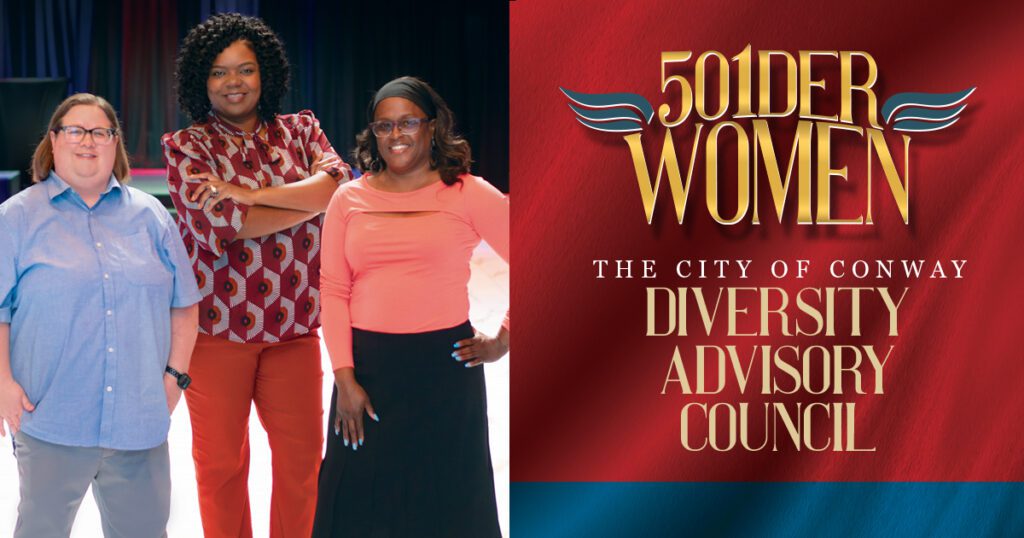 The Diversity Advisory Council was created by the City's Diversity & Economic Development Coordinator, Shawanna Rodgers. "Shawanna saw the need for citizen engagement, the need for minority voices to be heard, and the need for the community to come together surrounding cultural differences," said council board member, Danielle Henry.
Henry is a strong believer that inclusion of various cultures is vital to Conway's continued success. "I would like to assist in helping different cultures not only feel seen but also let it be known that they have equal opportunities within our community," she said.
For fellow council member Meg Hawkins, the mission of the group is personal. "I'm a diverse individual with a diverse family," she said. "I've always had an interest in other cultures and I've always been passionate about Diversity, Belonging, Inclusion, and Equity (DBIE). I believe in everyone having a sense of belonging, no matter what they look like, where they're from, what they do, or how they identify; those things never mattered to me."
Jackie Gault became a member of the council partly because she believes the economic impact of a diverse city benefits everyone. "We are the City of Colleges. I would like to see our college graduates stay in the city, start various businesses or even bring in new businesses here because the council has showcased the many cultures we have. Knowledge is power, and it is my mission to educate the community on what we offer. Conway is full of great places that do so much. If we are successful at bridging the gap through supporting one another, this council will bring even more business and citizens to our town."
If you are interested in becoming involved in the Diversity Advisory Council, the group meets on the 3rd Thursday of every month. All meetings are open to the public and televised on Channel 22 and on the City of Conway's YouTube channel. The public is invited to all board meetings to learn about the events the group hosts.
Learn more about the council at conwayarkansas.gov/boards/diversity-advisory.