01 May

501der Women 2022: Mary Burgess, MD

Dr. Burgess compares her work as an infectious disease specialist to being a detective and solving a mystery every day. She has worked in the field in Central Arkansas for almost eight years and currently practices in the Conway Regional Infectious Disease Clinic. She is also the past program director for the Infectious Disease Fellowship at the University of Arkansas for Medical Sciences.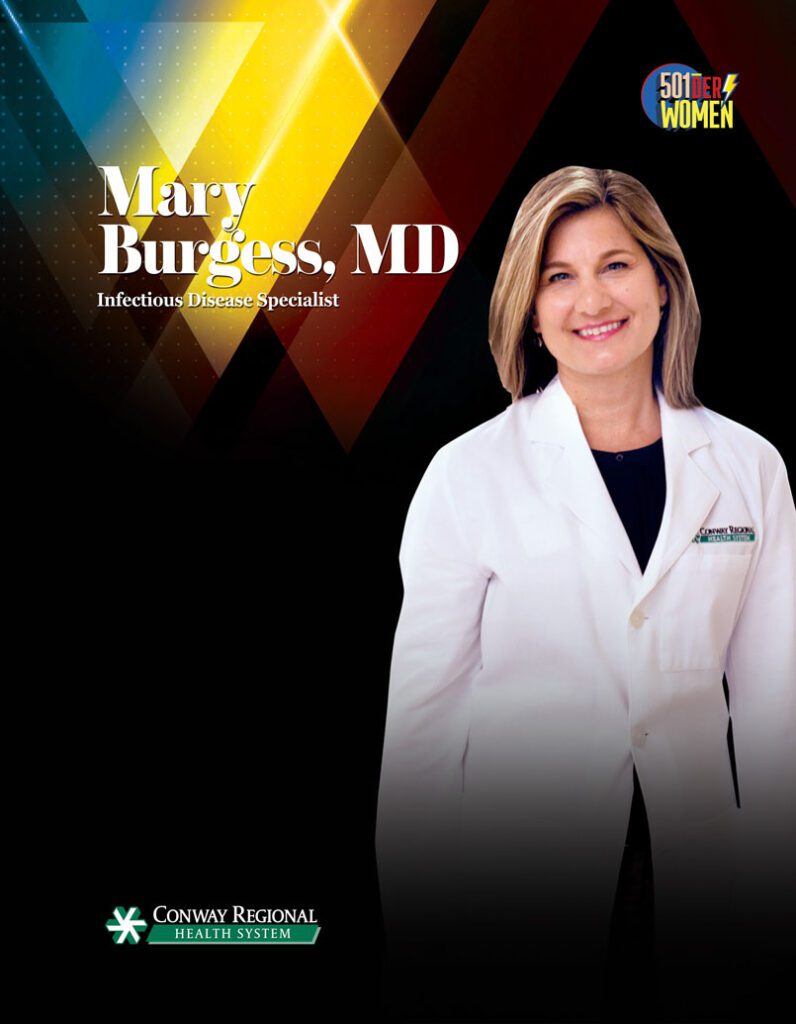 "As an infectious disease specialist, I study and treat every system of the body, trying to identify the organism that is making someone sick," she said. Discovering the cause of an illness ensures proper treatment, and Burgess is glad to help people get better and back into life.
But her biggest reward has been teaching and mentoring the next generation of physicians. "I am helping prepare for five residents who will begin training in our internal medicine residency program in July."
Burgess and her husband, Dale, have two adult children. She was confident that she could balance family and a demanding career because of her mother. "My mom, Jackie Bukowski, is my inspiration in life. She was a working mom and a teacher who showed me that you can develop a career while being present for your family."
As she reflects on the women of the past who broke through the glass ceiling, she is hopeful about the future. "The generation in the '60s and '70s helped to break through barriers, and now about 50% of students in medical school are women. I also see more women taking on leadership positions in academia and in the private sector."
She looks at the next generation of physicians with admiration. "The young female residents who are going through training are inspirational in how they approach work and life balance while volunteering and taking on leadership positions."
In her free time, Burgess enjoys hiking at Pinnacle Mountain State Park and attending performances at the Arkansas Repertory Theatre.