11 Jan 2012

501 well represented at Cotton Bowl

The 501 was well represented on and off the field as No. 6 Arkansas defeated No. 8 Kansas State, 29-16, in the 76th AT&T Cotton Bowl Classic at Cowboys Stadium in Arlington, Texas.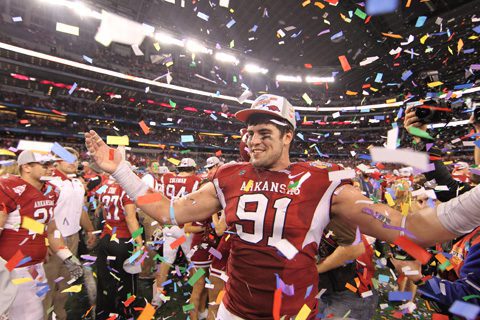 Among the 501 highlights:
The defense – led by senior defensive end Jake Bequette who attended Little Rock Catholic – was credited for propelling the Razorbacks (11-2) to a school record tying 11th victory. Bequette was named the Outstanding Defensive Player of the Game.

On offense – Joe Adams, who attended Central Arkansas Christian, gave Arkansas a commanding 10-0 lead early in the second quarter with his fourth punt return for a touchdown this season. Pulaski Academy alum Broderick Green was the leading rusher for the Hogs.

Arkansas finished the season ranked No. 5.

501 LIFE photographer Bill Patterson and his son, Will, have been on staff of the Cotton Bowl Athletic Association media team for the past five years.

"My duties are staff photographer, which includes photographing the game, but also capturing all aspects of the event from press conferences, practices, social events, sponsor signage and some events around the stadium and as well as pregame events," said Bill, who also served as a liaison for other photographers. "The game photography is a little different than a typical game for me as I also have a photo list of things to shoot that are non action items like field logos, officials and the chain gang."

Will has had various duties at the Cotton Bowl and worked this year in the pressbox, helping the Arkansas media relations staff.

In addition to enjoying the time spent with his son, Bill described the Cotton Bowl games as a great experience.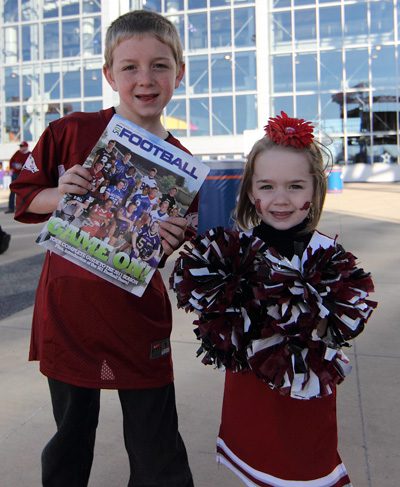 "The atmosphere this year was electric. There were lots of Kansas State fans and they were excited to be there as well as the Arkansas fans. It was the first time in many years that they have had both teams in the Cotton Bowl with Top 10 rankings."

Bill was pleased to see the 501 so well represented on and off the field. "I love all the Hogs but am especially proud to see a player from the 501 do well. Usually I have covered them during their high school playing days so I am proud when they excel like they did this year."

(Check out the February issue of 501 LIFE for more Bill Patterson photos from the Cotton Bowl.)