30 Nov 2020

501 tech expert recommends holiday gifts for grown-ups

By Kevin McCoy

This Christmas buying season, like most of this year, will look different than past years. A noted trend over the last several years has been retailers moving deals online and 2020 will likely be the biggest year we've ever seen for online shopping. Test your logins, reset forgotten passwords and create accounts now so you don't waste time and miss out on these deals when they hit — sometimes items sell out in a matter of seconds!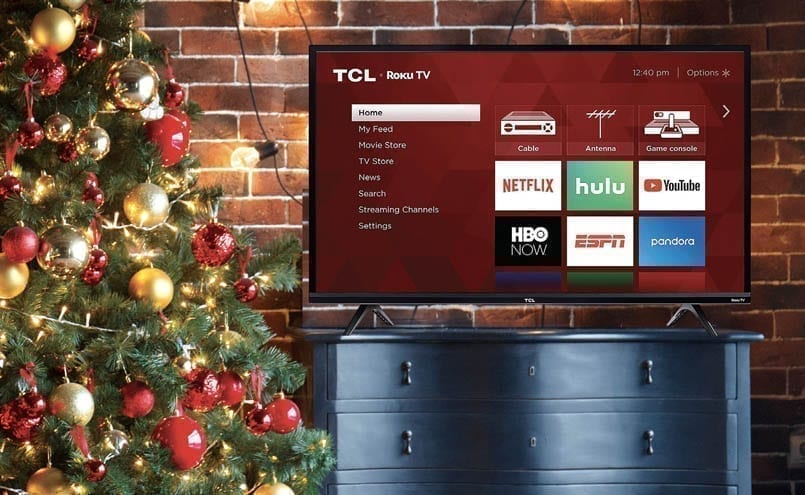 Entertainment/TVs
A new generation of consoles (excluding the Nintendo Switch) finally brings 4K gaming into the mainstream, so another item that will be on a lot of wish lists is a new TV. With improvements and efficiencies in the manufacturing process and ad revenues from Smart TVs, larger 55+ inch displays can be had for $300 or less. Because the market is saturated with so many choices, it's important to know what you're paying for.
Here are some of the key elements to help demystify your TV shopping experience: Panel Technology: Not all TVs are made the same. The most common panel technologies today are VA, IPS, and OLED. They all have their pros and cons depending on your usage; do your research.
Best super budget TV: TCL 50S425, 50in, 4K, LED Roku TV (2019); $279.99 on Amazon.
Best low midrange HDR TV: Vizio M658-G1, 65in, 4K, Quantum LED Smart TV (2019); $689.99 at Best Buy.
Best high midrange HDR TV: TCL 65Q825, 65in, Class 8 Series, 4k, Quantum LED Roku TV (2019); $1,299.99 at Best Buy.
Best high-end non-OLED: Samsung QN65Q80TAFXZA, 65in, 4K, Class Q80T Series, Smart TV (2020); $1799.99 at Best Buy.
Best high-end (no compromise): LG CX Series OLED OLED65CXPUA, 65in, 4K, Smart TV (2020); $2296.99 at Amazon.
Laptops
Things are finally getting interesting in the PC world after years of boring announcements. This is because Intel was king and AMD wasn't in the competition. 2020 was a year of exciting changes. With AMD releasing their Ryzen Zen 2 CPUs at the end of 2019, they finally had a viable competitor in the CPU segment. And with their latest Ryzen Zen 3 (5000 series) announcement on Oct. 8, they're poised to take the crown from Intel in certain categories for the first time in over 14 years; Ryzen 5000 chips hit the market on Nov. 5. It's important to keep in mind that with new releases there's usually no discounts even during the holiday season.
Keep your eyes open for deals on Intel 10th generation CPUs this fall, as Intel scrambles to hang onto a PC enthusiast market share. With all that said, there are always great deals to be had especially on laptops on Black Friday.
Here are the criteria I always tell people to look for in a laptop:
CPU: Intel Core i5 10th gen or AMD Ryzen (Zen 2) 4000 series
Memory: 8GB minimum
Storage: 256GB or larger SSD (Solid State Drive); M.2 NVMe SSD preferred
Display: 13in or larger display with a minimum of 1920 x 1080 Full HD resolution
Smart Speakers
The three big players are Amazon Alexa, Google Home, and Apple HomePod. A lot of it comes down to your current ecosystem and desired integrations. Even though at the time of this writing, Amazon Prime Day has come and gone, keep a lookout for deals on the 3rd generation Amazon Echo, and Echo Dot. I don't want to fail to mention if you're looking for multi-room audio, might I suggest Sonos. They now offer smart speakers with Alexa integration (Sonos One), and they typically have excellent audio quality compared to the competition albeit with a price premium.
Watches
With the recent release of the Apple Watch Series 6, along with it came the budget-oriented Watch SE. If you don't need to measure your blood oxygen level or take an ECG anytime, anywhere, pick up the Watch SE starting at $279 MSRP.
Tablets
2020 has brought a refresh to the standard iPad (8th gen), and the iPad Air (4th gen) with no update yet on the iPad Pro models. These changes make your tablet buying decision a little tricky, but l think there is a clear winner. For starters, Apple hasn't really had a viable competitor in the tablet segment for some time now. This is as much to do with the updates to Apple iPad OS as the hardware.
Now you're able to easily multitask, having multiple apps open at the same time; you can easily watch a YouTube video on part of the screen while producing a Pages or Word document at the same time. Apple has been arguing that their tablet is a computer, and most serious tech reviews have conceded that point. I think this year, the clear winner is the new 4th gen iPad Air. With its refresh, it brings a lot of the features and capabilities of the 11" iPad Pro, but at a much lower cost.
It comes with the same form factor as the 11" iPad Pro with a thinner bezel around the screen, the latest A14 Bionic processor (the same one found in the new iPhone 12), USB-C connectivity (dropping the proprietary lighting port).
With the updated processor, the iPad Air beats the 11" iPad Pro in most benchmarks, all while coming in at $200 cheaper. The new iPad Air will set you back $599, but search the web for deals; Amazon had the iPad Air (4th gen) for $559 for a few days recently, and there will likely be more deals in December.