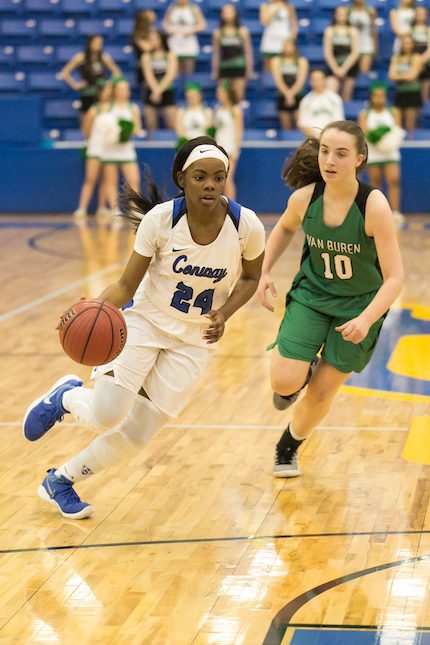 07 Mar 2018

501 teams to compete in state championships

Of the 28 teams playing in high school basketball state championship games this week in Hot Springs, 13 of them call the 501 home.


Five players from this year's 501 Basketball Team are vying for championship rings.


Asiyha Smith and the Conway Lady Cats, 7A girls' final


Junior Asiyha Smith put up big numbers in the 7A state tournament to lead the Conway Lady Cats (27-3) back to the state championship game (for the fourth time in five years). In the quarterfinals against Van Buren, Smith powered the Lady Cats with 23 points, including shooting 12-of-14 from the free throw line. She followed that up on Saturday with 20 points against Fort Smith Northside in the semifinals, keying a 54-43 win to send Conway to the 7A championship game.


"It's the best feeling being in the championship after being counted out since off-season of last year," Smith said. "It feels even better because this is the exact moment we've worked for."

Conway takes on North Little Rock at 2:30 p.m. Thursday. The 7A Central foes split in the conference season.


"We have a lot of respect for North Little Rock," said Coach Ashley Nance. "We definitely know we are the underdog in this year's final because they have some big-time players and a great coach in Daryl Fimple. Yomyris Morris had 11 points the last time we played them, but her counterpart, An'nyah Pettus had a double-double. With both of them inside, we will have to focus on keeping them off the glass and be big on the defensive boards.


"We are excited to be back in the finals. We love this year's team because they play so hard and they play so hard together. They have been focused on getting back to the state championship game since Spring Break of last year. Nobody thought we would be here this year, and we have proved a lot of people wrong."

North Little Rock and Conway have recent history in the title game. North Little Rock beat Conway in the 2016 state championship game.

"The play of Conway's two seniors has been impressive to me," said Jeff Matthews, play-by-play announcer for Conway Corporation's Channel 5 Sports. "Cardrina Nolen is stepping on the court with a tenacity that grows each game. She is confident she is going to pull down each rebound. She is confident that she is going to finish at the basket. Her play will be key to Conway's success against North Little Rock.


"The same can be said for Alyssa Netharlain from the outside. She doesn't get as many looks as the other guards, but when she gets a shot in a big moment, it seems like she is knocking them down each time. North Little Rock and Conway know each other so well, it may very well be a role player that makes the difference in the end."

Rieley Hooten and the Quitman Lady Bulldogs, 2A girls' final


Rieley Hooten and the defending 2A state champion Quitman Lady Bulldogs (35-3) are striving to repeat after making it back to the 2A state final. The path back to Hot Springs hasn't been easy for the Lady Bulldogs.


"The sophomore players collectively have played important roles filling in for the loss of starting point guard Lily Holland, who tore her ACL during the regional tournament," said Coach Tim Hooten. "Nicki Hooten has really stepped her game up, averaging 24 points per game in the state tournament."


Quitman takes on Earle at 6 p.m. Thursday.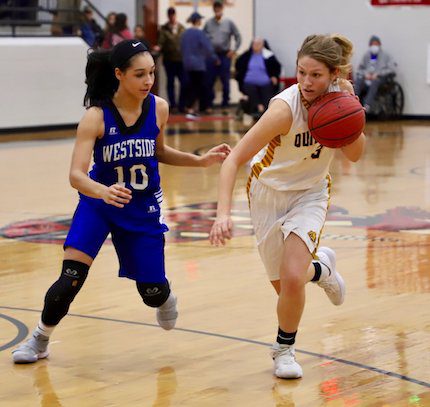 Shelby Reynolds and the Wonderview Lady Daredevils/Kenzie Woodruff and the Lady Warhawks, 1A girls' final

Two 501 Basketball Team honorees will face off in the girls' 1A state championship game.

For Shelby Reynolds and the Wonderview Lady Daredevils (37-3), this is the third championship game appearance in four years.

"It is an absolute blessing," Reynolds said. "We have had to work extremely hard and beat some tough teams in order to make it to the final game, and it is just an honor to be able to say that we are among the final two teams.

"We are used to the atmosphere — the lights, cameras and activity surrounding us are secondary to our true focus. Having been there and seen that, those things will become a part of the background."

Wonderview beat Bay in the 1A quarterfinals in Morrilton. The win added to Wonderview's confidence heading into the semifinals.
"It was a very emotional grind it out kind of game against Bay," said Coach Jeremy Simon. "It felt great to beat them so that we could somewhat move on after losing to them in last year's state championship game. Then on Saturday night, we played our best game of the season against Norfork. Both games were very emotional wins because we had lost to both teams the last time we played them. Free throws were huge in both games. We went 20-of-25 against Bay and 21-of-25 against Norfork.

"Our fans were amazing during our run in the state tournament this past week at Morrilton. I have been at Wonderview for seven years, and Saturday night was the loudest I have ever heard our fans. Our players truly did feed off the crowd, and it helped in leading us to this year's state championship game."

Wonderview takes on familiar foe Mount Vernon-Enola in the state championship. This game will mark the fifth meeting between the teams this year. Wonderview has won all four previous contests.

"Mount Vernon-Enola has a great ball team," Simon said. "They are very good on defense with their size and athleticism; it makes it tough on anyone to score. Offensively, there will be times where we need to be patient and times we need to attack. We need to have a balanced game plan with some inside and outside scoring.

"We are going to have to play one of our best defensive games of the year. Mount Vernon-Enola is so dynamic on offense. They have so many players who are capable of getting hot at any point. Since the post season has begun, they have had different players step up each game and hit big shots. It seems like whenever they have to hit a shot, they do."

Kenzie Woodruff and the Mount Vernon-Enola Lady Warhawks are in the state championship after falling short in the semi-finals a year ago.

"It doesn't feel real," Woodruff said. "It's like a dream. It means so much to me and my team. All the hard work, early mornings and late nights are finally paying off."

"It is a wonderful accomplishment for our kids," said Coach Adam Carlton. "They have worked so hard to get back to this point, and to see the looks on their faces after Saturday's game is something I will never forget. I'm so proud of how hard our kids have worked to return to this level."

Carlton and his Lady Warhawks know what they need to do to flip the script against Wonderview. It's pretty simple — just play a complete 32 minutes of basketball.

"We just have to continue to trust each other," Carlton said. "In every game we have played against them, we have struggled for about a four-minute stretch at some point in the game. Hopefully, we can play a full game.

"Offensively, we have to take care of the basketball. They do a great job of putting pressure on you. Defensively, we have to make sure to cover their shooters. In all the games we have played against them this year, they have always hit a big 3-pointer to break the game open. They are a very good offensive team. They can score from so many different spots on the floor, so you have to be locked in on defense."

Mount Vernon-Enola and Wonderview tip at 2:30 p.m. Saturday.

Tre Minton and the Guy-Perkins Thunderbirds, 1A boys' final

For Tre Minton and the Guy-Perkins Thunderbirds, the 1A state final is heavy with history. Guy-Perkins is not only looking to repeat, but the Thunderbirds are also trying to close out John Hutchcraft's career with one last state championship.

"It means a lot to all of us, especially the seniors, with it being Coach Hutchcraft's last year," Minton said.

Guy-Perkins and Izard County close out the state tournament games at 7:45 p.m. Saturday.

"Offensively, we want to push the ball when we need to and move the ball around," Minton said. "Defensively, we want to stay aggressive and don't let them have any open, uncontested shots."

Last year, Hutchcraft won his 10th state championship, and this year's final will mark his 20th state championship appearance. It's a perfect ending for the Arkansas legend, who picked up his 2,000th victory in January.

"I'm sure it will be a pretty emotional night," Hutchcraft said. "It feels great. My last ballgame of my coaching career being at the state finals is somewhat surreal. What makes it even more special for me is that my daughter, Ashley Nance, will also be there with her Conway Lady Cats. I couldn't ask for a more fitting ending to my career.

"It will be a family affair with Ashley, my grandson Wyatt Spires and myself all participating in my final state final. I'm truly blessed."

"I am so happy we are both in the championship game together," Nance said. "This is something we have talked about wanting to happen for a long time. We both knew this year would be a little bit harder for the both of us because we both lost some key players, but we also knew it was our last chance.

"I am glad I will be able to watch his game and take it all in. It is bittersweet for me. It is hard to believe he is retiring and I won't see him on the sidelines anymore, but it is also an awesome way to go out."
State Championship Games*:
7A BOYS
NLR vs Northside

7A GIRLS
CONWAY vs NLR

6A BOYS
Jonesboro vs West Memphis

6A GIRLS
Jonesboro vs Greenwood

5A BOYS
PARKVIEW vs MILLS

5A GIRLS
HOT SPRINGS vs Watson Chapel

4A BOYS
Westside vs BAPTIST PREP

4A GIRLS
CAC vs RIVERVIEW

3A BOYS
McGhee vs Drew Central

3A GIRLS
Charleston vs Mountain View

2A GIRLS
QUITMAN vs Earle

1A BOYS
GUY-PERKINS vs Izard County

1A GIRLS
WONDERVIEW vs MOUNT VERNON-ENOLA
For game times, visit here.
* 501 teams in all caps.