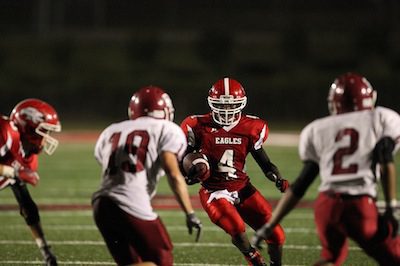 03 Sep 2011

501 Scoreboard – Week 3

This fall, 501 LIFE will be providing you high school football scores from several games throughout the 501.

Check back here on Friday nights to find your favorite 501 team's score:

Friday, Sept. 16, 2011:

CONWAY 38 vs. HERITAGE 13 – FINAL (via Jeff Matthews).

MORRILTON 27 at SEARCY 29 — FINAL

CONWAY CHRISTIAN 46 vs. CUTTER MORNING STAR 6 – FINAL

GREENBRIER 42 vs. BENTON 35 – FINAL

MAYFLOWER 13 at GLEN ROSE 31 – FINAL

CLINTON 21 at POTTSVILLE 42 – FINAL

FOUNTAIN LAKE 28 -at HOT SPRINGS LAKESIDE – 33 FINAL

PERRYVILLE 12 at MARSHALL 14 – FINAL

BALD KNOB 19 at HEBER SPRINGS 55 – FINAL


Don't see your team's score? Are you interested in becoming a 501 Community Sports Reporter? Here's how you can get involved:

Email the score to us at

[email protected]

Tweet the score with the hashtag: #501sports

Post the score on our Facebook page
Each week, we'll be posting photos from the games we shoot on our Facebook page, so check back to see all the action from our Game(s) of the Week!

Here's to another great week of loving LIFE and football in the 501!