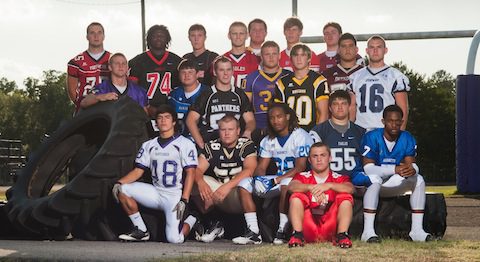 03 Oct

501 plans football team reception; readers invited to tailgate at UCA

501 LIFE will host a reception for members of the 501 Football Team, their families and their coaches at 1 p.m. Saturday, Oct. 6, in the Community Room at Central Baptist College.

2012 team members include: Michael Atkinson (Vilonia); Matt Austin (Conway Christian); Aaron Bell (Bryant); Jalen Bell (Bryant); Ethan Bly (Heber Springs); Brandon Forrester (Mayflower); Will Francis (Harding Academy); Gilberto Garcia (Morrilton); Jake Hoy (Bigelow); Dalton Jackson (Clinton); James Kelley (Maumelle); Hunter Linam (Magnet Cove); Trey Martin (Lake Hamilton); Robert Meredith (Greenbrier); Jordan Ross (England); Mackenzie Ross (Fountain Lake); Slater Smith (Conway); Chase Stewart (Quitman); Ian Thompson (Cabot); and Brody Welcher (Beebe).


"This year's team is full of so much character and talent," said associate editor Levi Gilbert. "The 501 is blessed with such great student-athletes, not to mention the top-notch bands, cheerleaders, coaches and fans. The 501 does high school football right.


"We'd like to thank all the coaches who took the time to recognize one of their outstanding student-athletes by submitting a nomination. We couldn't do it without their help and support."


501 LIFE will also host a tailgate party at First Security Field at Estes Stadium at the University of Central Arkansas prior to the Hall of Fame game that evening. UCA will play Nicholls State.


501 LIFE is the sponsor for the UCA game. The 501 Football Team and their families will be special guests at the tailgate party.


The UCA Sports Hall of Fame will add nine new members during the annual Hall of Fame Weekend. The Class of 2012, the 12th class to be inducted since 2001, includes John Cameron, Anita Curry, David Evans, Mickey Johnson, George Jones, J.E. "Stovepipe" Lawrence, John Robinson, Bill Shimek and Verlon Spencer.

The Class of 2012 will be officially introduced and inducted on Friday, Oct. 5, and Saturday, Oct. 6. The induction banquet will be held at 11:30 a.m. Saturday at the UCA Student Center Ballroom. The inductees will also be recognized before the football game.


For UCA Sports Hall of Fame ticket information, call 501.450.3150.