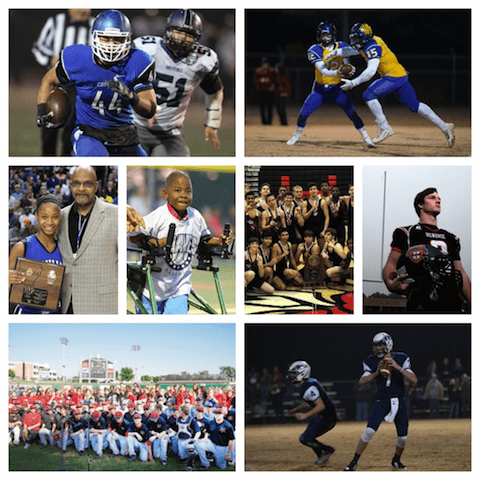 23 Dec 2014

501 LIFE's Top 5 sports stories of 2014

2014 was a year to remember in the world of sports in the 501. Several 501 teams brought home conference and state championships, and the stories of personal accomplishments and communities coming together to support their teams in the midst of adversity off the field provided endless inspiration.


Mark Oliver, a 501 LIFE sports writer, and Levi Gilbert, associate editor, recently selected their Top 5 sports stories that 501 LIFE shared with its readers in 2014.


"In the seven years I've been covering sports here in the 501, this past year just really sticks out to me for having some of the most compelling stories we've ever had the privilege of sharing with our readers," Gilbert said. "Personally, my favorite story that I wrote in 2014 was the feature on Monty Rowell. Monty has been a radio broadcaster in the 501 for more than 30 years, and it was an honor to celebrate his career and look ahead at the new chapter in his work life."


501 LIFE's Top 5 sports stories of 2014:

501 championships in girls basketball


2014 was a great year for girls basketball in the 501. Conway, eStem and Nemo Vista each brought home championships in the spring.


In just its second year under the Arkansas Activities Association, the eStem girls basketball team won the school's first state championship, 47-38, over Harding Academy — and with only eight players!


For the second time in six years and the first time under Ashley Nance, the Conway Lady Wampus Cats brought home a basketball state championship.
The Nemo Vista Lady Red Hawks made school history with 37-32 win over Conway County rival Wonderview in the girls 1A, earning the school's first state basketball championship.

Football success in Conway

Both high school football programs in Conway had remarkable seasons in 2014.

The Conway Wampus Cats recorded an undefeated regular season and took home the 7A Central title.

"It was a magical season for all involved with Conway High School football," Gilbert said. "Under coach Clint Ashcraft's tenure, Conway football has re-established itself as a dominant force in the state. The regular season accomplishments were impressive. With the talent coming back, next year's team could be just as good, if not better."
Conway Christian's season was equally impressive. The Eagles won their first 5-2A conference championship this fall. The football team wasn't the only CCS program to have success. This fall, every sport that Conway Christian participates in brought home a conference championship.

"It was a huge year for the Conway Christian Eagles," Oliver said. "The various coaches and players did something remarkable this year that not only put their school on the map, but turned each athletic program at Conway Christian into a top contender. What we witnessed from this school this year was history; this was no easy feat to accomplish and is something that may not be repeated for years to come."
And UCA and Hendrix both put entertaining products on the field this season. Hendrix's quarterback, Seth Peters, was named the Offensive Player of the Year for the Southern Athletic Association.

Mayflower/Vilonia rally together for charity game

Mayflower and Vilonia faced more adversity in 2014 than any other community in the state after an April tornado left parts of the towns completely devastated. Both communities showed their continued resilience. Thousands gathered at Dickey-Stephens Park in Little Rock on May 6 for a storm relief fundraiser benefiting both communities.

"The Mayflower and Vilonia charity game was, by far, my favorite story of the year," Oliver said. "It had an atmosphere akin to a state championship game, with the biggest celebrities in Central Arkansas in attendance. It's one thing to see people helping with the disaster relief effort here and there, but when you sit more than 8,000 of them together in support of these two communities, the feeling is simply amazing. They say that disaster brings people together, but this game was unity unlike anything I've ever seen."
Later in the year, Vilonia received a visit from the Razorbacks men's basketball team, and Mayflower's football team made it all the way to the 3A state semi-finals.

"Following the tragedy the city endured in the spring, the Mayflower Eagles sent a spark through their hometown this fall, reaching the semi-finals of the Class 3A football playoffs," Oliver said. "To sweeten the deal, Mayflower finally bested conference rival and perennial thorn-in-the-side Harding Academy in the playoffs — all under first-year head coach Todd Langrell. It's as if the Eagles turned hardship into momentum, and the school showed this year that when you work together, you can go just about as far as you wish."
Braves Field opens in Conway

Grand opening festivities were held in October at the Braves Field at Curtis Walker Park in Conway.

The grand opening on Oct. 22 was a dream come true for Conway Alderman David Grimes, who along with Jeff Matthews led the efforts to establish the park.

The Braves Field project includes parking lot repair and overlay, sidewalks, an inclusive playground area for kids with special needs, bleachers, field construction, covers for spectator seating and landscaping.
"One of the biggest bright spots for the city of Conway in 2014 was the addition of Braves Field," Oliver said. "What started as two parents' dream finally became reality, and now, baseball fans of all levels of ability will be able to enjoy the game they love. The hard work and dedication of so many people was so inspiring — and it was all to help those with special needs."

Maumelle captures state wrestling title

The Maumelle Hornets wrestling team captured the Arkansas class 1A-5A state championship — its second straight state title in the school's three-year history (the Hornets were state runner-up in 2012).
"The success of these athletes made you proud to be a citizen of the 501," Oliver said. "No matter whether you are a Conway, Conway Christian, Mayflower or Maumelle fan, everywhere you went — sports was the talk of the town. 2014 was a great year to be a sports fan in the 501, and I'd like to believe that this may be just the beginning of what's to come."