31 Dec 2020

501 LIFE Visionaries: Terry Kimbrow, President of Central Baptist College

By Stefanie Brazile

Terry Kimbrow has been president of Central Baptist College (CBC) for 16 years. Before that, he was vice president for advancement at the college for 11 years.

CBC is a private, four-year liberal arts college owned and operated by the Baptist Missionary Association of Arkansas. CBC offers approximately 40 baccalaureate degree programs, 16 athletic teams that compete in the AMC conference of the NAIA, and six fine-arts performance groups. For more information about CBC, visit cbc.edu.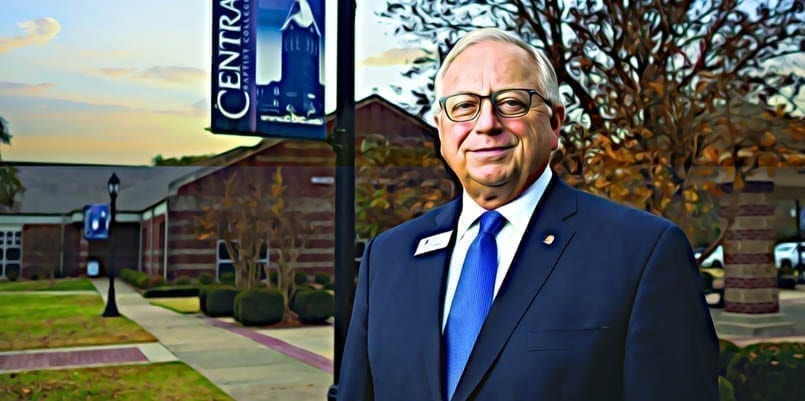 CBC is committed to transforming lives through education that integrates Christian faith and academic excellence in a Christ-centered environment and their top goals for this year are:
1. Revision of our Strategic Plan and Campus Facilities Master Plan.
2. Increase awareness of the Professional Adult College Education (PACE) program.
3. Meet or exceed our student enrollment and fundraising goals.
Kimbrow has a vision for the college he has served for much of his professional life. His top goals for the next five years are:
1. Continue to increase our academic program offerings to meet the ever-changing demands of students. This includes the launch of a graduate degree program.
2. Increase awareness of CBC by broadening the geographic footprint of both student recruitment and fundraising efforts.
3. Expansion of our athletic facilities, including securing land for new athletic fields.
4. Grow enrollment through an increase in our new student population and improved retention of current students.
5. Development of a long-term plan of financial sustainability for the institution.
Like other institutions of higher education, CBC is working very hard to overcome the trend of declining enrollment. Much has been written about the impending "enrollment cliff," but Kimbrow believes that CBC has something to offer that students and parents alike are searching for and calls it the CBC Experience.
"Our challenge is to reach prospective students and their families with the message that they should consider Central Baptist College in their college search," he said. "Come for a campus tour, complete the financial aid process to see how affordable CBC is and find out what the CBC Experience is all about."
Individuals in the 501 can help the college by encouraging prospective students they know to consider CBC during their college search. It doesn't cost anything to make a campus visit, which can be done either in person and virtually. One can also encourage the prospective students in their life to visit cbc.edu/visit and schedule their Personal Campus Visit Experience. Prospective students can learn more about CBC at cbc.edu/whycbc.
Other ways the region can help is by supporting a fundraising event next month that benefits scholarships.
On Feb. 20, the college will host its 2nd Annual Scholarship Gala at the Conway Expo Center. The black-tie optional event will be a celebration of patriotism and faith, and will feature keynote speaker Ret. Lt. Col. Brian Birdwell, a survivor of the September 11 attack on the Pentagon. Proceeds from the event will benefit the CBC Scholarship Fund, which supports all institutionally funded scholarships.
CBC recently announced that they had received a $400,000 matching gift from an anonymous donor. This puts the 2021 event goal at $800,000! To purchase single event tickets or to make a one-time donation, which will be matched dollar for dollar, visit cbc.edu/gala. Event sponsorships begin at $2,000.
Contact Amy Reed, Director of Development, at 501-205-8934 or [email protected] for more information.