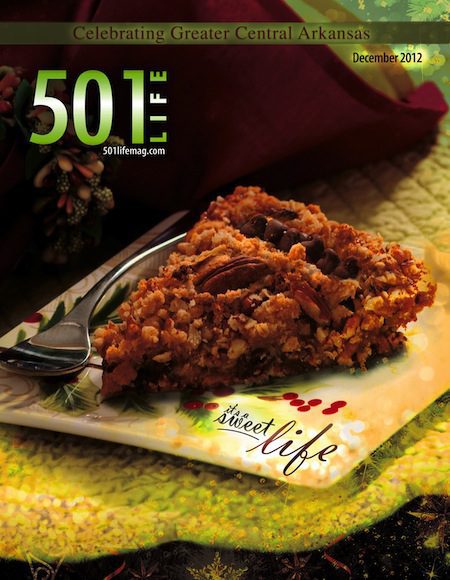 26 Nov 2012

501 LIFE segment Thursday on KARK

Posted at 7:22 PMh

in

News

The December edition of 501 LIFE will be highlighted Thursday on the KARK Channel 4 show.

Each month, 501 LIFE publisher and editor Sonja Keith presents information about that month's issue. The December issue is devoted to food and the "spice of life" with a variety of features, including the announcement of the winners in the Spice of Life recipe contest.


"We are proud in this issue to announce the winners in the recipe contest sponsored by 501 LIFE and The Hole in the Wall Café," said Keith. "Congratulations to Norma Varner, Sherry Dunn, Mary Lee Farris, Debby Harris and Peggy Yarbro! What a treat to get to meet these special cooks and learn more about them.


"We also want to thank Toni Burrows, co-owner of the restaurant, for her help with the contest."


Features selected from the December edition for inclusion in the segment include:

Entertaining – 501 contributor and noted chef Don Bingham shares some "entertaining" thoughts as well as tasty recipes for the Christmas season.
Feature – For many in the 501, it wouldn't be the holidays without a Petit Jean Ham. 501 LIFE contributor Janna Virden shares with readers the history of Petit Jean Meats as well as some delicious recipes.

Neighbors – For 34 years, Marcelle Fielder has worked tirelessly to feed the students in the Guy-Perkins School District. In appreciation of her work and dedication, the school board recently voted to name the school cafeteria in honor of her.

Insert – This edition also features a special insert on the ConwayHive, new executive office suites in the Meadows Technology and Business Park.

In addition to the live broadcast, the segment can be seen on the station's website – arkansasmatters.com.