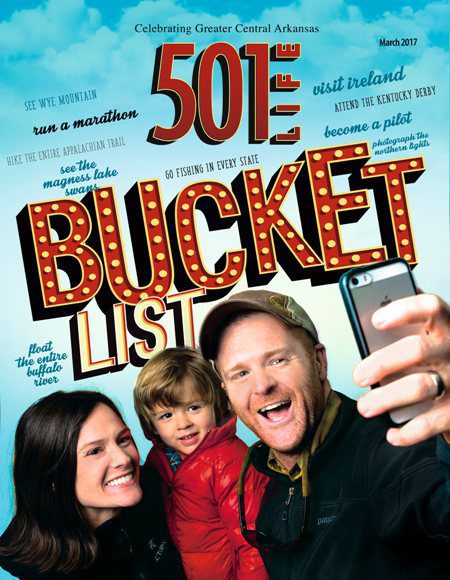 27 Feb 2017

501 LIFE publishes March issue

Posted at 1:02 PMh

in

News

The March edition of 501 LIFE is hitting the streets, with distribution in 700 locations throughout Central Arkansas.


"This month, 501 LIFE is all about bucket lists – places we would like to see and things we would like to do before the end of our life," said 501 LIFE editor and co-publisher Sonja Keith. "Last fall, in a meeting with one of our editorial boards, a suggestion was made for this theme – what a great idea! We are so thankful for all the members of our boards for their suggestions and feedback.


"Our talented contributors had some fun with the theme and delivered some really interesting articles. For the cover story, we issued an invitation to our 501 LIFE Team to share their bucket lists, including items that have already been accomplished. A big thank-you to all of those who rose to the challenge!"


This month's cover features Wes Craiglow, Emily English and their son Murrell, who went on a four-month road trip. "What a great Mike Kemp photo and Jeremy Higginbotham design for this month's cover."


To receive a copy, stop by one of the advertiser locations or visit the 501 LIFE office at 701 Chestnut St. in Downtown Conway. Some content is also posted on 501lifemag.com.


The March issue will be highlighted on KARK Channel 4 during the 12:30 p.m. show on Tuesday, Feb. 28. In addition to the live broadcast, the 501 LIFE segment can be seen on the station's website – arkansasmatters.com.