24 Aug

501 LIFE hits the streets with September edition

501 LIFE has published its September "Celebrating history" edition.

"In this month's cover story, we feature Sissy Jones, who shares some of her childhood memories and how she started her business – Sissy's Log Cabin – which is celebrating its 50th anniversary," said 501 LIFE co-publisher and editor Sonja Keith. "The story with Sissy Jones ranks among the most enjoyable interviews I have had while serving as 501 LIFE editor. Granted, Sissy is not from the 501 and does not live in Central Arkansas but she is a statewide fixture who has touched many lives since she opened her store 50 years ago. Today, her stores number five and include two in the 501.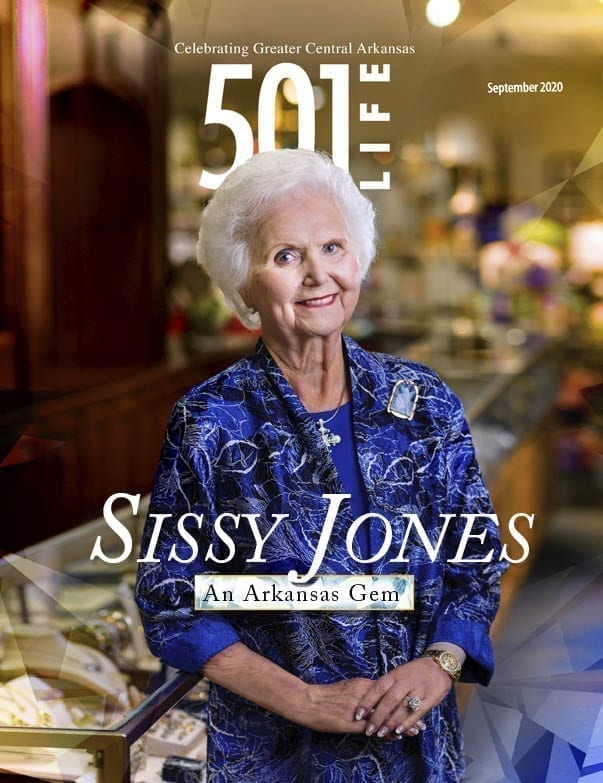 "As with most interviews, I researched and prepared for our visit, but I wasn't sure what to expect from the Arkansas icon whose catch phrase is "Life's too short for ordinary jewelry." After 501 LIFE photographer Mike Kemp captured her photo in the store's beautiful showroom, I sat down with Sissy and her daughter-in-law Sharri for an interview that lasted nearly an hour and a half. Truth be told, I could've listened to Sissy's stories about her life and her business all afternoon."
Other features included in this month's edition include:
COUPLE OF THE MONTH – Brooke and Grant Pryor are loving life with their two children in Searcy, where she is director of marketing for Unity Health. He is an insurance agent at Grant Pryor State Farm in Cabot.
YOUTH – Recent Conway High graduate Gavin Teague – who scored a perfect 36 on his ACT and was a National Merit Scholar finalist – had several impressive options when it came to deciding where to attend college.
FEATURE – Thanks to the new Pine Street CommUnity Museum, the fuller history of Faulkner County and the surrounding area is available to all. And that is a win for everyone.
HEALTH – For the first time in its history, the City of Colleges is a site for graduate medical education and the advanced medical training for physicians. The inaugural Conway Regional Health System Family Medicine Residency Program launched July 1.
PERSON OF THE MONTH – A graduate of Conway Public Schools and the University of Central Arkansas, Vivian Hogue has a keen interest in local history.
Visit 501lifemag.com for more information and to see other stories in the current issue, where to pick up a copy and how to subscribe. You can also find 501 LIFE on Facebook and Twitter.