28 Sep 2020

501 LIFE hits the streets with October edition

Posted at 11:25 AMh

in

News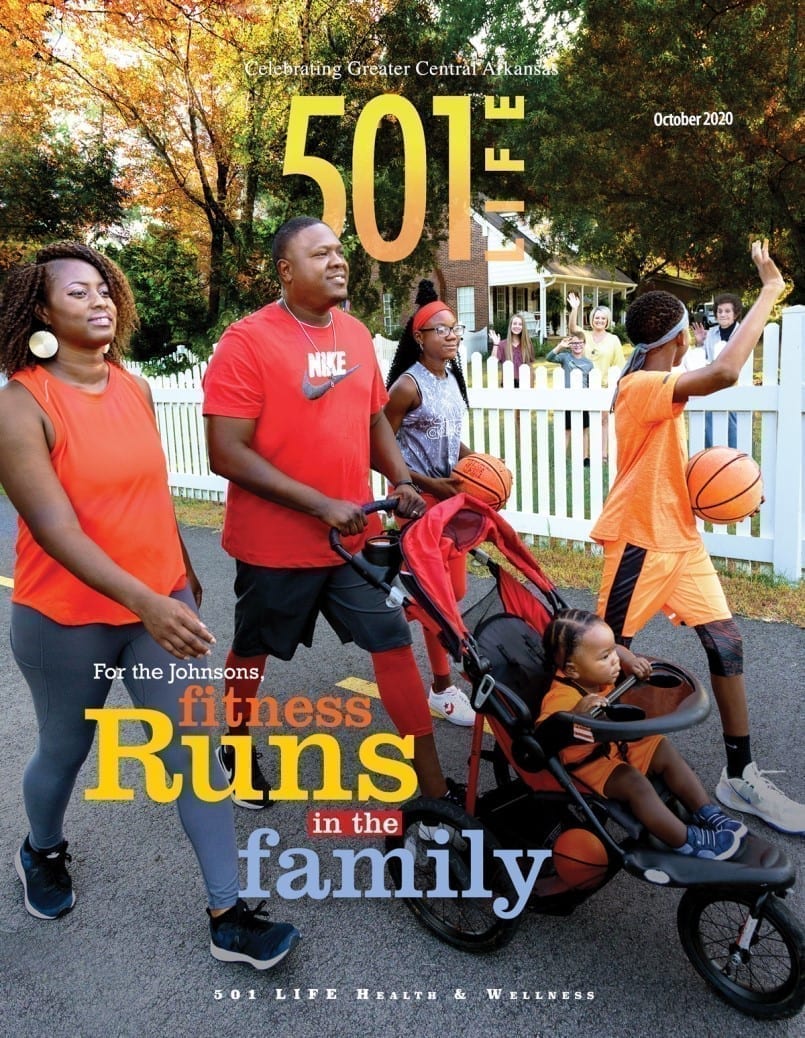 501 LIFE has published its October "Health and wellness" edition.
"In this month's cover story, we feature the Karl Johnson family who exercises together five days each week," said 501 LIFE Associate Editor Stefanie Brazile. "They are committed to being healthy and to providing their three kids with activities outside the home because so many team sports have cancelled or have abbreviated schedules. Karl and Krystal's commitment to the mental and physical well-being of their family is inspiring."
Staff photographer Mike Kemp met the family on Conway's bike/walking trail where the family typically walks and jogs. Also included in the cover photo is Clara Baker who lives along the paved trail. Her granddaughter and children (Jennifer, Ashton and Hudson Harper) joined her in the cover photo to wave at the Johnsons as they passed. Baker said when she hears balls bouncing, she knows that it's the Johnsons and when she is outside, they wave to one another.
Other features included in this month's edition:
COUPLE OF THE MONTH – Alex and Roy Lee Hurst are loving life with their two children in Conway, where she is the owner of HipSway Boutique. He is in management with Walgreens.
YOUTH – Maumelle High School senior Clayton Boothe recently attended the prestigious Governor's School (virtually), is a 2021 National Merit Scholarship Program Semifinalist, musician and writer. He is also the captain of the Quiz Bowl Team, founder of the chess team and is hoping for a normal senior year.
FEATURE – UCA provost Patty Poulter shares her breast cancer journey from diagnosis to cure and what that looked like during a pandemic.
HEALTH – Dr. Roddy Lochala, medical officer for Unity Health in Searcy, gives advice on health concerns and wellness exams that adults should not delay because of the COVID-19 pandemic.
PERSON OF THE MONTH – Joel Fountain, a martial arts instructor in Conway, is passionate about helping kids build self-confidence, focus and discipline through martial arts training and counseling.
Visit 501lifemag.com for more information, to see other stories in the current issue and learn where to pick up a copy and how to subscribe. Find 501 LIFE on Facebook and Twitter for more information.